The Team

Name: Phil 'Boss' Flory
Age: 43
From: Devon, south West England
Favourite modelling Genre: Aircraft WWII to modern
Favourite Scale: 1/48
Favourite Era: 70s to 90s Military Jets
Least favourite part of modelling: Re Scribing
What would I save in a fire: My Dog Harvey (Black Lab)
Dream kit: A 1/32 A-6 Intruder
Favourite film: Star Wars/Deadpool
Favourite music: I enjoy all types from Rock, pop through to film scores
Currently listening to: Dark knight film score

Info: Been modelling for the last 30 years, Started doing commissions about 17 years ago under Flory Model. I started trying to make an easy to use wash for panel lines. After 3 years I got it right and the Promodeller weathering wash was born. Very quickly I was being ask about all aspects of modeling and did a few free videos to help modellers and the rest they say is history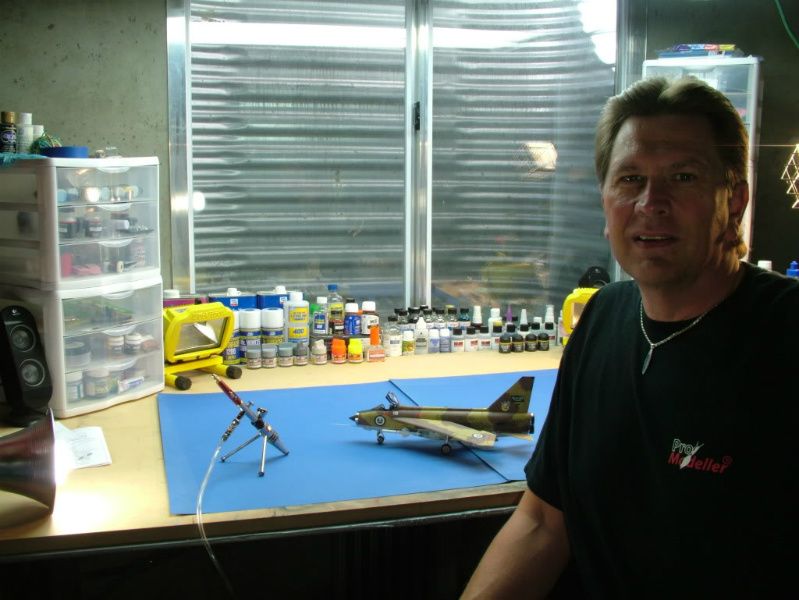 Name: Hans "lavochkin7" Pennink ( Forum /Group Build/SIG Editor )
Age: 40 somethin'
From: Parker, Colorado USA
Maried: to Heidi for 22 wonderful years, and she deserves a LOT of credit for letting me do all my "things" in modelling.
Daughter: Tierney (13)
Animals: 4 Cats


Favorite type of modeling: 1/48 Jets from Vietnam going forward.

Favorite scale: 1/48, currently being seduced by all the new 1/32 kits hitting the market scene
Favorite Modern Aircraft: SU-34 Fullback.
Favorite WWII Aircraft: P-47 Thunderbolt.
Favorite subject or theme: Anything Russian, just love the shear robustness.

Loves: Big Heavy Jets fully loaded out.. like a Phantom.
Hates: Too many models on the go at the same time.

Currently building: 1/48 Mosquito.

Currently reading: Mirage by: James Follet.

Favorite modeling magazine: Air Modeler.

Favorite Drink: Vodka Tonic.

Currently listening to: Within Temptation (Dutch Gothic Rock) & the 80's.

Kit in the stash least likely to ever be built: 1/48 Revell VOODOO F-101.

Favorite part of modeling: Research and history of the subject I am modeling, aftermarket resin & conversions, weathering, weapon sets and load outs.

Least favorite part of modeling: Top and bottom seams filling & sanding.

Most feared techniques: Scratch building & scribing.

If the house were burning down, which kit would you rescue: 1/32 Tamiya Phantom with all the resin goodies.

Modeling tools I couldn't live without: Cotton buds, resin sander, trusty Evo 2 in 1 and a good shot of Russian Vodka when times get tough


Info: I'm a recently returned to modeling type (3 years ago). I built mostly aircraft as a kid, then marriage, a child and career (not necessarily in that order).
I was introduced to modeling via my dad who loved British WWII aircraft. I have worked on various models throughout the past 15 years, but only recently started getting seriously back into it. My interest vary quite a bit and like to occasionally dive into Russian Armour.

Other Interests: Radio Control IMAC and Unlimited Aerobatics, Tri-Athlon, Road Biking the beautiful mountains of the Colorado High Country, Scuba Diving the gorgeous reefs in the Indian Ocean.

Name: Stefan Carlsson
Age: 47
From: Nol, 25km north of Gothenburg Sweden
Favorite type of modeling: WWII Aircraft , Armour, and also Modern Jets
Favorite Scale: Most 1/48 in Aircraft's but 1/32 WWII Fighters is nice. 1/35 Armour, mostly German Panzer's
Info: I build my first kit at the age of 7 but it has been the last 25 years that it has become more serious modeling done. Have a period when I built and sail with RC scale model boats and that was really fun but after a while I discover that I thought it was more fun to build the boats than to run them so that took me back to the plastic models again, and I have stayed there since.

Other hobbies besides modeling: Since my military service as a Dog Handler in a Close Area Defense Company in the Swedish Air Force so have I had a love for dogs especially German Shepherd Dogs and I have also had the fortune to own one. The training and competitions with him was the best years in my life. He is now gone since a couple of years but I will never loose the interest for dogs and learn more about them. The other things that take the time besides the modeling is to watch movies and read, mostly WWII history




Name : Stephen Sutcliffe (Forum /Group Build/SIG Editor) + our Armour God
Age: 38
From: Huddersfield, West Yorkshire
Favourite modelling Genre: AFV modelling.
Favourite Scale: 1/35
Favourite Era: Post WW2 British
Least favourite part of modelling: Filling and sanding, especially on aircraft
What would I save in a fire: My stash of Accurate Armour kits
Dream kit: Armour would be A 1/35 British Mastiff, Aircraft would be 1/32 Sea King(boring I know)
Favourite film: Goodfellas
Favourite music: I enjoy all types from Rock to pop, from Rap to the Blues
Currently listening to: SeaSick Steve