In-box Review of Airfix's, 1:48 Spitfire Mk XII

Scale: 1:48
Manufacturer: Airfix
Type: Injection moulded plastic
Extras included: None
Price: Around £15
Link: http://www.airfix.com/airfix-products/aircraft/military-aircraft/19301950/a05117-supermarine-spitfire-mkxii-a05117/
Available From: (UK) http://www.relishmodels.co.uk/ (US) http://www.squadron.com/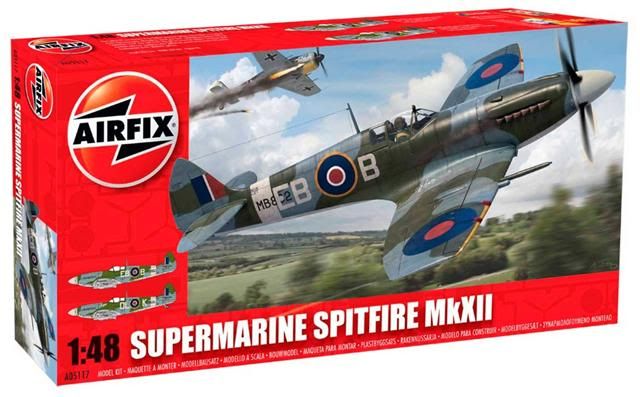 I think British modellers naturally have a special interest in Spitfire kits, especially those released by Airfix. Kits of the Spitfire, like the Bf109, seem to attract more scrutiny and critical attention than any other. Woe betides the manufacturer who doesn't capture the precise shape and spirit of this famous aircraft. Airfix have released a number of 1:48 scale Spits over the years; from the Spitfire Vb in 1980, to the recently released Mk 1 in 2007. For me, the peak of their Spitfire productions, and possibly one of my favourite kits ever is the beautiful Mk. F.22/24 originally released in 1997. The fit and detail of the kit is simply divine. Along with the Lightnings, I think this was Airfix at its best, and even the most recent releases have yet to match or surpass these in terms of quality. Not a surprise that these kits were released in the same year and were designed by the same chap. Merci beaucoup Philipe Goulard.

Like all proper Englishmen, I know a little about the Spitfire, however I'm far from being an expert. If you're looking for some history and details on the type, I suggest you take a look here: http://www.spitfireperformance.com/spitfire-XII.html

So, how does Airfix's Mk XII shape up? For the sake of this review, I've been comparing this kit with the earlier Airfix Spits, as well as the infamous Hasegawa Spitfire Mk. IX as this kit is readily available and similarly priced (in a Revell box), and has fantastic detail and fit - just a shame about the short fuselage eh!

Anyway, for your very reasonable £15, you get a fantastic looking 2-part box (compare the artwork on this with the original release of the Mk 1 in 2007, my haven't they improved!). Inside you get two large'ish sprues of grey plastic and a small clear one. As well as a set of instructions and some nice looking decals (more on those later), you get a full colour painting guide. Here are the bits ...

Sprue 'A'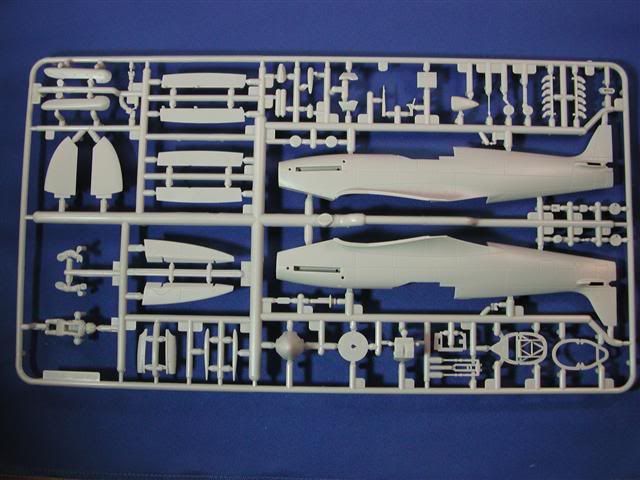 Fuselage exterior details:




Fuselage interior details. Much more refined compared to the Mk. 1, however not as good as the Hasegawa Mk. IX.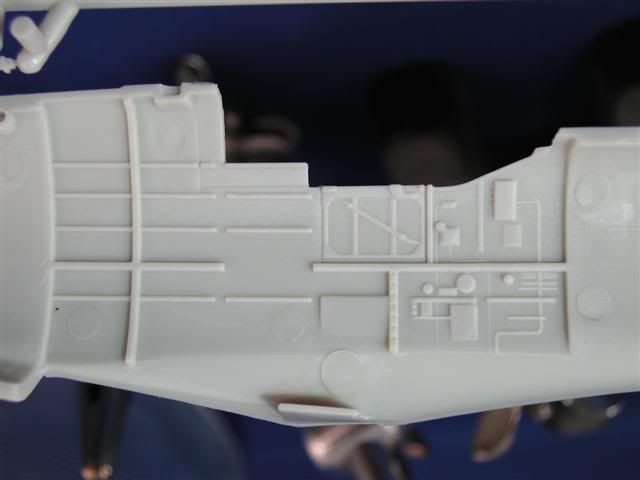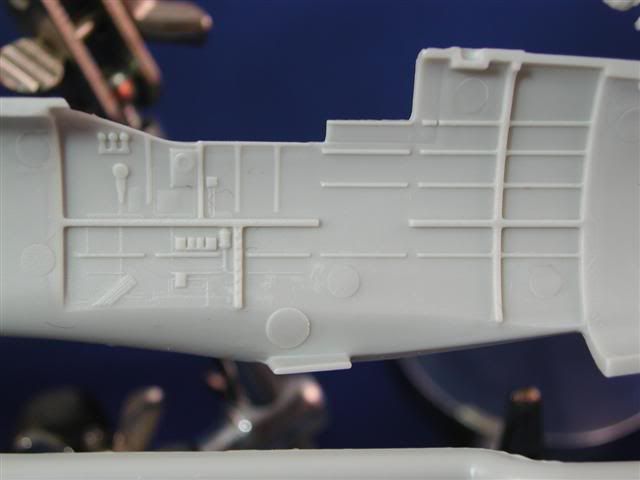 Spinner: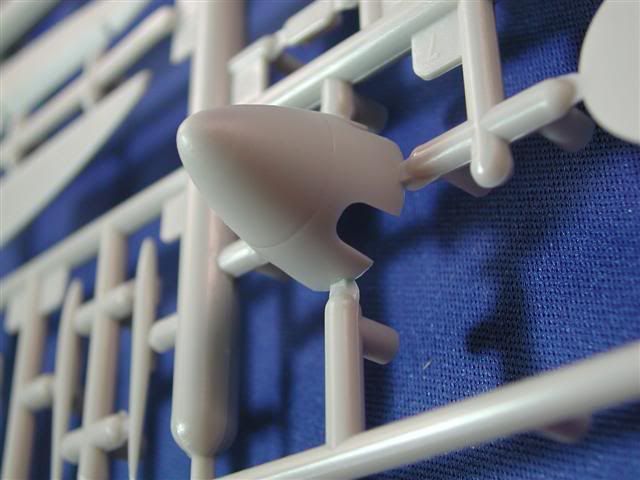 Cockpit / interior parts: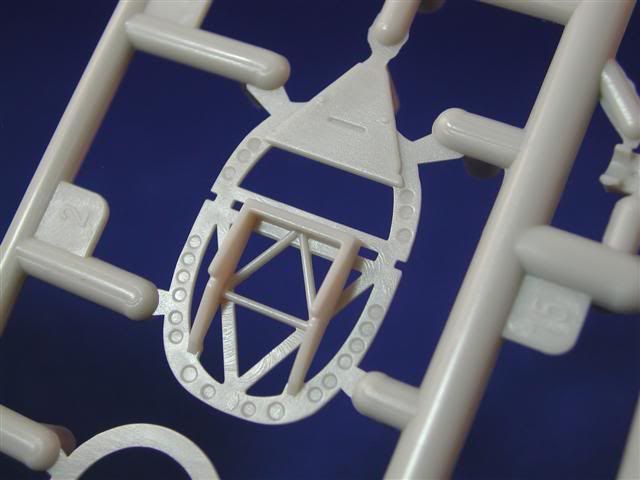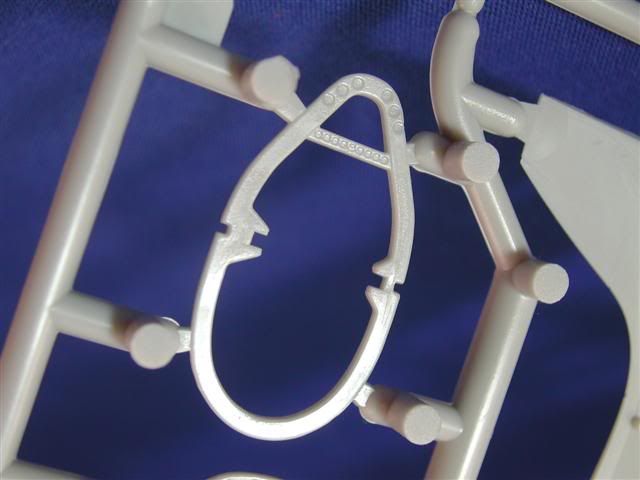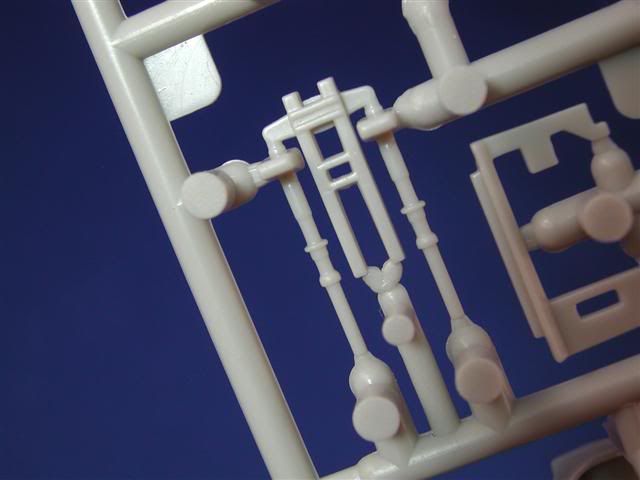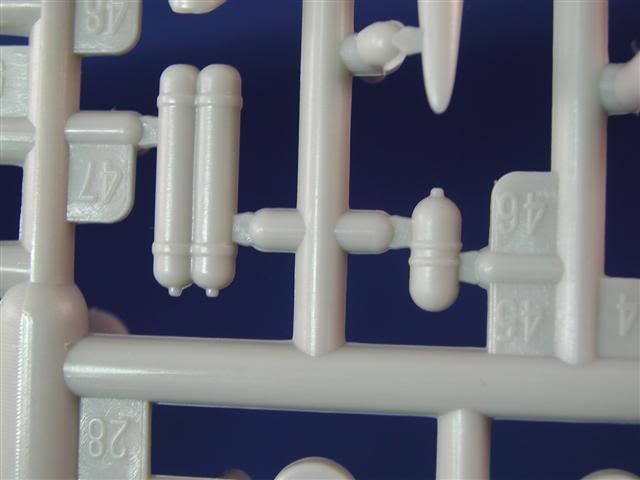 Seat: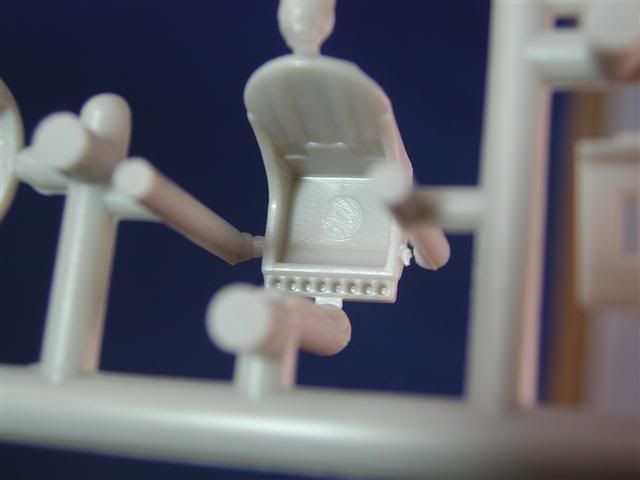 Flaps - you get two sets of these, one with little tabs (pictured) should you want to model them dropped, and another without the taps for keeping them closed. Both sets have the same nice internal detailing: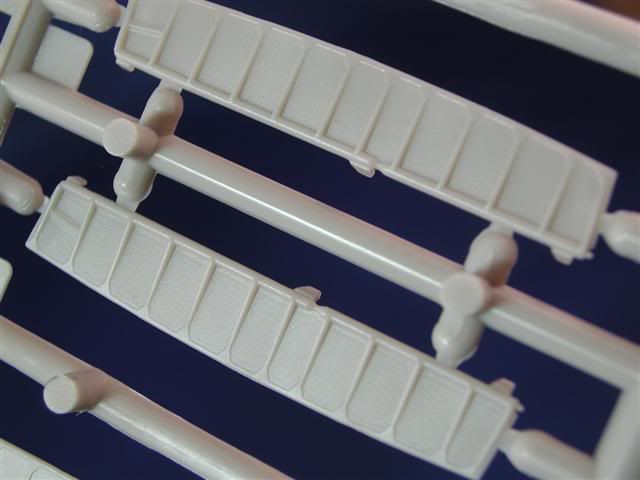 Ailerons: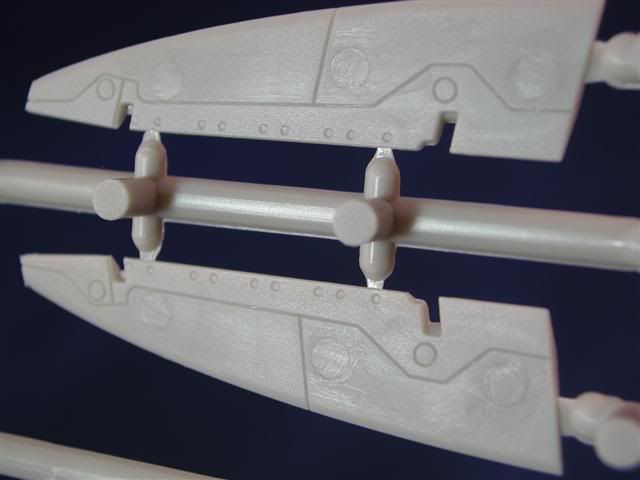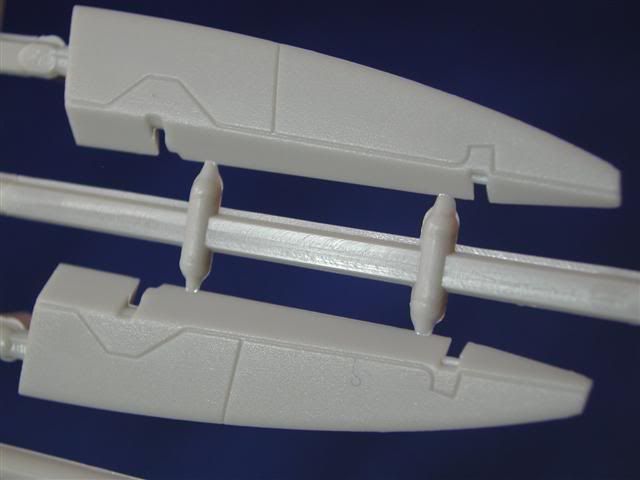 Cockpit door with annoying pin marks. Couldn't Airfix have moulded this upside-down, so that the pin marks were on the other side which would make them not even seen if you used the open door?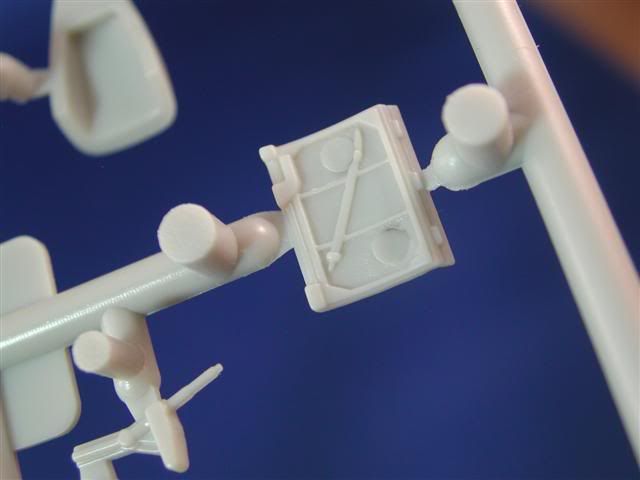 Cowling bulges: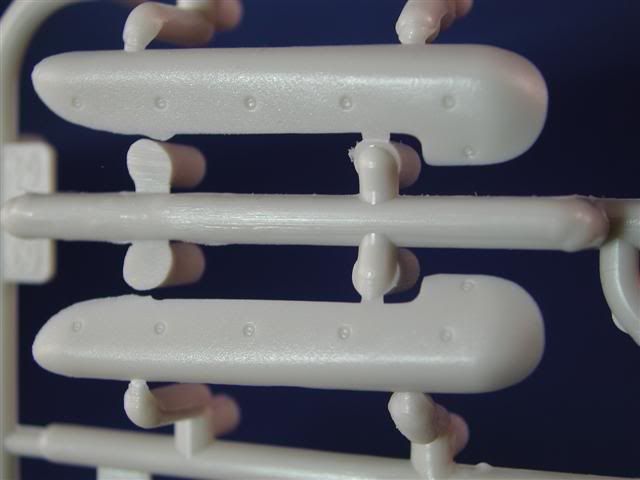 Exhausts - not the best, but unless they went for slide moulding they were never going to be perfect. Enter Quickboost etc...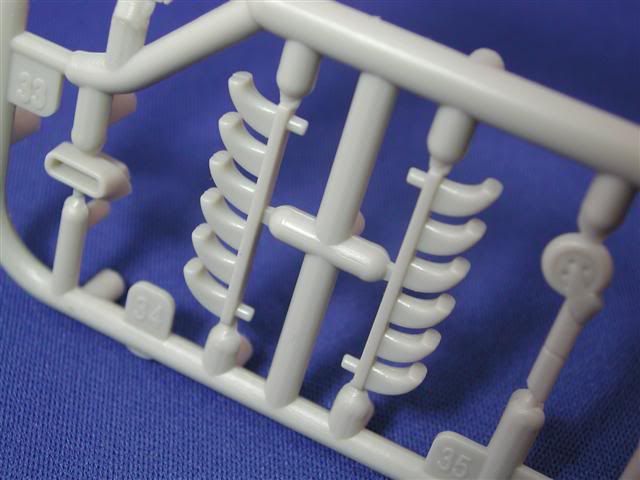 Wheel hub inserts - helpful to ease painting, but do you think the sprue gates could have been any bigger?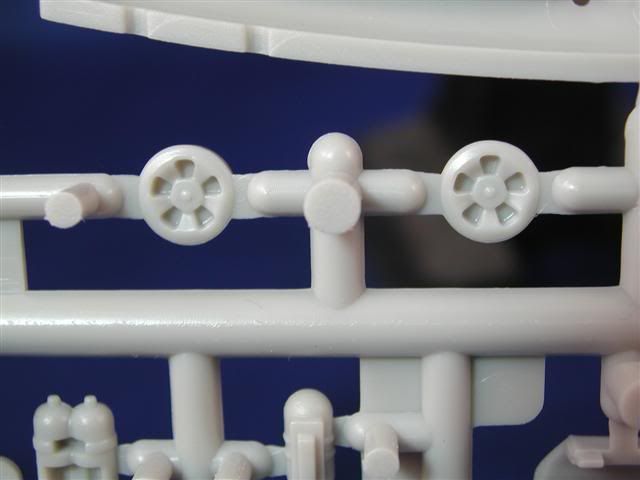 Wee Pilot figure. I like the fact that Airfix include these, and this is one of their better sculpts.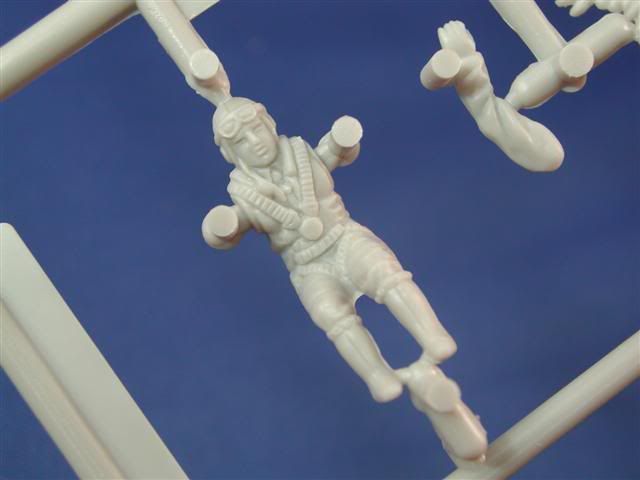 Remove this part of the cockpit if you want to use Airfix's intended method of having an open canopy (read on for more details on this):




Sprue 'B'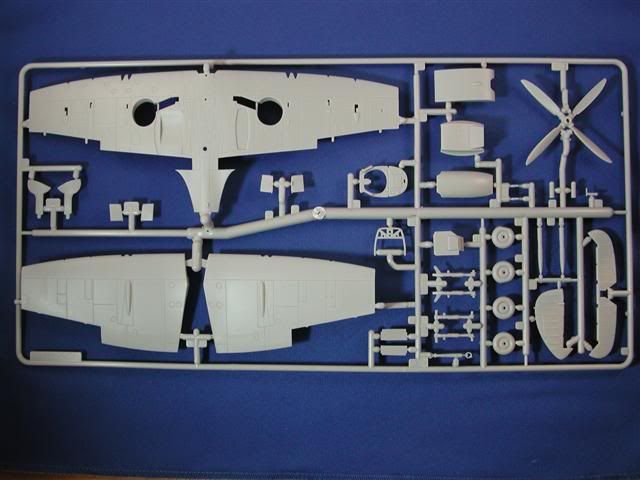 Wing surface detail: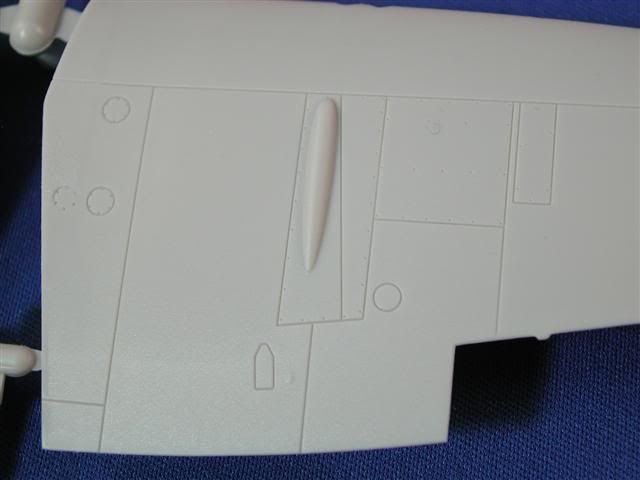 Pretty crisp, but what happened with that little square'ish panel right in the centre? Did the scriber fall asleep half way round?




That V is from a hole for one of the machine guns. Might require some tricky filling to fix the small flaw.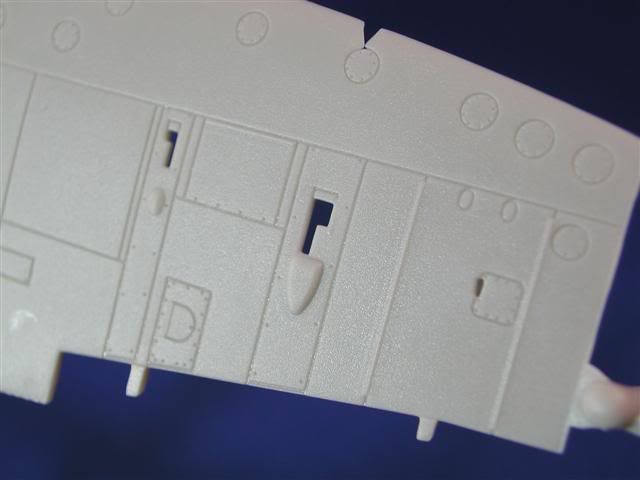 Wing interior showing flap detail: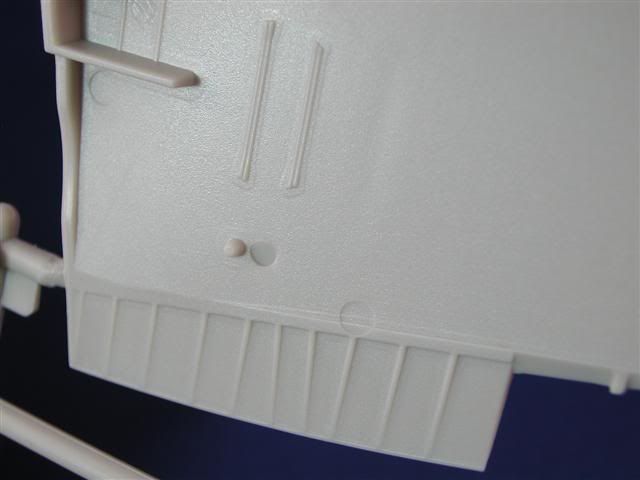 The main wing includes a strengthening spar which should help provide the correct dihedral angle.




And one of the kit's main weak points - the instrument panel. What happened here? It looks like it's been dipped in liquid cement and set fire to. I suspect I'll be sanding off the 'detail' and replacing the dials with the Aeroclub PE ones.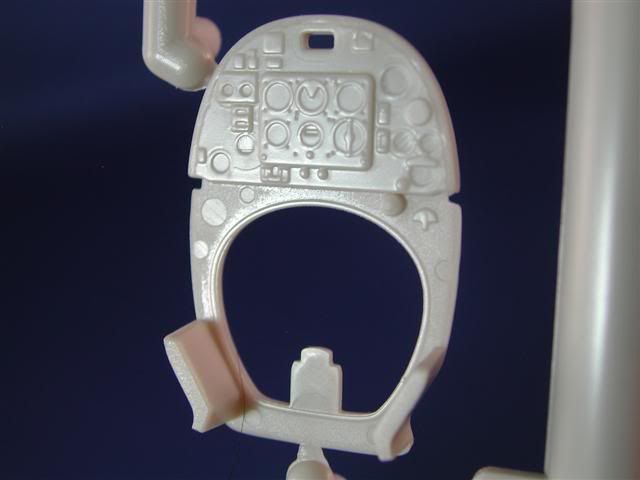 Control column. It'll suffice, but the Hasegawa offering is finer.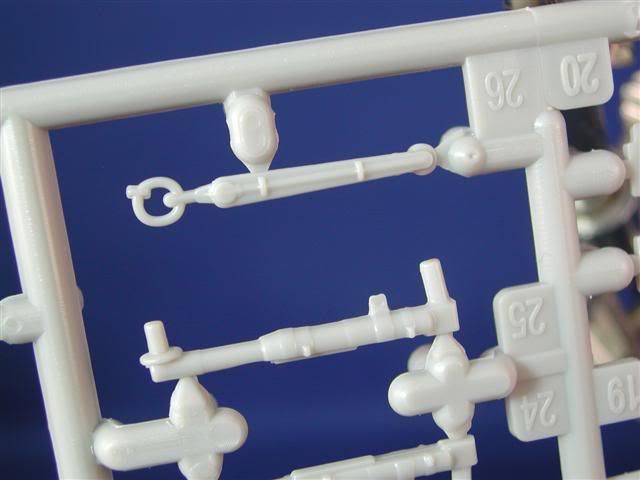 Rudder, elevators, mini-flaps! Yep, they're all nice looking and positionable [is that really a word?]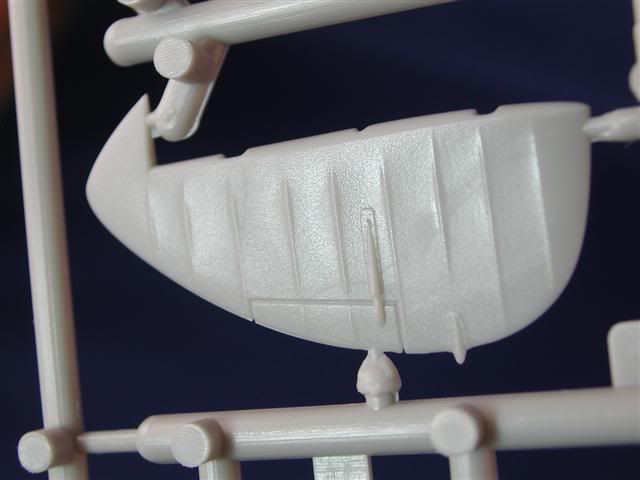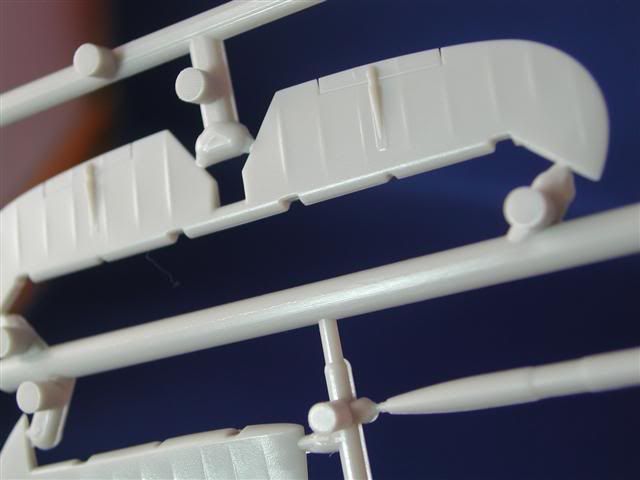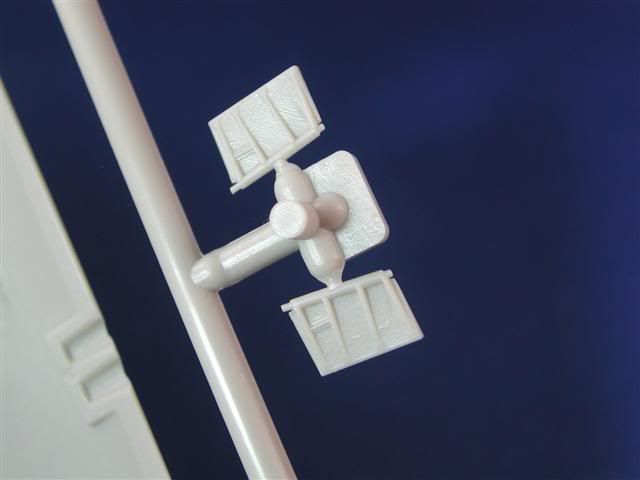 Landing gear:




Really neat detail on the oleo stabiliser links ...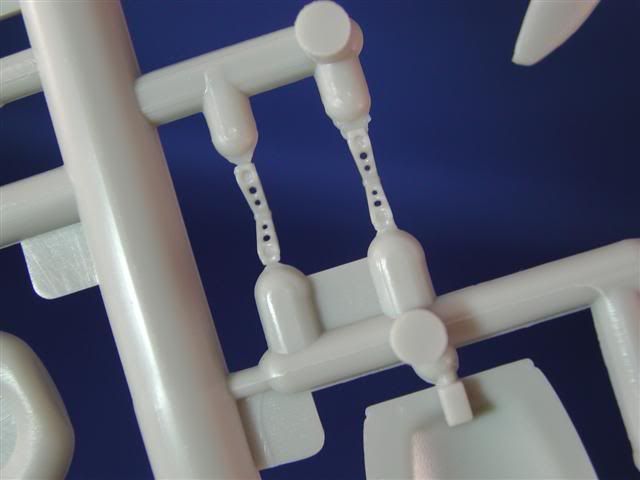 Two sets of wheels are provided, one complete pair with flats moulded in ...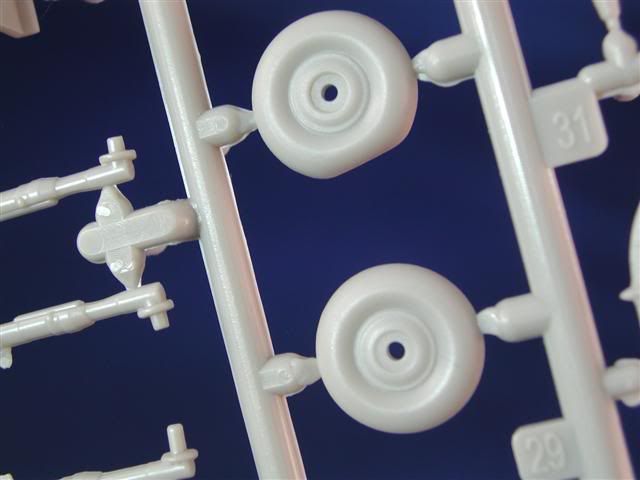 The other pair are only half wheels, for use with the undercarriage up ...




The doors are thin and detailed ...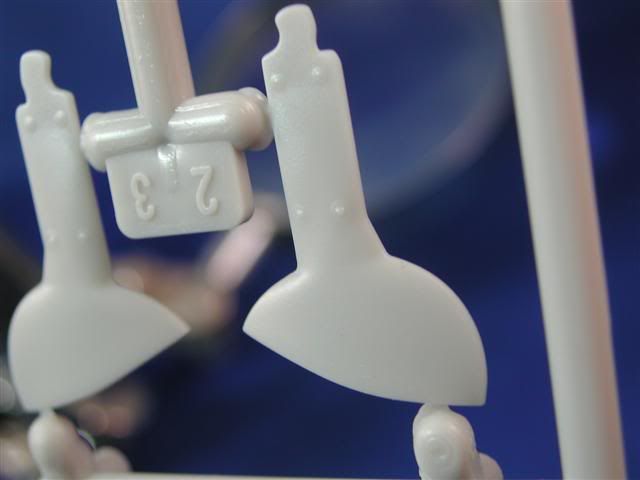 Propeller: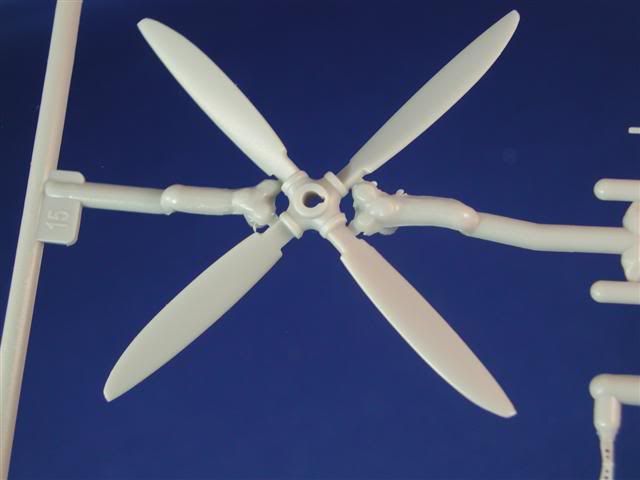 Slipper tank: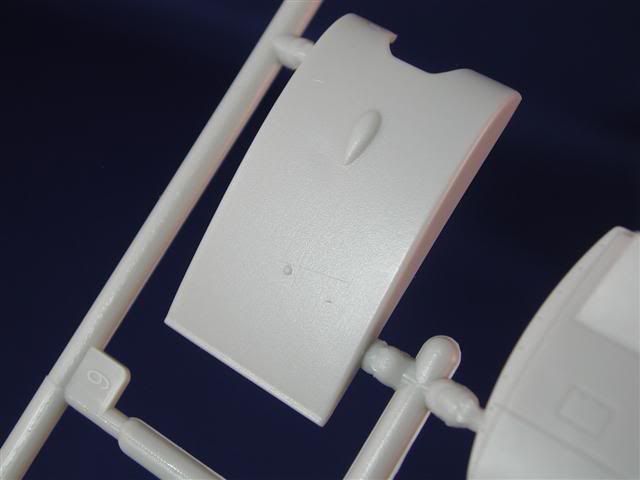 Cannon muzzle covers: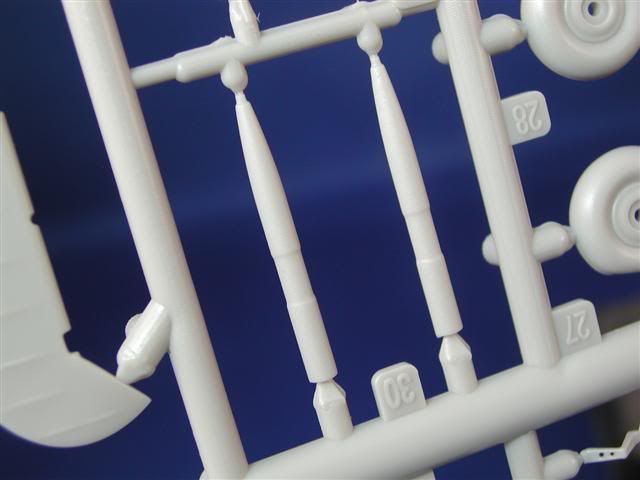 Sprue 'C'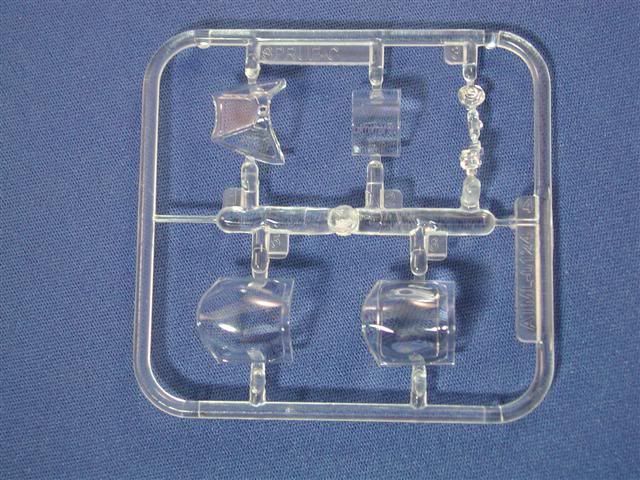 Nice and thin and up to modern standards:




And here's where someone at Airfix went all a bit experimental. See that second canopy on the right? Yep, this is Airfix's unique answer to having the canopy open - by moulding the rear canopy as part of the inside of the main canopy. Remember that picture of the fuselage interior up above with the faint line around the where the rear canopy fits? That's the section you are expected to remove in order to use this bizarre canopy. I might sound like a dismissive, doubting Thomas type, but it just looks crazy to me. I mean that canopy just looks all wonky! And chopping a chunk out of the fuselage in order to fit the wonky thing? Someone should be shot for that idea. Still, you have to try I guess.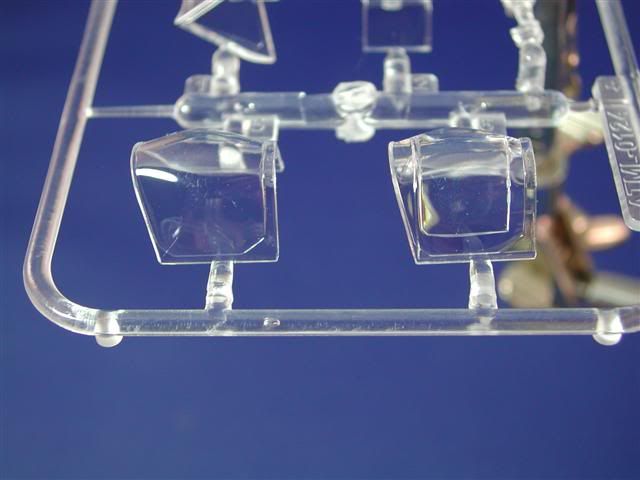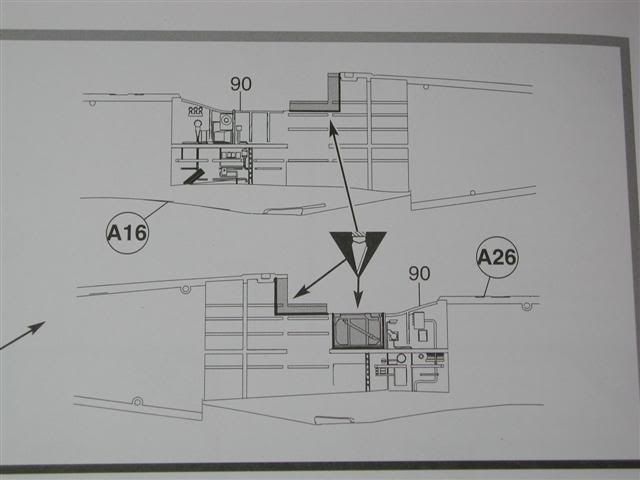 Decals:

Two marking schemes are provided:

(A) Spitfire Mk.XII flown by Flight Lieutenant Donald Smith (RAAF), No.41 Squadron, RAF Tangmere, October 1943.
(B) Spitfire Mk.XII flown by Squadron Leader R.H. Harries, No.91 (Nigeria) Squadron, RAF Hawkinge, May 1943.




Now these are a step in the right direction. The decals are in perfect register, nice and thin and best of all, no horrible dotty pattern in the printing.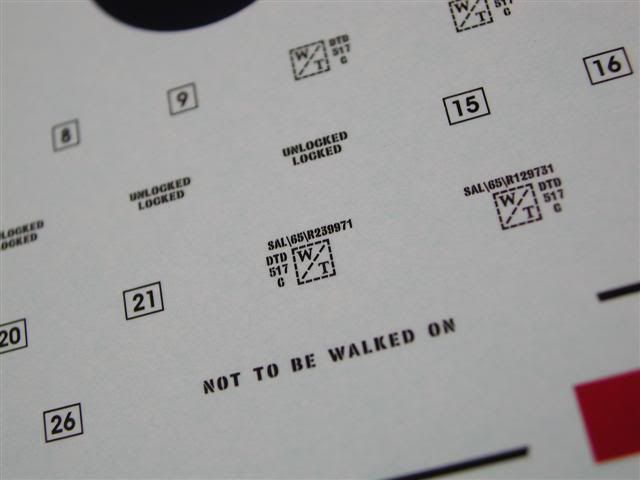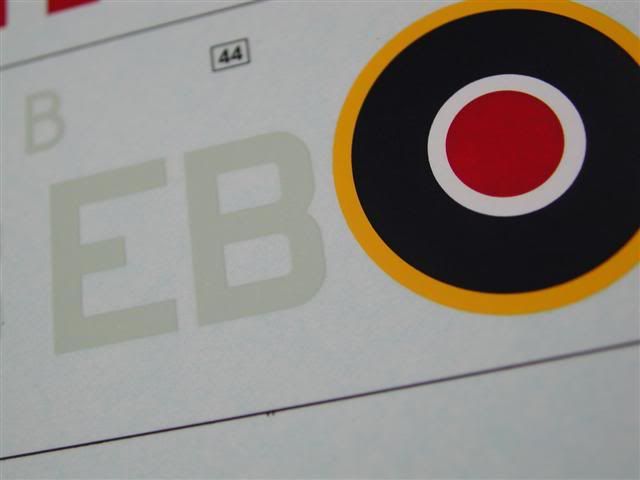 Painting Guide: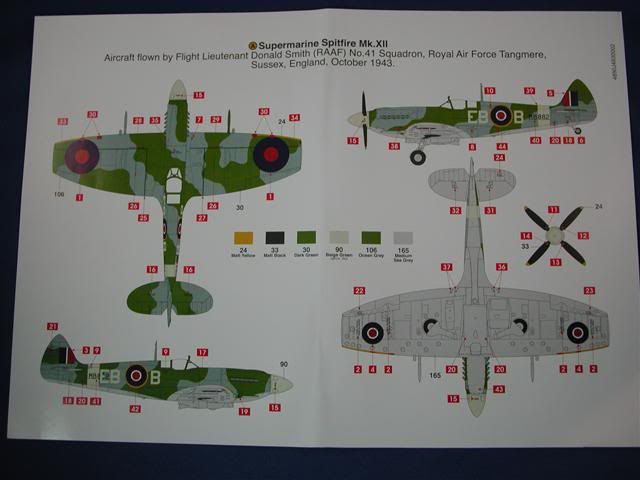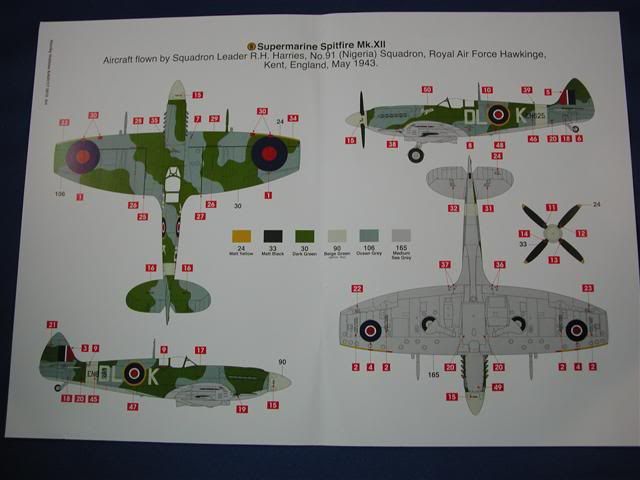 Instructions: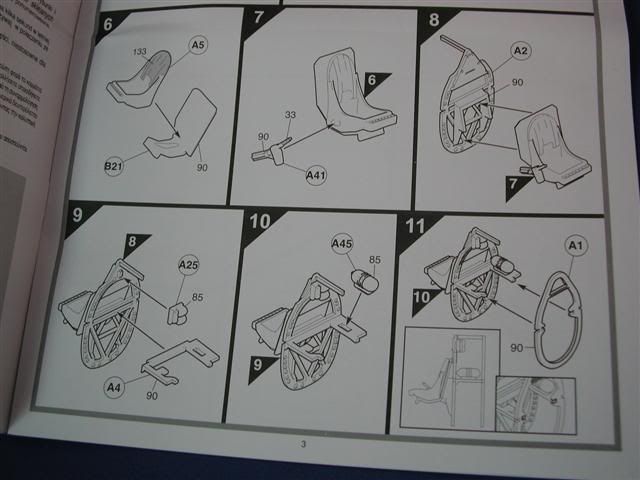 Conclusion:

I may have sounded overly critical in this review and you might expect me to finish with a disappointed sigh, but I think this kit is fantastic. It's not quite as refined and detailed as the likes of their Mk. F22 or the Hasegawa Mk. IX, but it's pretty bloomin' close! It's another step forwards for Airfix in their Spitfire line and for the price, it should sell by the lorry load. Sure there are one or two daft mistakes in the kit's design, and a few spots where they could have got the detail better and crisper, but for me it does indeed capture the shape and spirit of the Spitfire, and that's what's most important.

Scores:

Packaging 9/10
Instructions 6/10
Decals 8/10
Accuracy 8/10
Detail 8/10
Value for Money 10/10

Overall 49/60