TWO MIKES Resin Accessories
1/48 S-3B Viking External Update Set #48043
(for 1/48th ESCI/AMT/Italeri Model Kits)
Price: $20.00 US
By Jeff Williams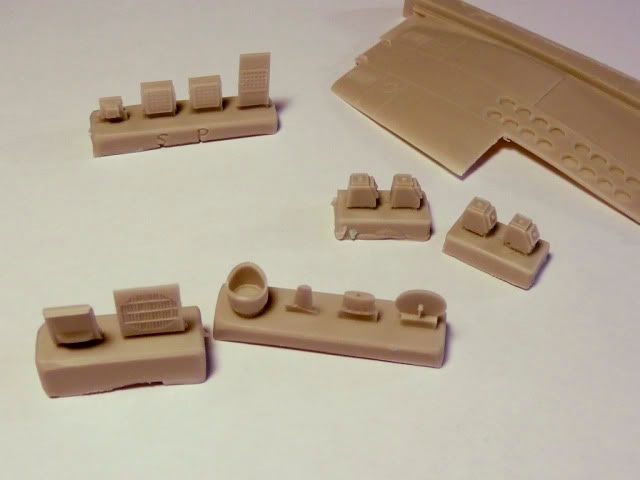 What do you get: GPS Antenna, Starboard ALE-39 Chaff/Flare Dispenser, Port ALE-39 Chaff/Flare Dispenser, Lower ALE-39 Chaff/Flare Dispenser, SATCOM Antenna Top, SATCOM Antenna Base, Sharkfin COMMS Antenna, Madboom Blank, FWD ALR-76 Wingtip ECM Antenna(x2), Aft ALR-76 Wingtip ECM Antenna, Sonobouy Panel, APU Exhaust Port (closed), Fuel Heat Exchanger Vent
Packaging: The parts come packed tightly and securely in a well formed plastic bubble case. They are secure and should ship anywhere in anywhere in the world without fear of damage with the normal handling. The sonobouy replacement panel is packed in a separate bag from the other parts which reside in their own little plastic bag.
Instructions: In one word, BEAUTIFUL! Mike has provide a clear steps for each replacement piece in full color with actual aircraft photographs. The instructions are clear and concise with examples, measurements, and direction arrows all clearly marked. By far the best set of instructions I have seen with a resin update set to date!
Decals: None
Accuracy: By all accounts this set will provide the modeler the ability to update the ESCI/AMT/Italeri S-3A kit to a B model with relative ease and excellent accuracy. Comparing the provided parts to several references on the web and in my library, Mike has provided a top of the line update set.
Detail: Good. The parts are molded in a light gray resin and have enough detail that washes will be able to bring them to life. The various antenna's are scale thin and the modeler will have to be delicate with them, but by all accounts they should look great once in place on the kit.
Fit: This update set is very new and I haven't found any other reviews as of yet on the internet to provide any fit updates. I plan to use the set on my S-3B that will be part of my modern aircraft deck diorama group build. I can provide details as I use the set in my build notes.
Extras: None
Value for Money:
Packaging 9/10
Instructions 10/10
Decals -/-
Accuracy 9/10
Detail 9/10
Fit Reasonable ?/10
Value for Money 9/10

Conclusion: I believe this set provides any modeler that is fond of the S-3 the ability to update it to the much needed B model with relative ease. Could you scratch build a lot of these items? Sure, but the care, design, detail, and information that Mike provides in this set sure makes it easier for those of us that are scratch-building adverse!
Jeff