1/48 Eduard FW-190 D Inbox Review.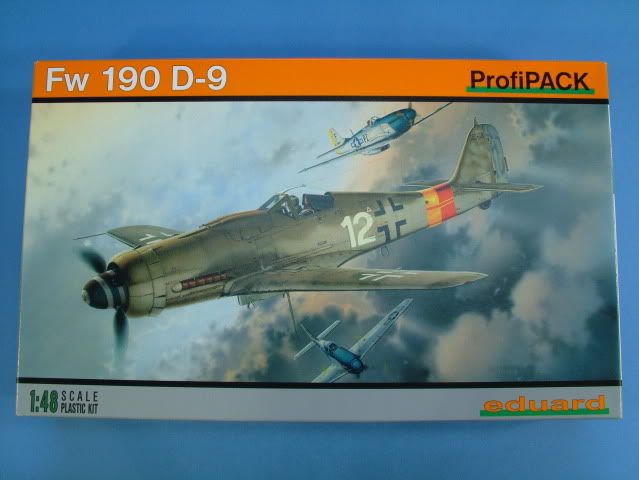 The kit's contents are as follows:

5 sprues of light olive styrene parts containing 136 individual parts, 6 marked as not for use.
1 sprue with the transparent plastic parts.
1 pre-painted photo etched fret.
1 sheet of self adhesive masks.
1 sheet of decals.
1 instruction booklet.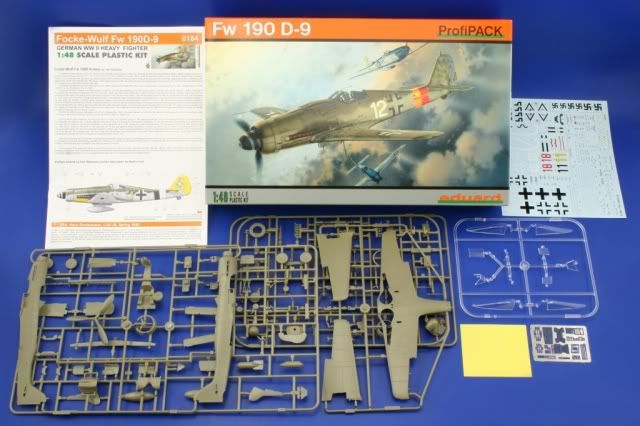 The short of it:

High level of detail throughout, without an insurmountable amount of plastic keeping the complexitiy level manageble.
Restrained surface texture, consistent depth of the panel lines, great riveting.
No flash to speak of, all ejector pin marks are well placed and hidden out of plain sight.
Straightforward parts breakdown in well managed sub assemblies.
First kit at this scale to capture accurately the see-through wheel wells with rear engine detail visible.
Useful options including alternate centreline fuel tank and bomb.
Closed or open cowl flaps, choice of main (Smooth or Treaded) and tail wheels.
Optional open wing and cowl gun bays; perfect moulding; excellent quality decals.
Excellent clear parts with different sliding sections for open and closed options, plus flat or blown canopies.
Overall dimensions of fuselage lenght and wingspan apear at first glance quite good.
attractive Luftwaffe marking options.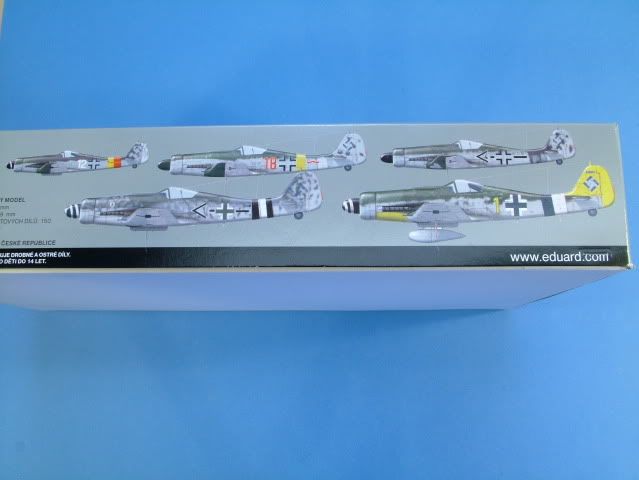 Among the features of this kit:
Kit provides realistically engineered open landing wheel well roof with engine backside and other inner fuselage equipement inside

Detailed cockpit as molded in plastic or use with color photo-etched parts

Machine gun hatch engineered for all known hatch variants and is potionable.
The bulging of the canon fairing appears to be somewhat exagerated compared to my references.

Nothing to get overly exited about it though.
Positionable gun doors for the wing root bays and MG151s.

Some very nice interior detail molded into the doors.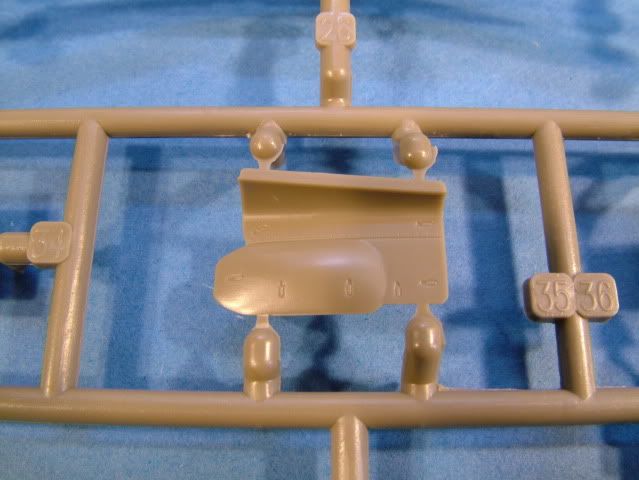 Positionable ailerons. The fabric & ribs are finely restraint and scalelike.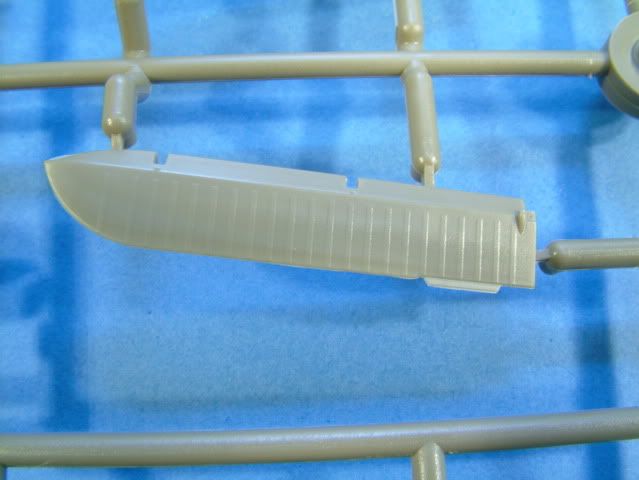 Positionable rudder. Accurate rib detaling nicely restraint.
It is interesting to note that all flying surfaces are positionable except for the elevators.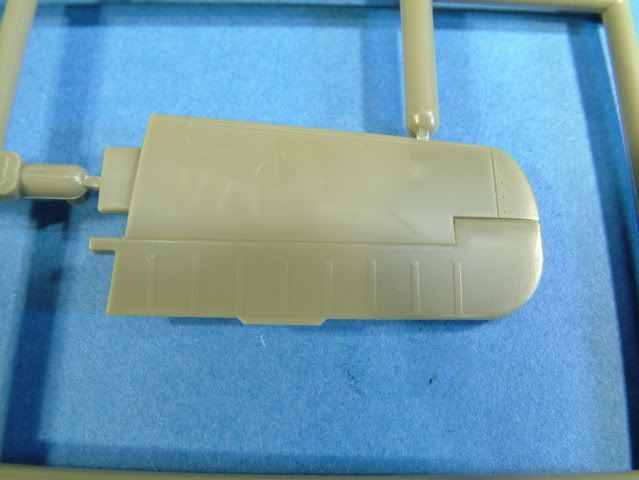 It would have been a very nice feature to go that one extra step and make these potionable as well, especialy given the fact that according to my limited references, the following is noted:

Elevators are deflected upwards when parked, this was done to lock the tail wheel in place.
When the elevators were dropped, the tail wheel could move freely.

The control stick was pulled back for consistency with the position of the elevators.
One can easily cut these loose and re-glue as the hinging lines are quite simple though.
Choice of open or closed cowl flaps.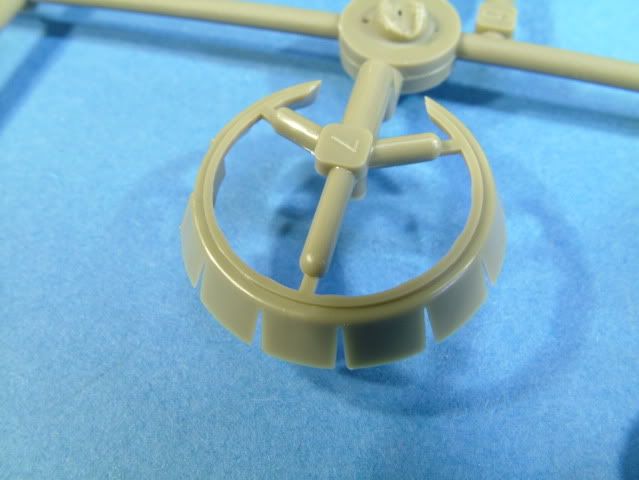 Choice of spinner style.

Shape and dimension is quite good.
Choice of external tank or bomb on centerline station.
The external tank is the early style, ribbed version.
It would have been a nice touch to have gone one step further and provide
the alternate late smooth style, or the 300 liter cigar shaped versions.

It is worth noting that the cigar-shaped drop tank was quite rare and used only late in the war,
so this is much of a personal preference and should not be seen as a downgrade of the kit.


Choice of blown or flat canopy which is fully positionable.
The clear sprue is packaged in the heavy zip lock style baggies.

I am particularly fond of these, as one can prep the parts for assembly and Future treatment, mask and place them back in the baggie zipped up so no parts can be lost.

A very nice touch indeed, and hope to see more manufacturers follow Eduard's lead in having this become standard packaging.
The Blown Hood is slightly narrow in waist and top shape when comparing references.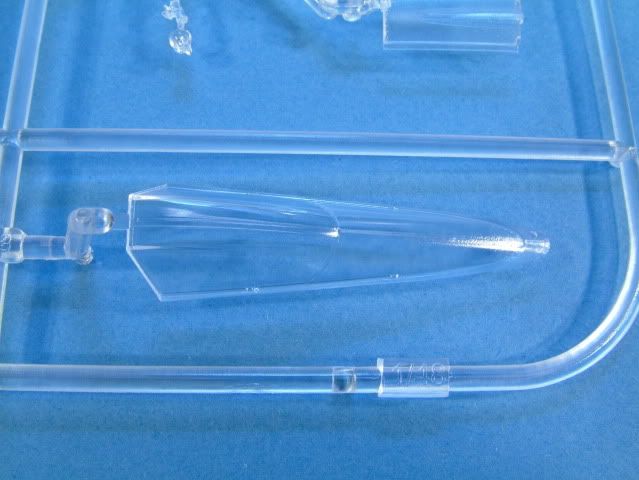 Very nice detail throughout on the top and bottom wing panels.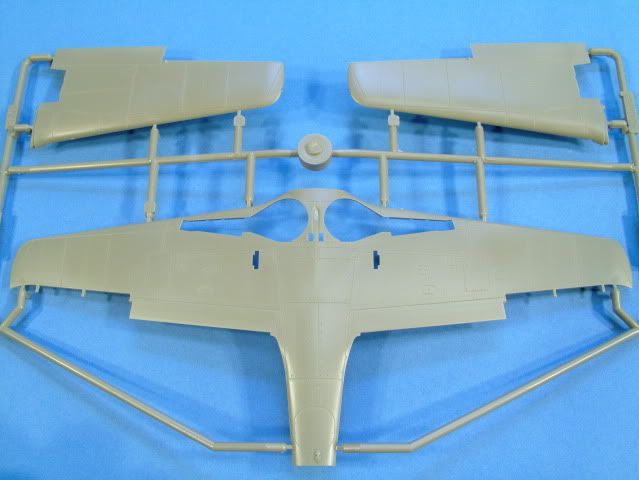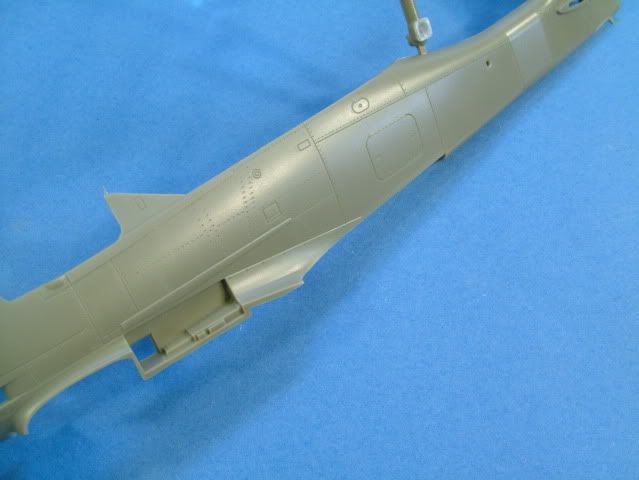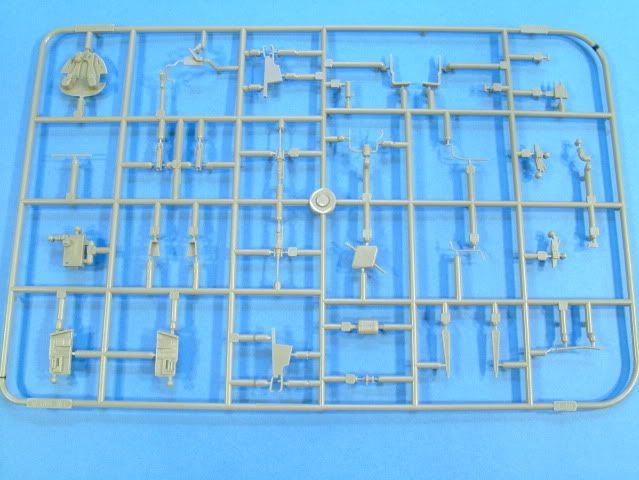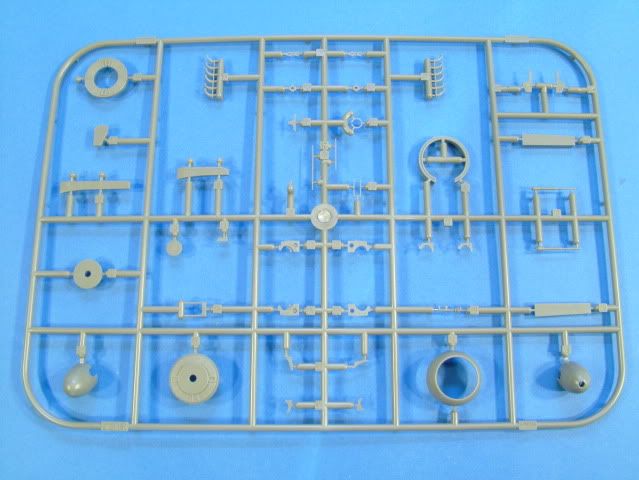 Exhaust stack profiles are nicely captured, the sprue attachement well thought out to prevent any damage when removing them.

Some modelers might opt to drill these out to give it a little bit more definition.

The weld seam on the outside center edge is missing however. I am sure that soon we will see AM manufacturers address this small detail missed with replacement sets.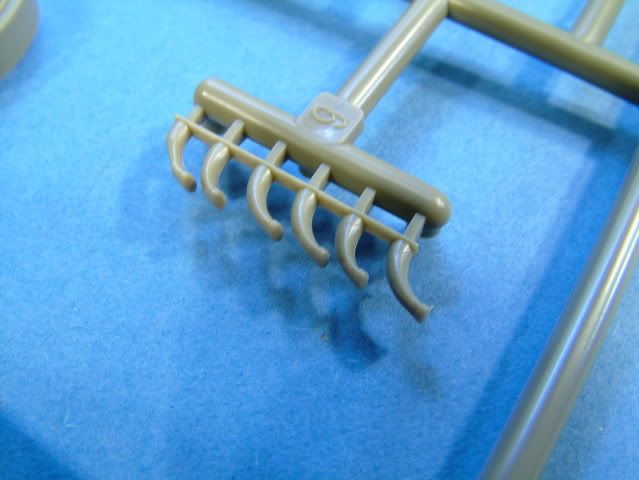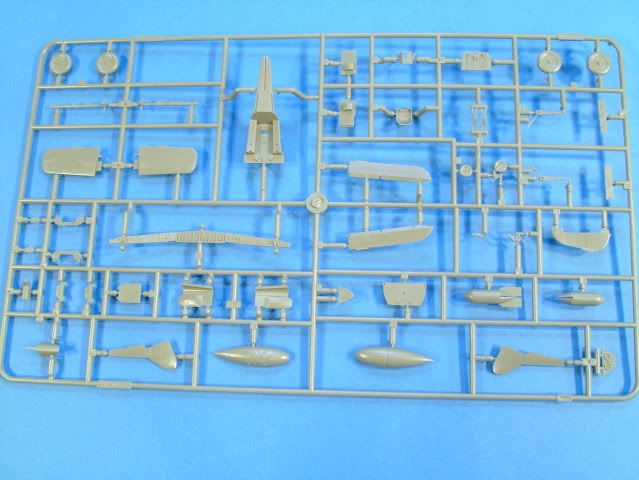 Choice of main (Smooth or Treaded) tires.
The kit wheels appear to have the correct diameter and thread design, however they do tend to be a tad too skinny.

On a personal note, I would have liked to have seen the "buldged" variety, or at least perhaps the inclusion of both those styles.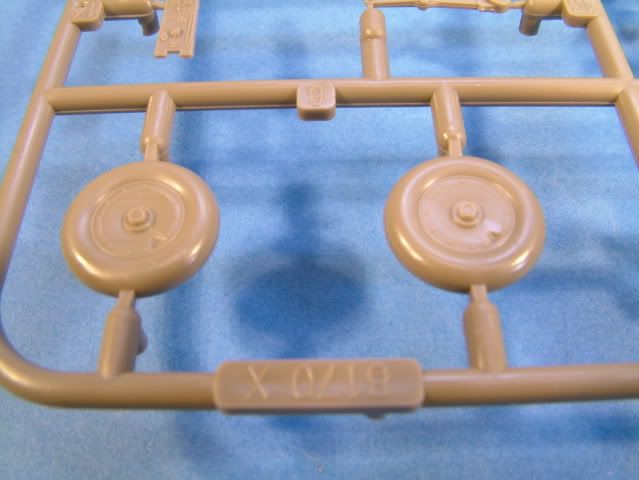 The propellor is of the correct diameter and is remarkably thin and scalelike. No sink marks detected at the back of the blade, so prominent on many other kits.
The blade's shape is quite acceptable, capturing the broad cord for the high altitude style.


Color photo-etched details
The prepainted PE set is very well done, the "Grey" is well matched to the RLM66 Dark Grey used for all interior surfaces.

Some very nicely detailed seat belts are included, giving a touch of class to the already busy cockpit.

I do hope that in future kit releases Eduard will start including the Self Adhesive types,

These types rather assemble very quickly without the troubles of Super Glues and/or Gator Grip Glue.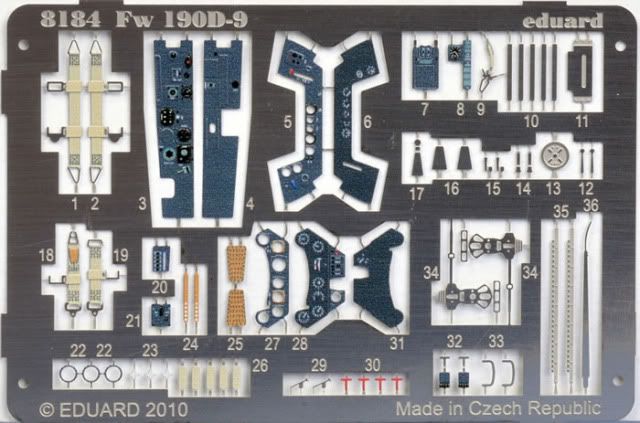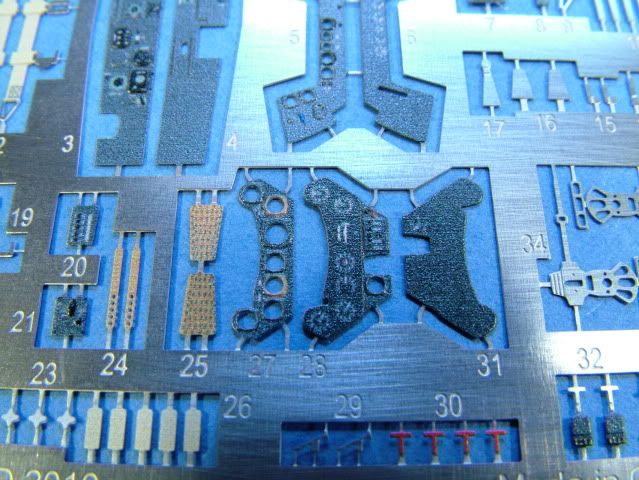 The decals are perfectly within register and have good color saturation and depth.

Propellor spirals are included on the decal sheet as well.
Optional decals for the cockpit instrument panels are available.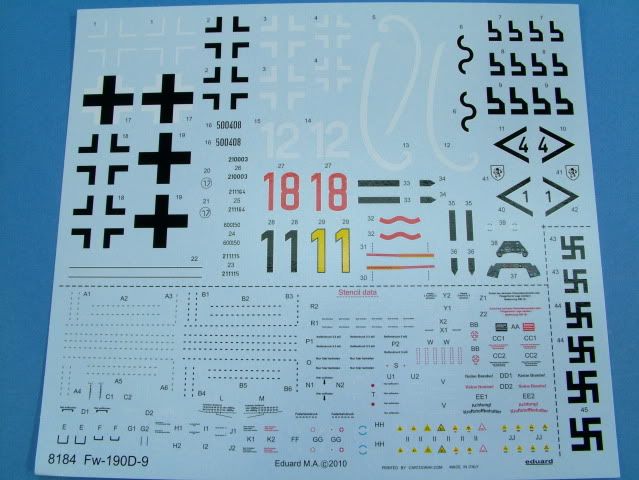 The stencil data provided is extensive and very well printed.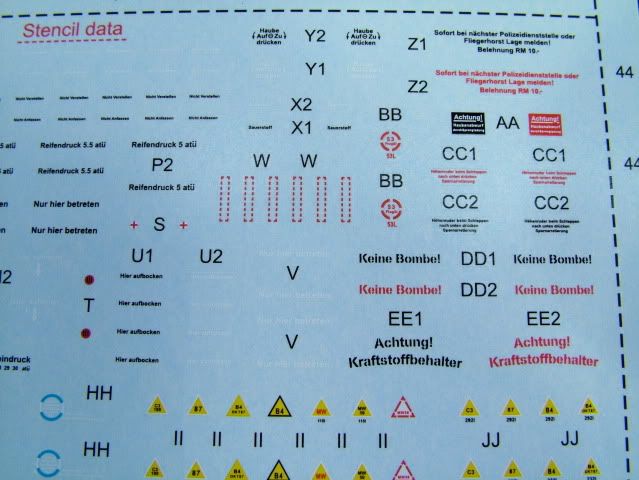 Always a nice touch to facilitate quick and easy canopy painting are the pre-cut masks. Also masks are included for the wheel hubs.
A very welcome addition to any build in my book.




Excelent instructions accompany the masks, a continued welcome touch.


Assembly Manual.
In my opinion the very best in assembly manual in layout and overall design.
The glossy paging and color is a very welcome addition to plastic model kits.

I am in hopes that other manufacturers take note (Trumpeter does the camouflage options in color in their specific kits)

Well illustrated with all parts correctly maked in a well thought out sub- assembly sequence.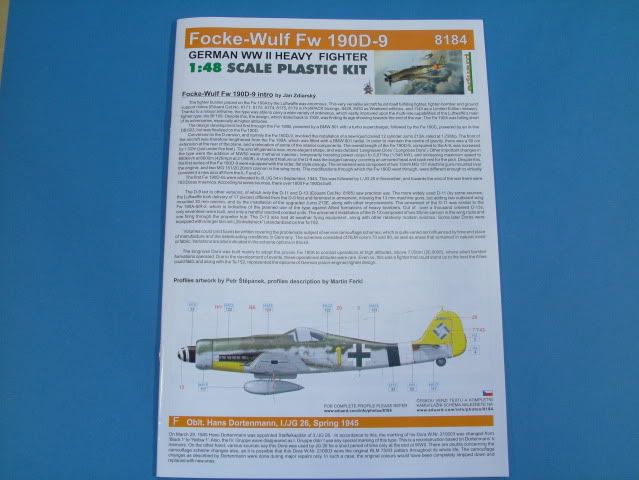 Paint color call outs are provided for Gunze range in both Aqueous and Mr. Color.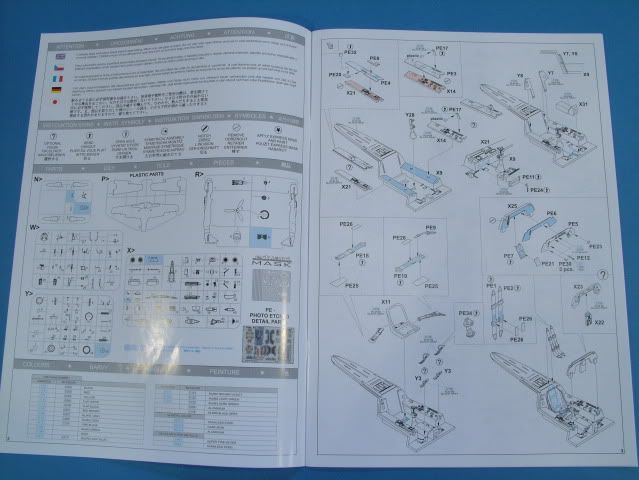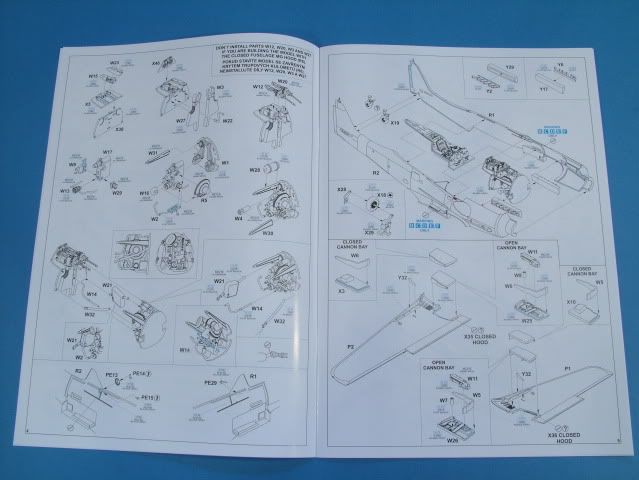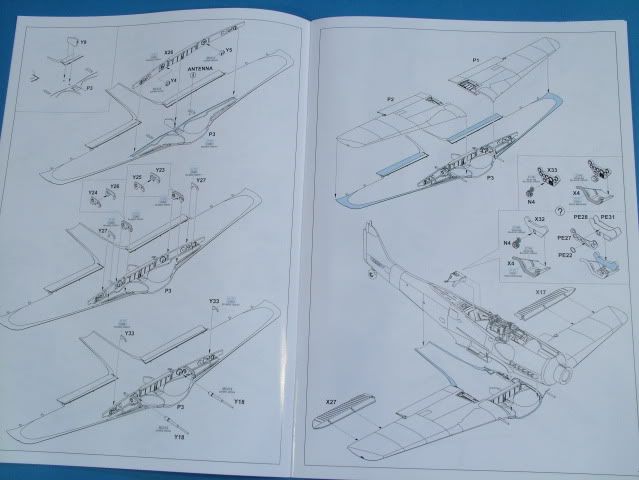 Marking Options in Detail:


5./JG 301, Bad Langensalza, Germany, May 1945
Oblt. Hans Dortenmann, IV./JG 26, 1945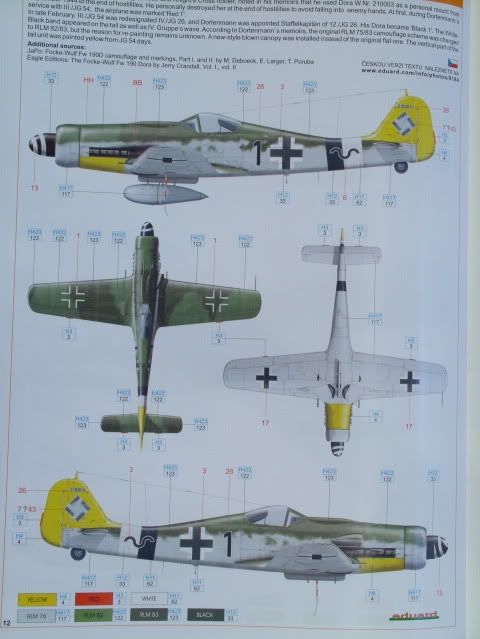 Stab/JG 4, Frankfurt am Rheim, April 1945
I./EKG(J) or V./EJG 2, Pilsen, Czechoslovakia, May 1945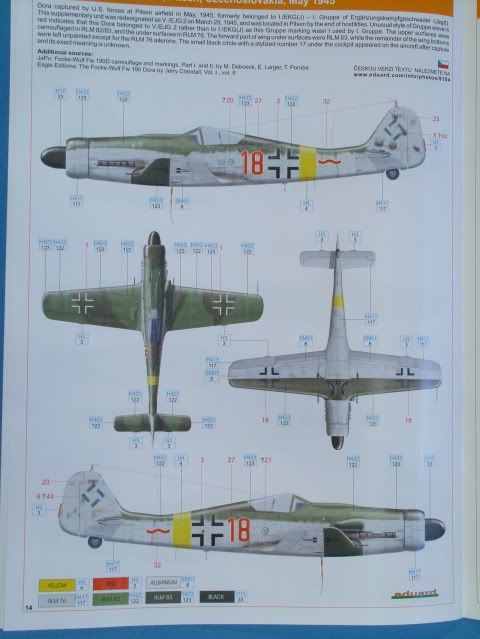 Stab/JG 6, Prag – Rusin, Czechoslovakia, May 1945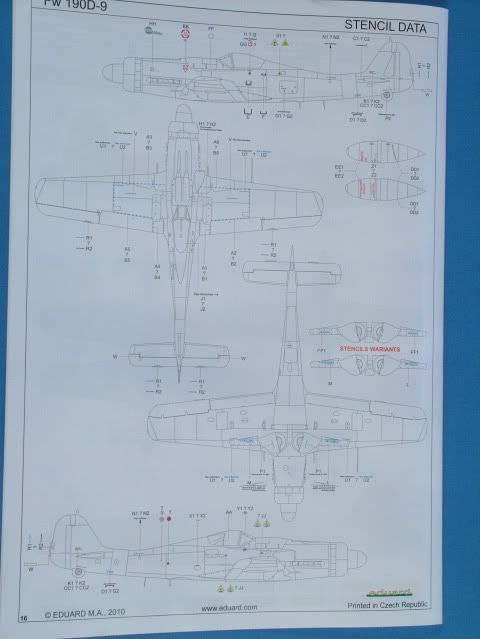 Eduard mock up pictures of the completed model: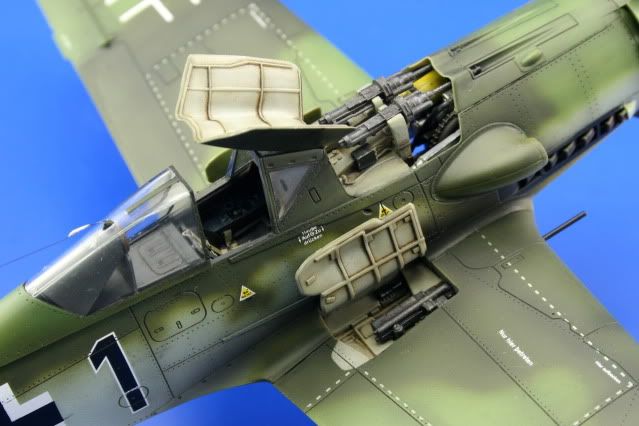 This new offering from Eduard will build into a magnificent addition to your Luftwaffe collection straight out of the box.

For the more advanced modeler, some minor additional details will easily modify it into a showstopper.
The very minor comments of nice to have's are exactly that; "nice to have's", and in no way take away from an exceptional value for this level of kit.

There are already quite a few aftermarket decal sheets available should you not be satiesfied with the kit's versions.
I can't wait to start mine, be on the lookout of a future detailed build thread and my comments on overall fit and construction.