In-box Review of Great Wall Hobby's, 1:48 Focke-Wulf Fw 189 A-2
Scale: 1:48
Manufacturer: Great Wall Hobby aka Lion Roar
Type: Injection moulded plastic
Extras included: Photo Etch parts inc. Harness, Canopy Mask.
Price: £34.99
As I'm sure a lot of you know, Great Wall Hobby have been making some nice armour kits for a while now and the Fw 189 is the first venture into the world of aircraft.
Other than a casual interest, I'm not an expert on the Fw 189, so I'm not going to attempt to give you a potted history of it's production and service record. If you want a taster of that, take a look here:
http://en.wikipedia.org/wiki/Fw_189
For futher information, I would recommend the Squadron-Signal 'In Action' book on the type. All I will say is that looking through the pictures and drawings in the Squadron book, it looks pretty accurate in shape and details to me.
So, without further ado, onto the kit ...
It comes in a nicely decorated, sturdy, two-part box, with the 6 sprues of plastic individually wrapped - the clear sprue being afforded additional protection! There was no flash on any of the parts in my box and no damage through packing / transport / delivery.
As well as the obvious instructions and decals, also included with the kit is a full colour painting / colour guide, a die-cut mask for the canopy, and a set of photo-etch parts (more on that later).
Box Art: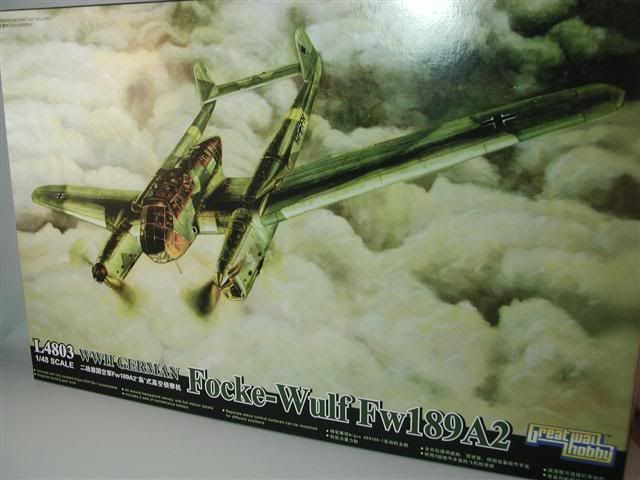 Box Contents: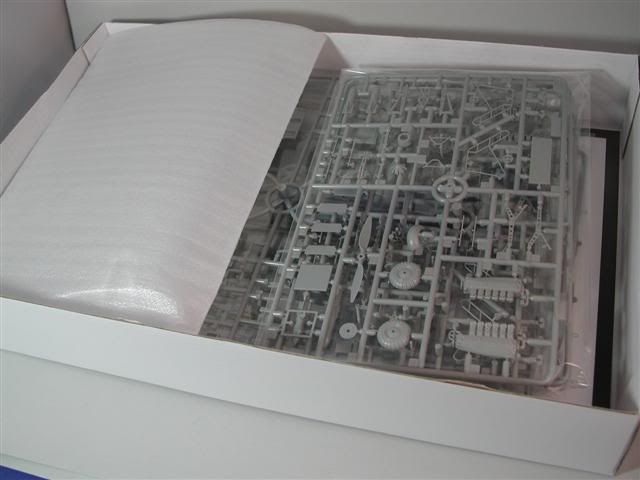 'A' Sprue: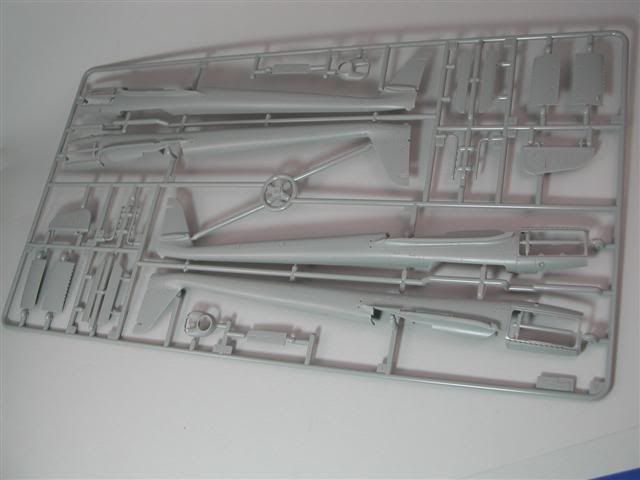 Engine access panels, neat 'piano' hinge detail ...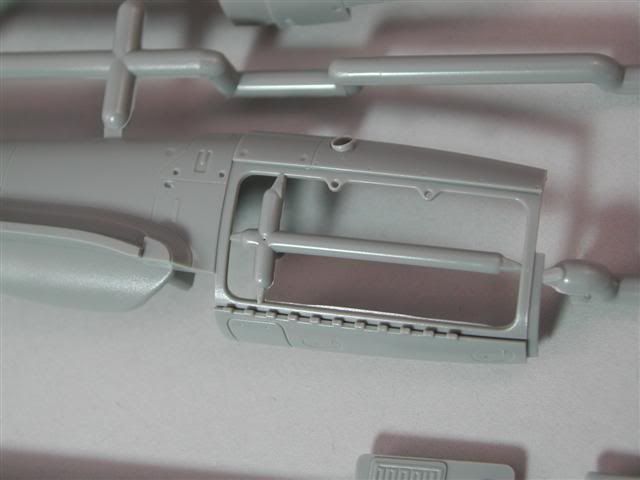 Access doors, outside ...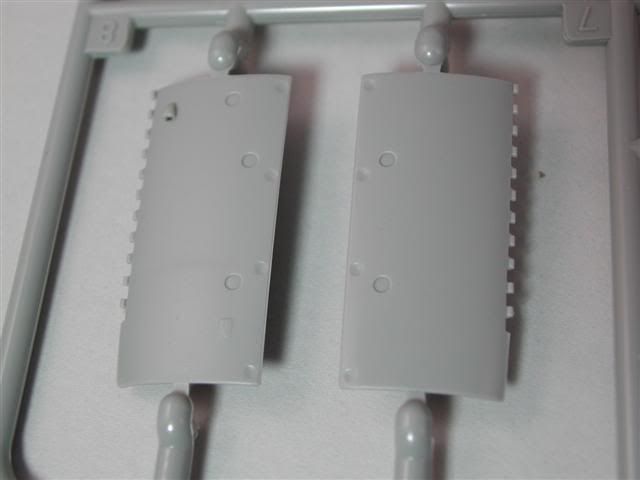 And inside - Aaargh, pin marks! Nice detail and thin moulding too.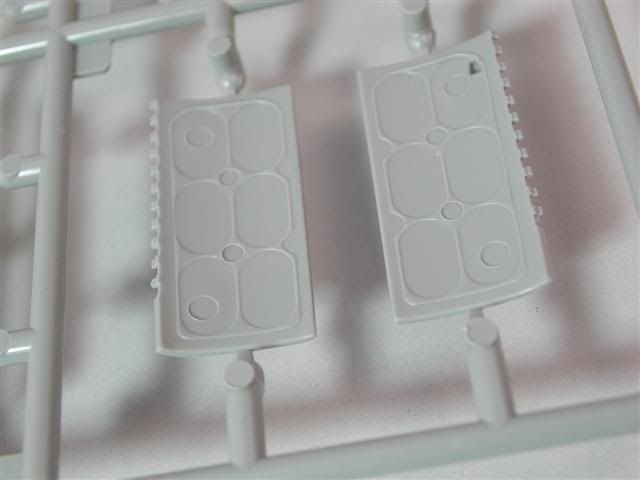 Main gear bay, again with plenty of ejector pin marks. Not that these are a problem to deal with, using my trusty mini-drill / grinder (Buy one from the Promodeller Store!)
One of the rudders. The fabric detail is maybe a little overdone, but what kit doesn't receive that critisism? I can't say it bothers me particularly.
'B' Sprue: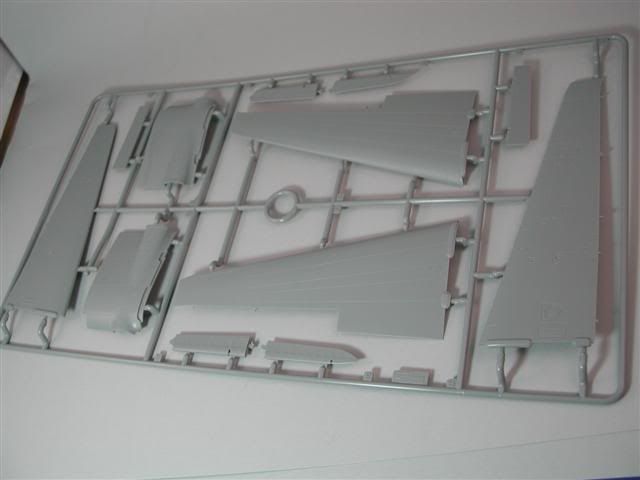 Very nice surface details with fine recessed panel lines. Each of the access hatches has hinge detail too.
All of the control surfaces are seperate and moveable, and you can also drop the flaps.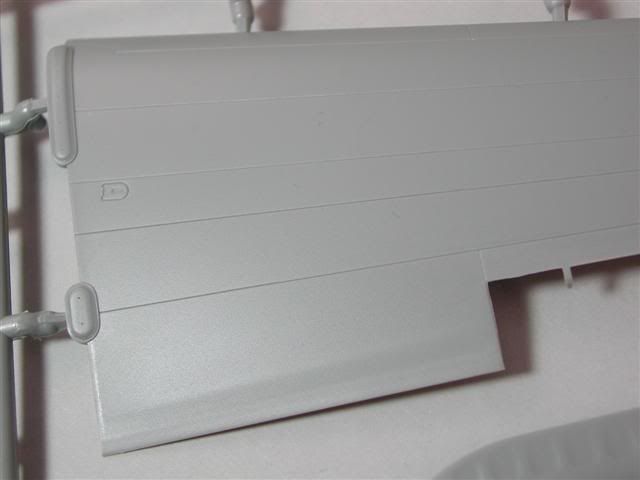 'C' Sprue: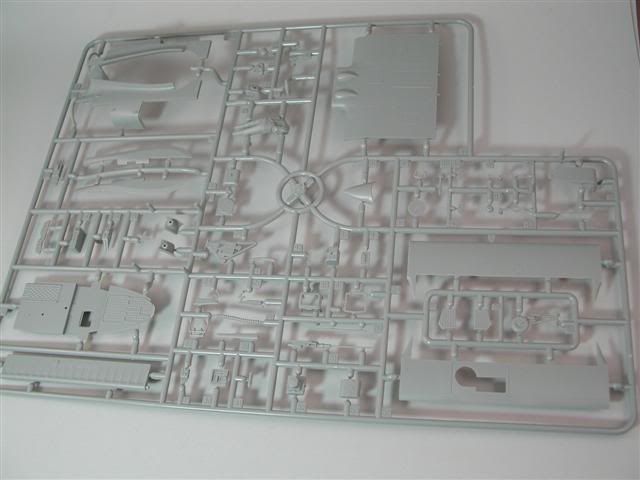 The outside of the cockpit.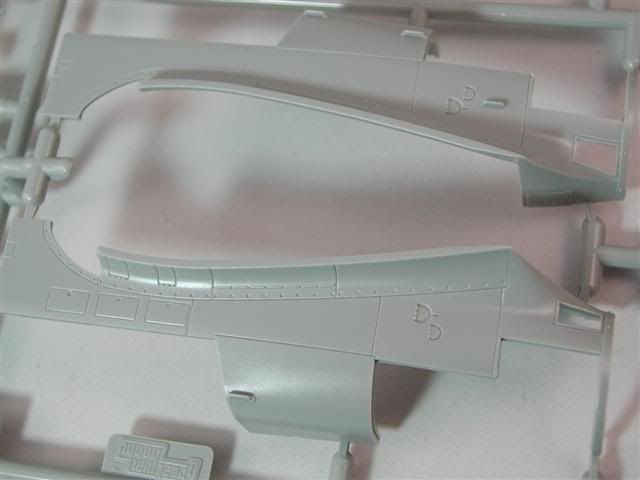 And inside ...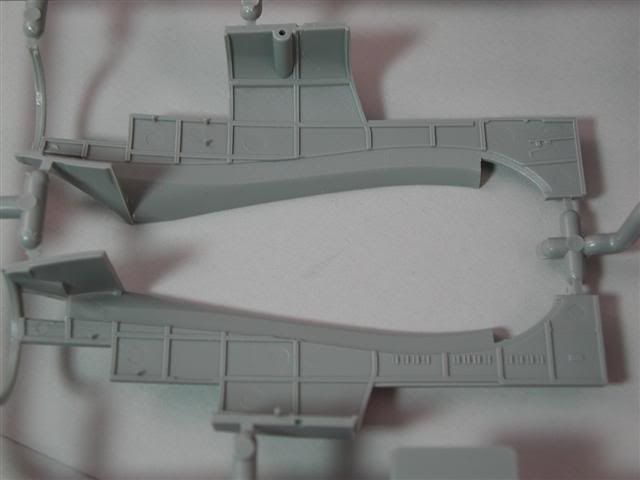 The wing roots are hidden by these two curved inserts. From what I've seen in the few online builds I've found, these fit OK, but do leave a noticable join line. Thankfully, this is pretty well hidden inside the busy cockpit.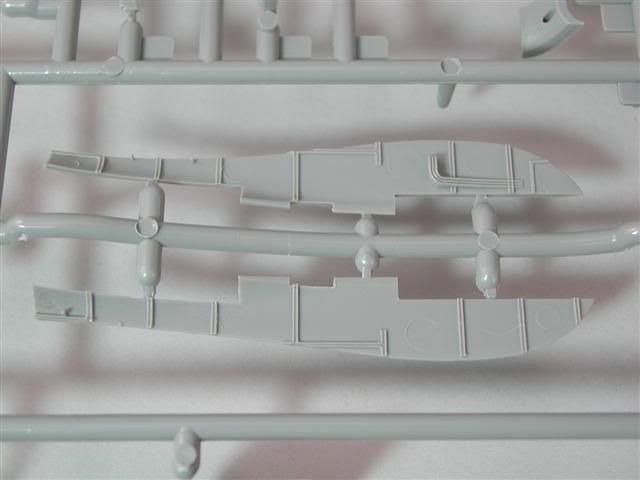 Pilot's seat, complete with pin marks. It also has a sink mark on the back due to the head cushion. Why didn't they mould it the other way around so that the pin marks were on the back?
Multi-part pilot figure included in a slightly odd pose. Great if you're building a dio and want to depict the pilot just about to get in.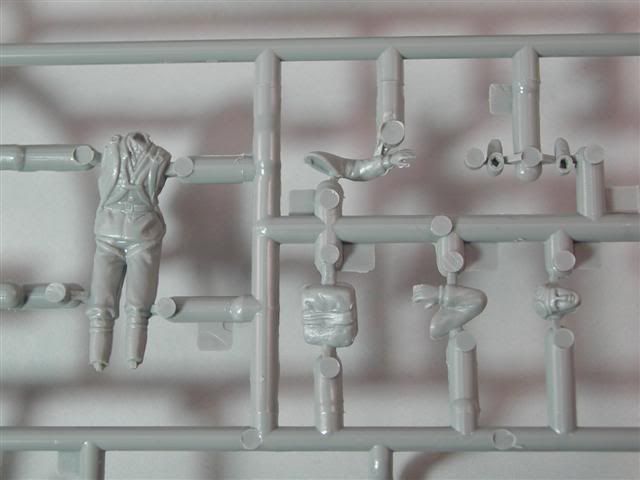 Rear wheel bay with some nice detail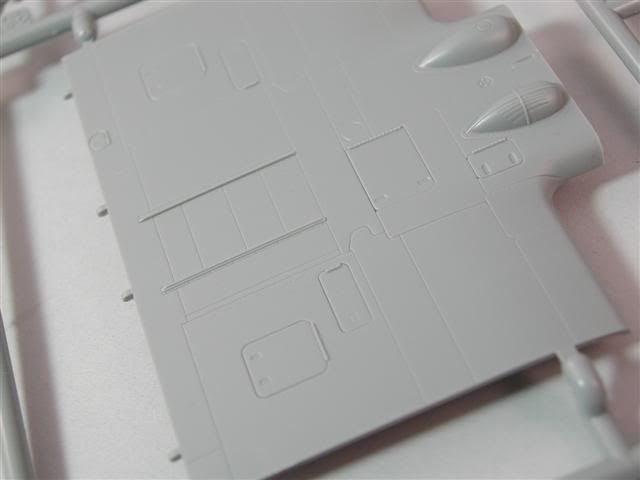 Camera gear and big gun not used in this version
Instrument panel and side console detail. The dials have no raised detail, but individual instrument decals are provided.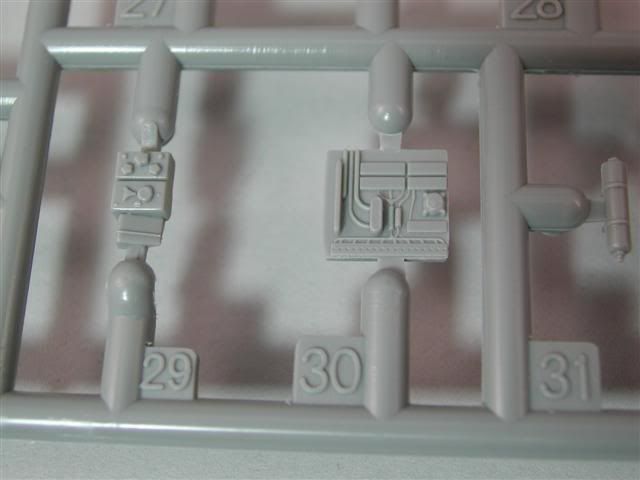 'D' Sprue (2 included):
Landing gear:
Ammo magazines: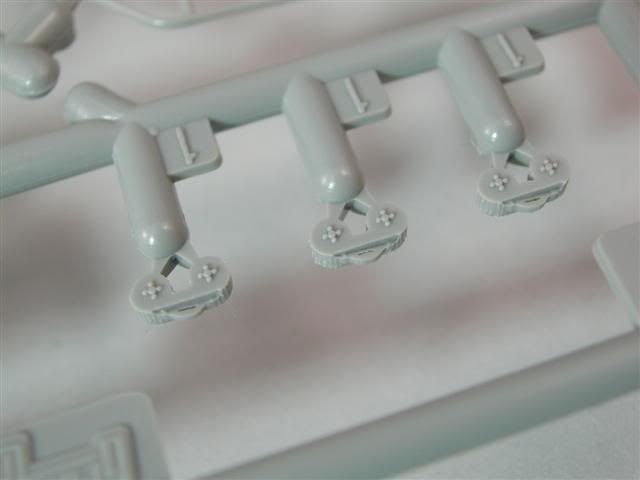 Engine mounts
A nice little extra - a neatly moulded cockpit ladder! Also included are the parts to make a pair of chocks.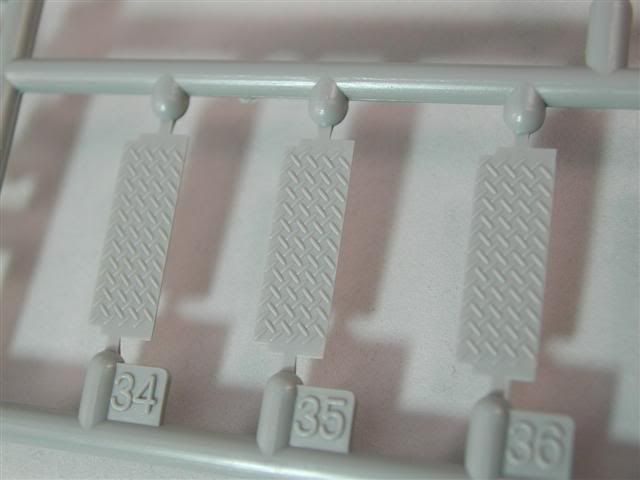 Main wheels - nice to see they're molded with a flat spot, shame about the over-done detail on the tyres.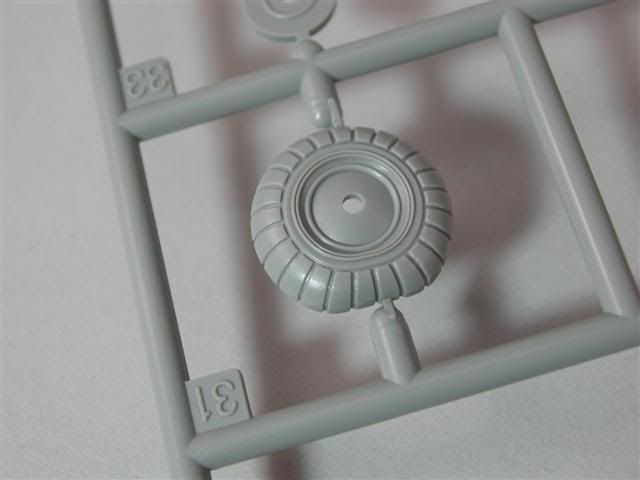 2 complete Argus engines are included: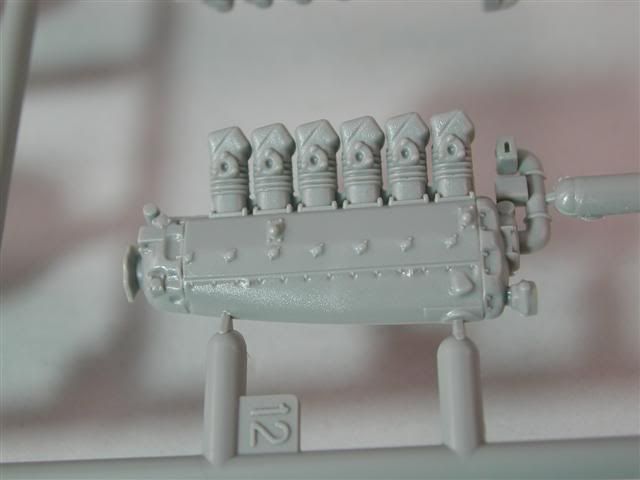 'E' (Clear) Sprue: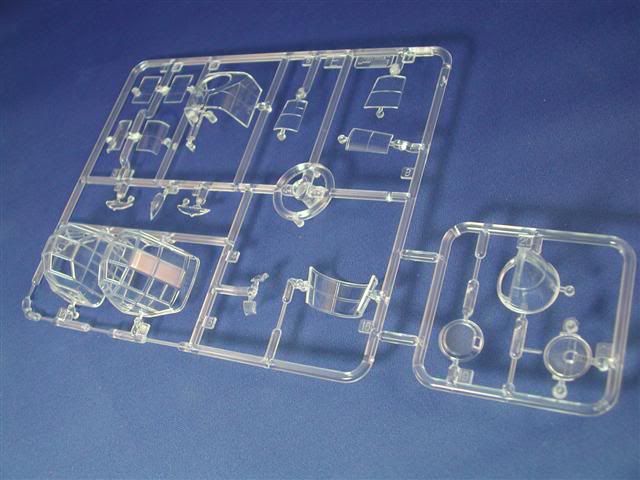 Two main canopies are included - you use the one on the left. The one on the right looks like the nightfighter version - the hole is for the antenna to poke through. As you can see, the parts are thin and clear, although the framing is a little heavy.
Lovely thin and clear side entry windows/doors.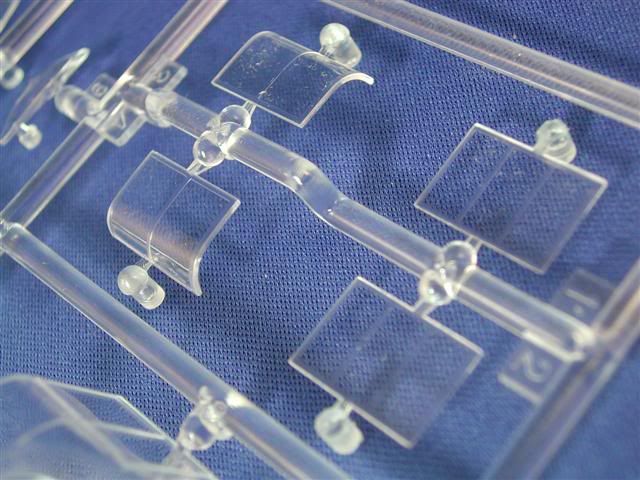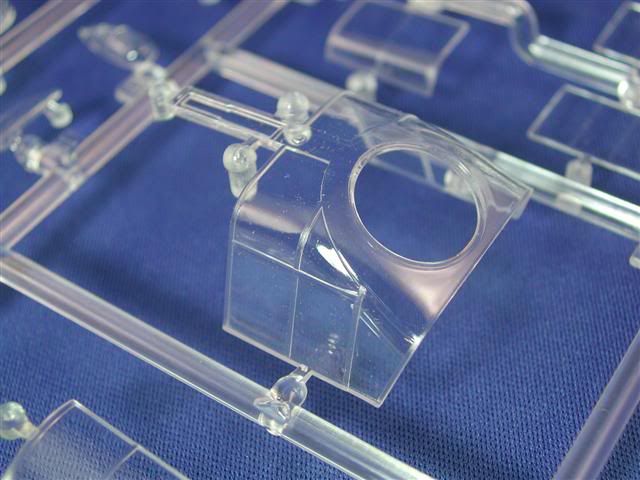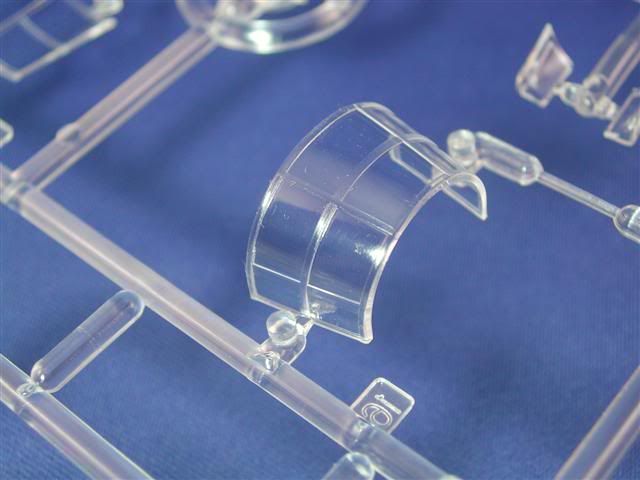 Photo-Etch Parts:
This is the kind of PE I like - plain brass! I'll let you know how easy it is to bend / paint. The four spiney looking things on the left are wiring looms for the engines.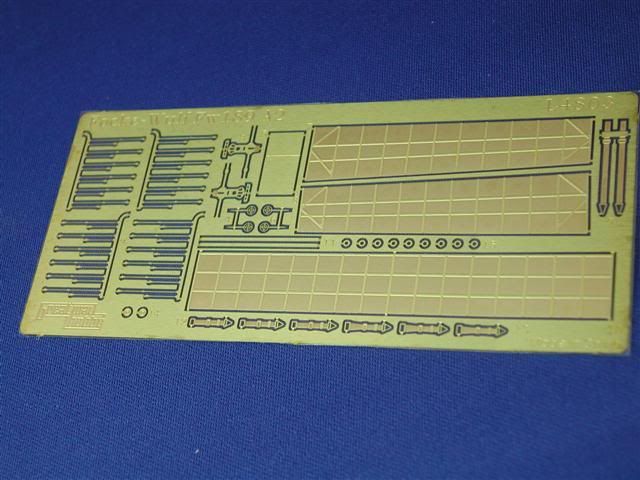 Gun sights and rudder pedals.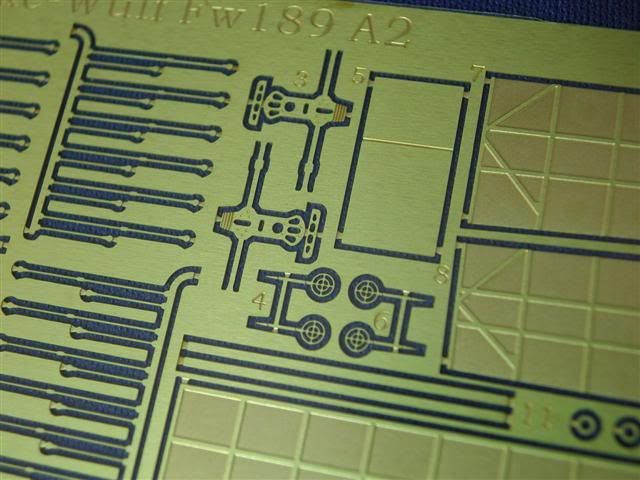 Flap insert and harness details. The little 'o's are raised fixings for the engine access doors.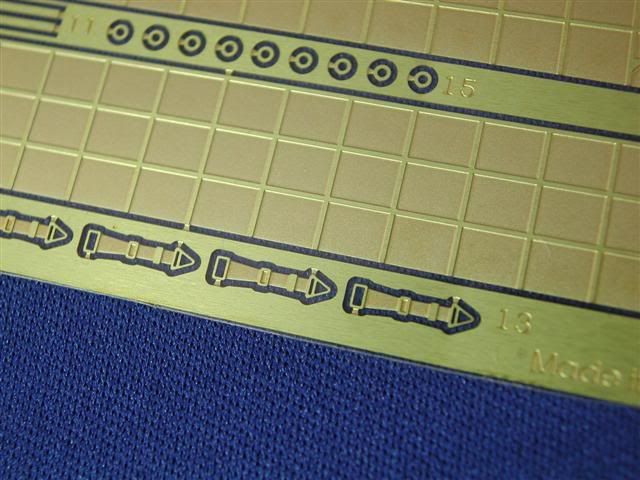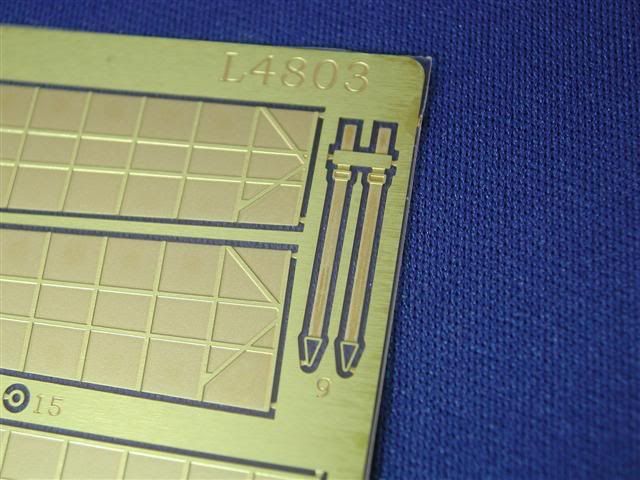 Decals:
The decals in my box were in perfect register and of good colour density. Two quite similar marking schemes are provided, one for a splinter scheme, the other a winter white wash version.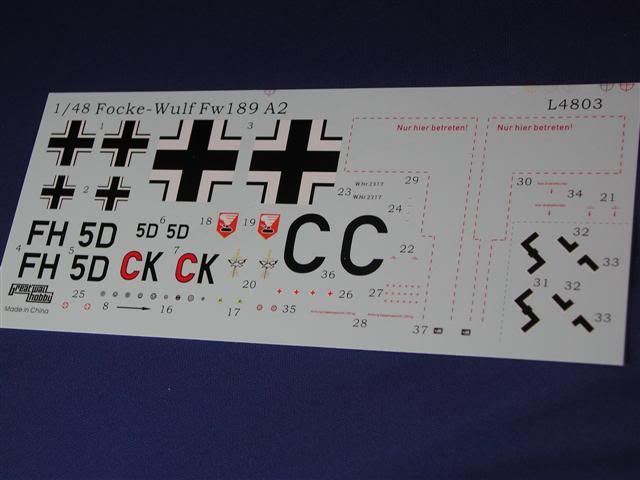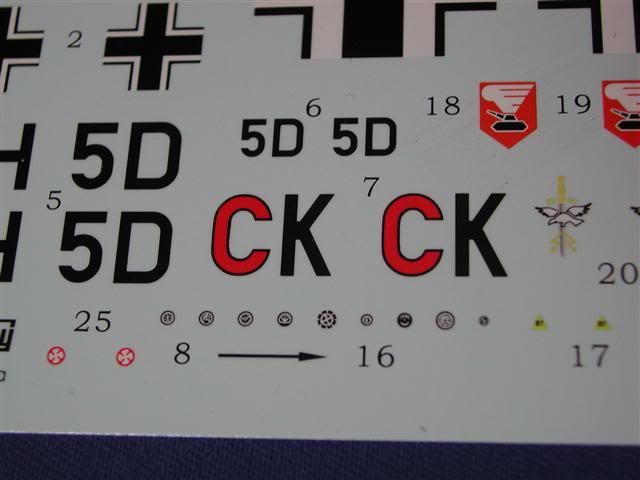 The swastikas come in parts, which is better than no swastikas at all. However I will probably use some replacement ones to save faffing about.
Painting Guide:
All colour call outs are for the GSI Creos, Mr. Hobby Colour range of paints.
Canopy Masks:
Although a welcome inclusion for such a glass-house, the masks are similar to the older Eduard type i.e. low-tack vinyl, rather than the more preferable kabuki tape. I noticed some of them lifting before I had even removed them from the box, and reading a couple of WIPs on other forums, I've heard that some of them don't fit perfectly and there have been problems with them lifting on curved panes. I'd give them a go, but be prepared to suppliment it with regular masking techniques.
Instructions:
Conclusion:
This is a really impressive debut aircraft kit for Great Wall Hobby. The parts are all well and finely detailed, with a logical break-down of parts for a complicated and unusual structure. The inclusion of the masks and PE parts are the icing on the cake and for £35, you really can't complain about getting value for money. It remains to be seen how well the parts go together, but I've not yet seen or heard anything serious on the few WIP threads I've been following. This kit only just comes 2nd as kit of the year 2010 for me, with Revell's 1:32 Arado taking 1st. It's great to see these new manufacturers popping up and demonstrating they have some balls by producing excellent, modern and ambitious model kits. Can't wait to see what they do next.
P.s. It's worth mentioning that I ordered this kit from the airbrushes.com website at midday in the middle of the week, and the kit arrived the next day, well packaged and with 5% discount for taking part in a feedback survey. Excellent service.
Scores:
Packaging 10/10
Instructions 7/10
Decals 7/10
Accuracy 9/10
Detail 9/10
Value for Money 10/10
Overall 52/60