In Box Review - Eduard 1/48 Albatros D V Profi Pack edition.Packaging:
Were the sprues individually bagged?

No, single transparent re-closeable bag.

Was the clear sprue in a separate bag?

N.A. - no clear parts in this kit required

Were there any additional protective measures used which might warrant bonus points?

N.A. - The box is quite sturdy with appropriate tight dimensions as such not allowing excessive shifting of parts during shipments.

Is the box art worth raving about?

Eduard does a nice job of providing box art for their releases, especialy the WWI subjects.

Perhaps not at the same level as Tamiya or Hasegawa (then again these companies employe world renowed aircraft artists.

Certainly much better than Hobby Boss and Trumpeter.

One nice thing on the side box art is that Eduard has made it standard to show all marking options with color profiles on the side of the box, something other manufacturers should take note off.

Were any parts damaged?

No parts were damaged, or broken off the sprues, no loose parts.

No scuffing or marring of the plastic visible.

No visible pin marks, no sink holes or short shots of plastic to be detected throughout both Sprues.

No damage or punctures, scratches in the decal sheet.

No damage encountered on the PE fret.
Instructions:
Are they clear and easy to follow?

Eduard instruction booklets are in my mind the best on the market today. Quick "Blue" highlights indicate optional parts, such as PE replacements, and/or variant options. Included as well is a quick reference for their Masking placements. A very nice & welcome addition to ensure no mistakes can be made by the builder.

Also any part that require cutting or removing are shaded in the "standard" Eduard way of indicating these actions in "Pink". Again a very nice touch in their instruction manualas and am hoping that other manufacturers take note and follow suit to make this a "standard" of the plastic modeling industry.

Well layed out in clear steps that are functional and excelent subassemblies throughout.

The glossy feel of the booklet gives a sense of luxury and the color profiles are the best of the industry.

Lovely background history on each subject is provided. In addition Eduard is now making the color profiles available on line for further study, as well as the complete instruction booklet, should you ever mis place it a quick connect to Eduard website gets you settled. Another excelent touch by Eduard.

Do they include multiple languages?

Yes, 5 languages are provided for English, Polish, French, German and Japanese.

Are they accurate?

Assembly steps for this subject are accurate and easy to read without being overly complex.

Do you agree with the build sequence?

As this is an inbox review and the subject kit being quite simple, so the sub assemblies reviewed do make a lot of sence.

Do they include colour call outs?

Yes full color call outs are provided using Mr. Gunze paint range both Aqueous (water Based) and the Enamel based.

For multiple paint types/brands?

Painting profiles/colour?

Eduard color profiles are some of the best in the industry, the line art is some of the best quality in print and well researched.

Here is hoping that Tamiya and Hasegawa switch out to the layout booklet size, glossy feel and color profiles Eduard provides.

.
Decals:
Are they accurate?

Some debate exists over Ltn. Wilhelm Lehmann's profile, which Eduard shows with a Red mid-rear fuselage section, some argue this was Black not Red. As well as the front of the plane is shown on the profile supplied as Silver/Aluminum however some argue this was a "Grey".

Are they in register?

Eduard uses Cartograph for their decal sets and are of the best quality seen in the modeling industry.

They are a beauty to behold, nice clear crisp within register, vibrant and (deep) colors (white is notorious for being opaque, but these look very good), very thin with a minimum clear border (carrier film), check out the close up photos of the decal sheet fruther down.

Cudos for providing a few bonuses on the sheet in the form of propeller logos & stencil data for the struts.

Are stencils included?

Not required for this subject.

Are there many schemes catered for?

Eduard does a great job in providing 5 very colorful camouflage schemes.

Quite nice for such a small subject and market share.

Are seat belts or instrument decals included?

Yes, The PE set nicely adds to the overall feel of the cockpit and dresses it up quite well.

Of the 73 pieces available, 8 are pre-coloured to accommodate the seatbelts, instrument faces and wooden side panel.

There are machine gun jackets, aileron control horns (with covers), radiator shutters, cable entries, plates & cockpit valve selectors.

There are decals included for the instruments as well as the standard Eduard PE configuration, which most modelers will opt for.

Any Swastikas? If you have tested them, how did they perform?

Were any setting solutions needed / used?

NA this is an inbox review, however as these are cartograph no issues should be experienced.
Accuracy:
How does the kit compare with the real thing?

Comparing a few on line fotographs of a restored subject the outline and dimensions are quite accurate.

One minor issue is the apparent lenght of the undercarriage height wich make the model look a bit squat. This could be corrected with some scratchbuild legs as they are of quite a simple construction. (hoping Eduard will adress with a correction sprue in future releases).

A 5-piece Mercedes engine completes the front interior between the fuselage halves, a small drill will be handy to drill out the exhaust stack and provide a small touch of extra detail should one choose to do so.

The hyper detailer will want to add the missing "washout", which was seen at the extremities of the upper flying surfaces.
Are there any errors?

One minor "gripe" for me is the rib stitching on the top and bottom wing missing. In other WWI offerings this was either molded in the plastic, or provided as decal sets. The ribs are currently represented by subtle ridges, however the trailing edges are commendably thin and scale like.

I would like to see the inclusion of a "pinking" strip made from their Quick Masks material, that the modeler could apply and then paint over to simulate the depth and form of the rib stitching.

Can you think of a remedy for errors spotted?

Ian Stair's general line drawings and the outlines of the various components were utilized to create the original DV offering. An error slipped into these otherwise excellent plans and this relates to an extra inspection hatch which Eduard reproduced. This is found on the lower part of the starboard side just behind the rearmost vent. It is easy to sand off however with no loss of detail to the surrounding area.

An updated set of Ian's plans saw another anomaly appear where the port carburetor access hatch is seen located much lower than it should be. The misplacement of the footstep is corrected by a photo-etched replacement thumbs up to Eduard t catch this and providing a simple solution.

Are there any after market sets available which are worth considering?

Not required in my opinion, the included PE provides just enough to set the detail in this scale. However, one inclusion that would be nice is for the advanced modelers to have a spool of fishing wire included, and perhaps an accompanying set of brass buckles. Eduard went to great lenght to show the rigging on the instruction booklet but no provision has been provided to make this so with what is included in the box.

The original offering (limited release boxing) apparently had a white metal engine which had additional detail, as I do not have seen one up close it is difficult to comment how the white metal offering compares to the current plastic version.
Detail:
Does the kit have lots of raised or engraved surface detail?

All panel lines are finely engraved, of similar depth and within scale width.

Is the detail crisp or soft? Can it be easily enhanced?

Molding of these WWI subject kits is indeed of the highest quality, the detailing is very crisp, consistent through out each part and from sprue to sprue. The plastic is just hard enough to prevent warping and soft enough to react to Tamiya's thin cement for excelent bonding.

How does it compare with other kits:

Was there lots of flash?

There are some very very minor flash areas to be seen as shown in the super closeups of the wing trailing edge and the wheels.

Are the clear parts thin or thick, or deformed?

NA - no clear parts required for this kit.
Fit:
If the kit has been built, how well did it go together?

NA - In box review, stay tuned for an up and comming detailed photo build in the very near future in our forum.

Was the parts fit generally good, or were there lots of gaps?
Did you need to do lots of dry fitting?
Can you think if any advice that would help others to build it?
Extras:
Did the kit include any photo-etch or resin parts?

Extensive (for this subject) PE set for cockpit instruments, grilles, seatbelt harness etc.

A canopy or marking masks?

A very handy set of Quick Masks are included to paint the wheel rim and the otherwise very difficult Red trim on the rudder - a very nice touch

Hoses, chains or metal barrels?

Replacement gun barrel jackets are provided.

Were they any good or necessary?

Eduard PE continues to set the standard for PE add on parts. In my opinion these little gems provide just the right size of modeling challenge and additional detail to make these small WWI subjects amazing and fun kits to build.

Any other goodies?
Value for Money:
How does the cost of the kit compare with its contemporaries?

Difficult to say, there is a 1/32 version made by WingNut, due to the scale size there is more detail to those offerings.

If it costs disproportionately more, do any aspects of the kit warrant the higher price (Think decals, accuracy, detail and fit)?

I bought this kit for $28, not unreasonable for having a good decal set, excelent PE parts, a ton of different markings.

Are there any other options available?

This is another release of new markings, visiting Eduard's site will provide you with other kit boxings/marking options. Plenty to choose from if the DV is your flavor.
Packaging 9/10
Would be nice to see the decals seperately bagged in similar zip lock plastic back to protect it further.
Would be nice to seperate each plastic sprue within and individual bag.
Instructions 9.5/10
In my humble opinion the best on the market today.

Decals 10/10
Cartograph decals continue to be the best of breed in the industry and well worth the extra costs.
Accuracy 8/10

Detail 8/10

Fit Untested

Extras 9.5/10

Value for Money 9/10

Overall 63/70
Contents:
60 Plastic parts
Color photo-etched parts
5 camouflage variants
Decal sheet
Express mask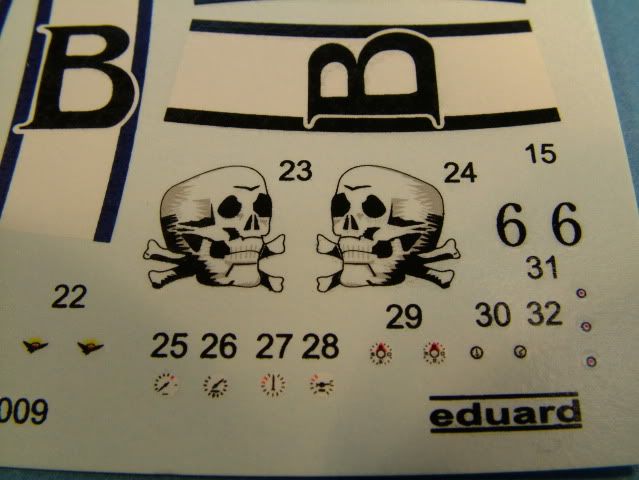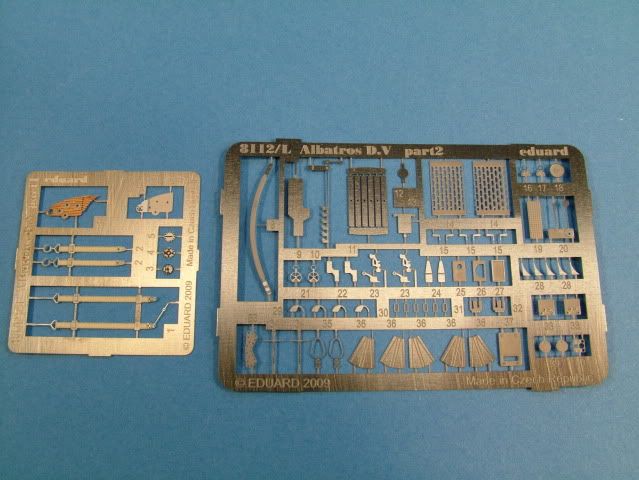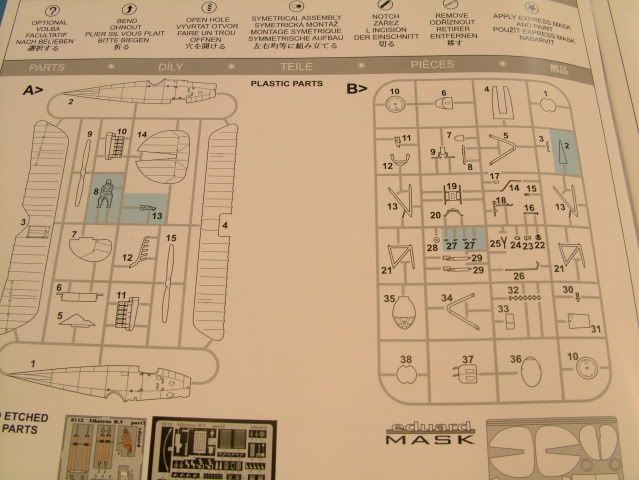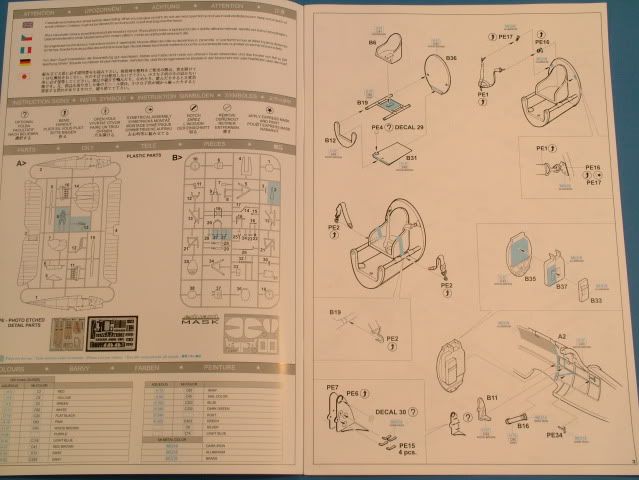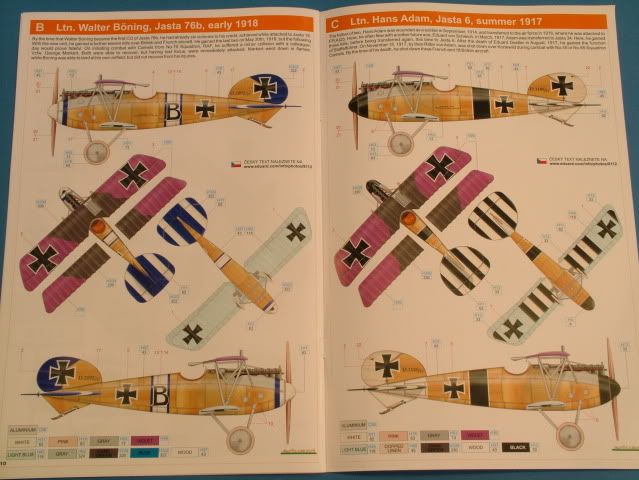 Marking Options:
Additional Reading:
The SE 5a vs Albatros D V: Western Front 1917-18 (Duel)

The photos are excellent, the drawings informative, and the price is reasonable.


See you soon on the forum while I am working the in depth photo build
Hans Pennink
Promodeller.com Group Build Editor and Forum Moderator.