Trumpeter - BMP-2 IFV In Box Review

Kit Number: 05584
Scale: 1/35
MSRP: $55.99
Release date: February/March 2015

Subject Background:
The BMP-1 was the first Soviet amphibious tracked infantry fighting vehicle. BMP stands for Boyevaya Mashina Pekhoty 1 (Russian: Боевая Машина Пехоты 1; БМП-1), meaning "infantry fighting vehicle".

It was also the world's first mass-produced infantry fighting vehicle (IFV) and was code named the M-1967, BMP and BMP-76PB by NATO before its correct designation was known.
It was a revolutionary design combining the properties of an armored personnel carrier (APC) and a light tank. The Soviet military leadership saw any future wars as being conducted with nuclear, chemical and biological weapons.

A vehicle like the BMP would allow infantry to operate from the relative safety of its armored, radiation-shielded interior in contaminated areas and to fight alongside it in uncontaminated areas. It would increase infantry squad mobility, provide fire support to them, and also be able to fight alongside main battle tanks.
The BMP-1 was first tested in combat in the 1973 Yom Kippur War where it was used by Egyptian and Syrian forces.
Based on lessons learned from this conflict and early experiences in the Soviet War in Afghanistan, a version with improved fighting qualities, the BMP-2 was developed.

The BMP-2 is the second-generation, amphibious infantry fighting vehicle (IFV)
The BMP-2 is broadly similar to the BMP-1 but there are some significant changes:
A new two-man turret armed with the 2A42 30 mm auto-cannon and the 9P135M ATGM launcher capable of firing SACLOS guided 9M111 "Fagot" (AT-4 Spigot), 9M113 "Konkurs" (AT-5 Spandrel) and 9M113M "Konkurs-M" (AT-5B Spandrel B) anti-tank missiles.
The commander now sits with the gunner in an enlarged turret.
Seven troops are carried instead of eight.
Two rear infantry roof hatches instead of four.
Slightly improved armor.
The BMP-2 saw the introduction of a new powerful engine and turret, housing a new replacement to the old 73mm cannon, a 30mm 2A42 auto cannon with dual ammunition feeds. It has two rates of fire, between 200 to 300per/min in slow or 500per/min in fast.

The cannon has a better elevation of up to 75deg. giving it a strong anti-helicopter capability with a range of 2000 – 4000m's. The old 9K11 Malyutka ATGM, which was very unpopular with the crews as they had to fire and guided it from the exposed position of the top of the turret was replaced with the 9M113 Konkurs ATGM, which enabled it to be fired from the safety of inside the turret with a maximum range of 4000m.
The turret is also fitted with 6 smoke grenade launchers and a co-axially mounted 7.62mm MG.

The new turret saw changes to the crew and infantry troops. It mean't that it could only carry 7 instead of the original 8 of the BMP-1 and the commander was moved into the turret. (Commander sits on the right and gunner on the left, with the driver on the left at the front).

The new turret also meant that the four original hatches at the top of the hull, used by the infantry troops for dismounting was reduced to two.
Three troops sit on each side of a central bench back-to-back, facing the hull walls and a firing port each. The seventh trooper sits behind the driver.

The vehicles Armour is appliqué steel and highly susceptible to all modern anti-tank munitions, inc 50 cal. MG's as ERA, which is highly used on Russian tracked fighting vehicles, can't be used as it poses a danger to the dismounting infantry.

Unlike its NATO counter-parts, the BMP-2 was fully amphibious with the only preparation being a thin buoyancy board at the front. It was propelled by its tracks and fitted with bilge pumps.

The BMP-2 saw significant deployments in conflicts throughout the world and most recently seen on CNN and numerous YouTube videos from Syria, Yemen and Iraq.

The box art:

Seems like Trumpeter continues to lean towards the Russian Parade Schemes on their newly released kits.
I don't know why, but this particular box art seems a bit old school and to be honest when I first saw this at the local hobby shop I did not recognize it as the all brand new tooling of this kit.

They sure could have done a bit more in my opinion and found a more interesting combat action style drawing based on more recent use of this magnificent vehicle.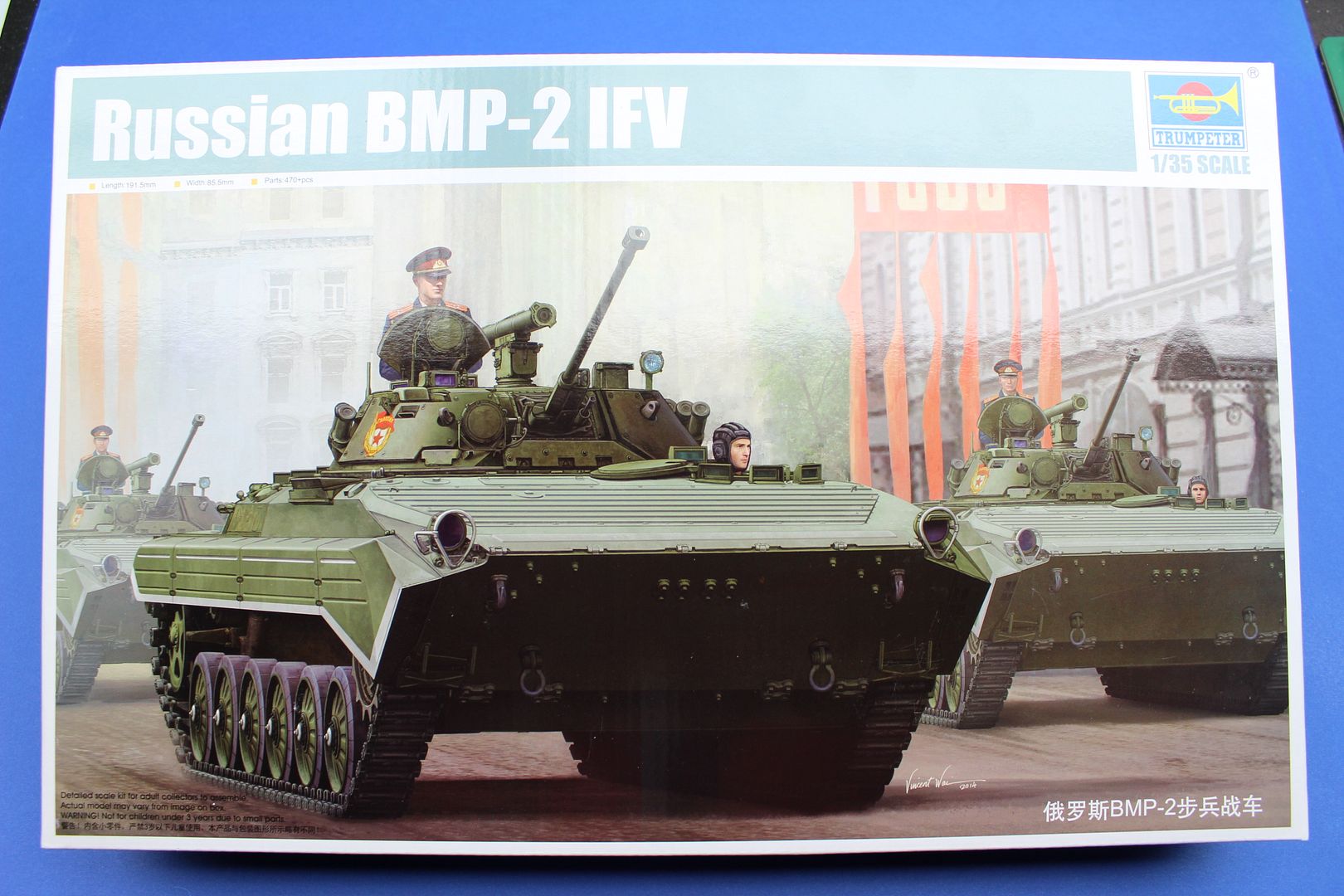 Typical Trumpeter Black and White stapled instruction booklet, some additional care was taken in ensuring better part identification and better order of assembly.
It also is apparent they are doing a more thorough job on removing translation errors of Chinese into English and those pesky things are just about a thing of a distant past
.
Printing is crisp and clear throughout, with excellent line drawings, but certainly still not up to par with the likes of Eduard's beautiful colored guided steps.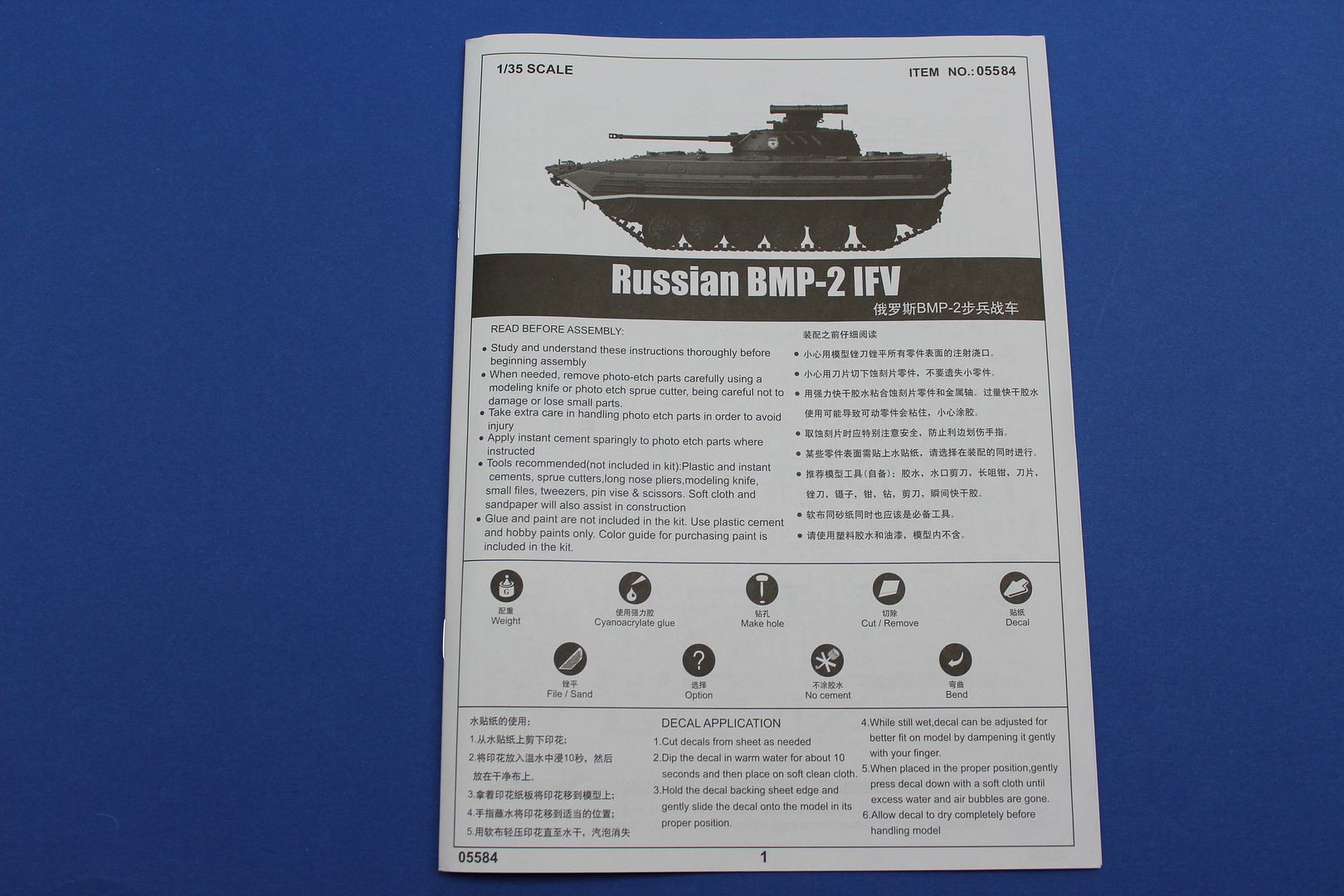 They do a much better job in this boxing by identifying a long listing of unused parts on the bottom of page 2, although I would still prefer them to be indicated as not used and shaded-out on the sprue tree.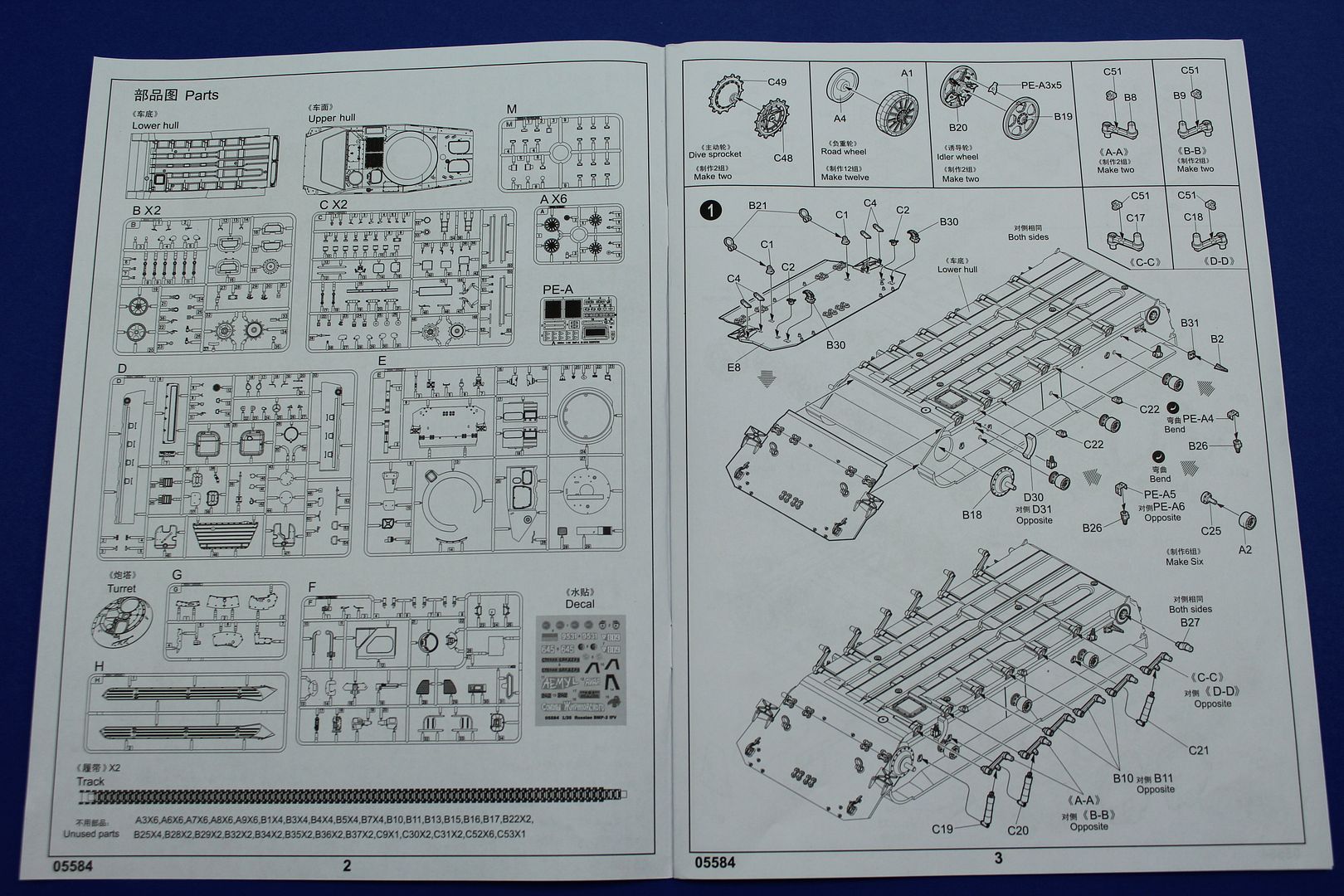 There are some nice interior wall inserts which will provide excellent detail that can be shown off with the optional open hatches.
The bulgy rear doors in real life carry gas for long range travel, but in battle are usually left empty.
Some fairly large pin marks will need to be removed from the internal bottom pan area as they will be visible if top hatches (specifically the rear 2) are displayed in open position.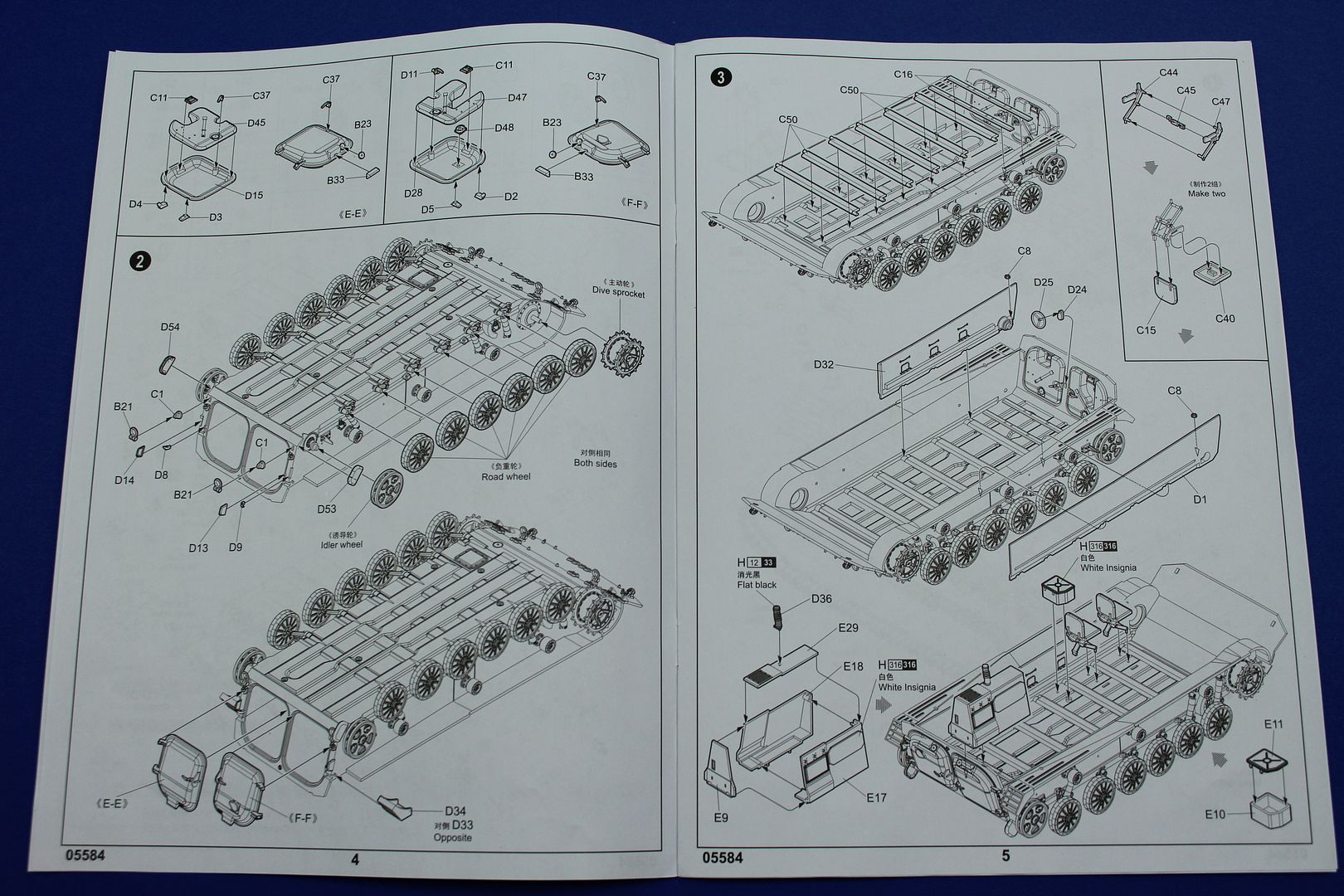 The gun ports can be depicted in closed or open position, The center wall for the engine bay hides the "Molded in Trumpeter Logo".
Wish Trumpeter would have gone the extra mile and provide the engine as well…one can dream right?

I would think this is where the AM guys will come in sooner or later, as there is just too much opportunity with having the engine bay properly segregated already and the nice engine hatch (Part D46) that could be shown in the open position.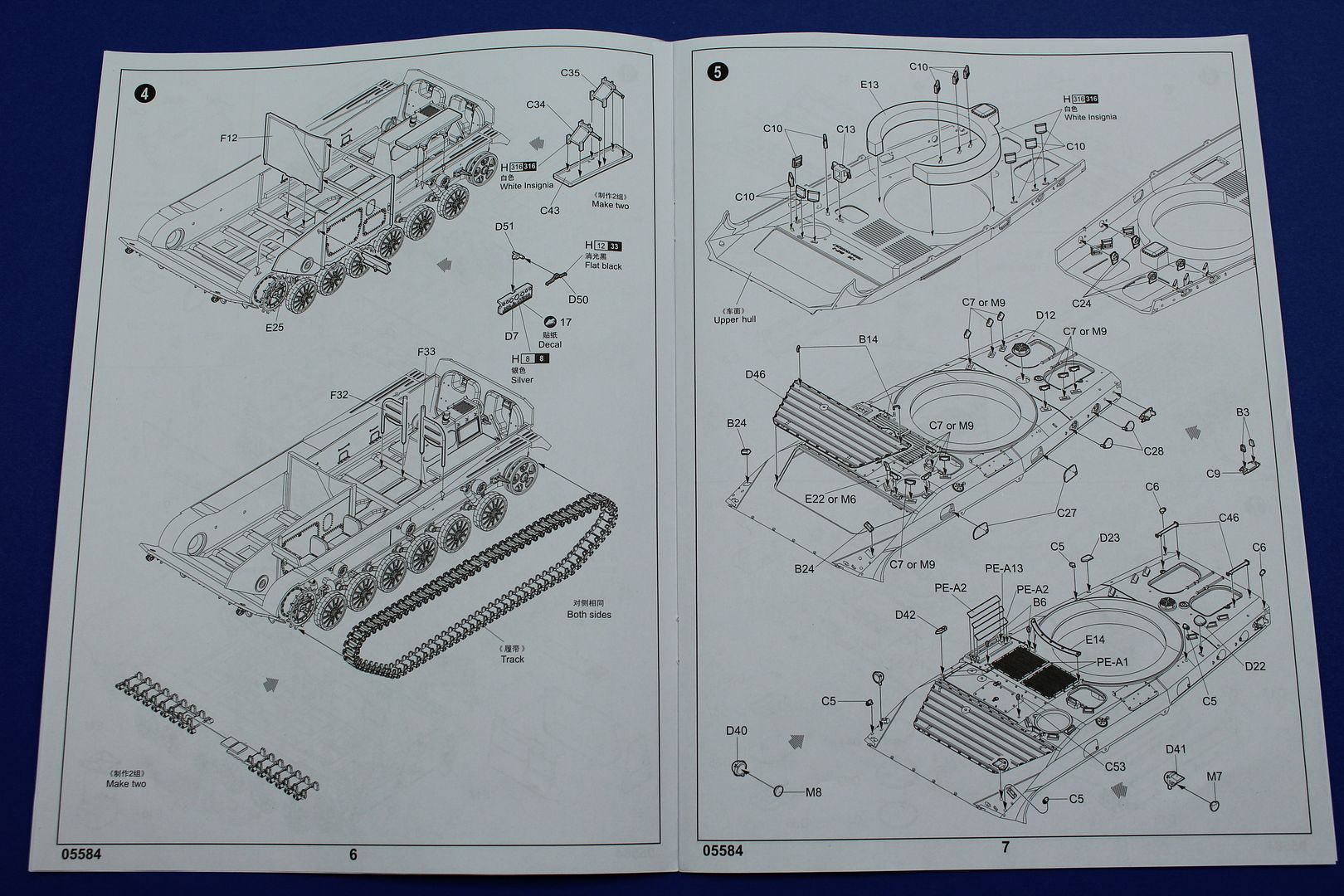 The OOB turret assembly is looking nice and busy, the OOB gun will satisfy most, and requires no drilling out of the muzzle, although the brake itself is a bit over-scale.
All hatches can/are optionally pose-able throughout.
You will have to fashion your own antenna to the base, nothing is provided in the box nor indicated to be applied to it's base part numberC26.
Use a thin piece of brass wire will do the quick and easy trick.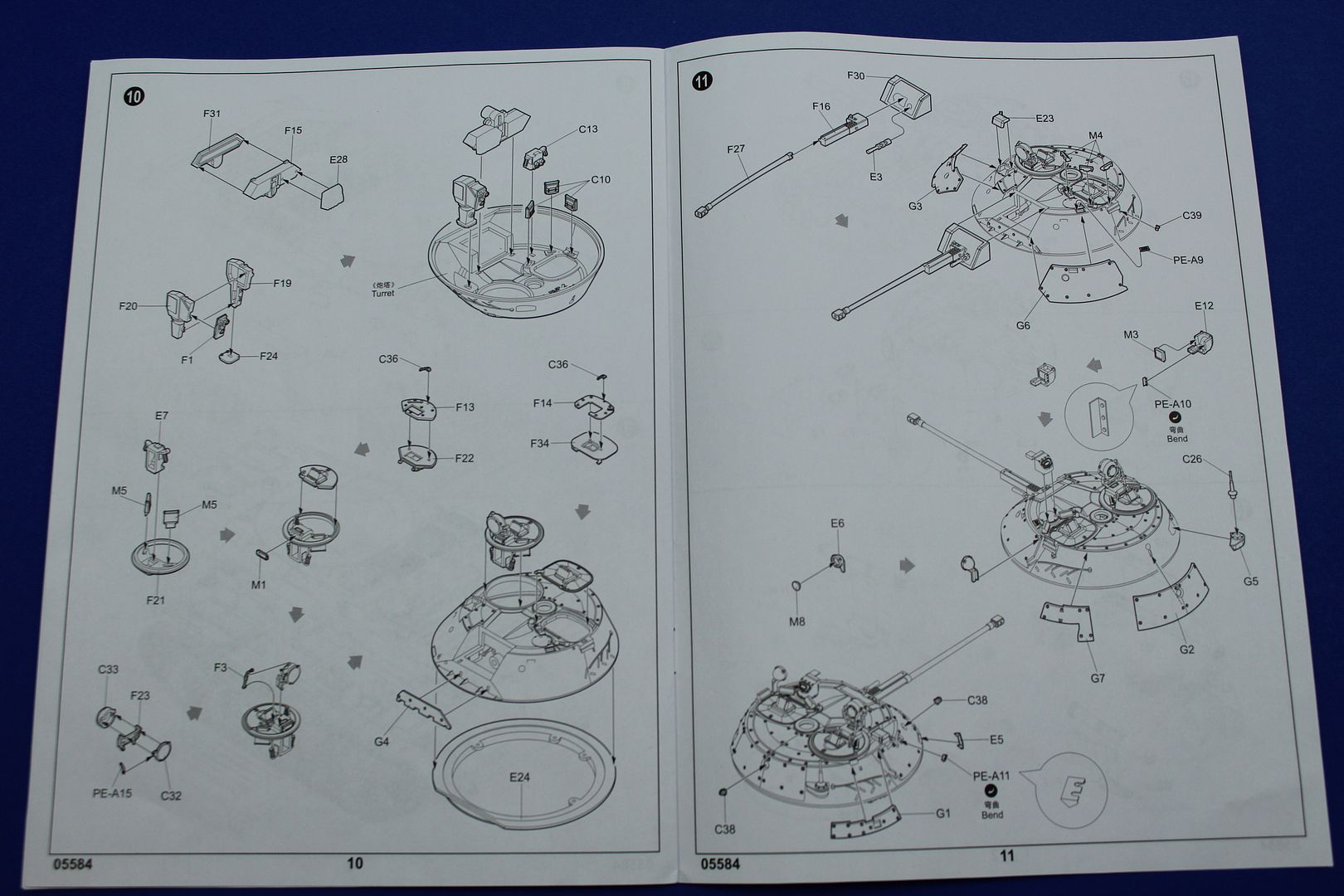 The interior of the turret is quite plausible, but super detailers might want to scratch build further out the gunner seat arrangement and busy it up some more according to a plethora of references out on the net.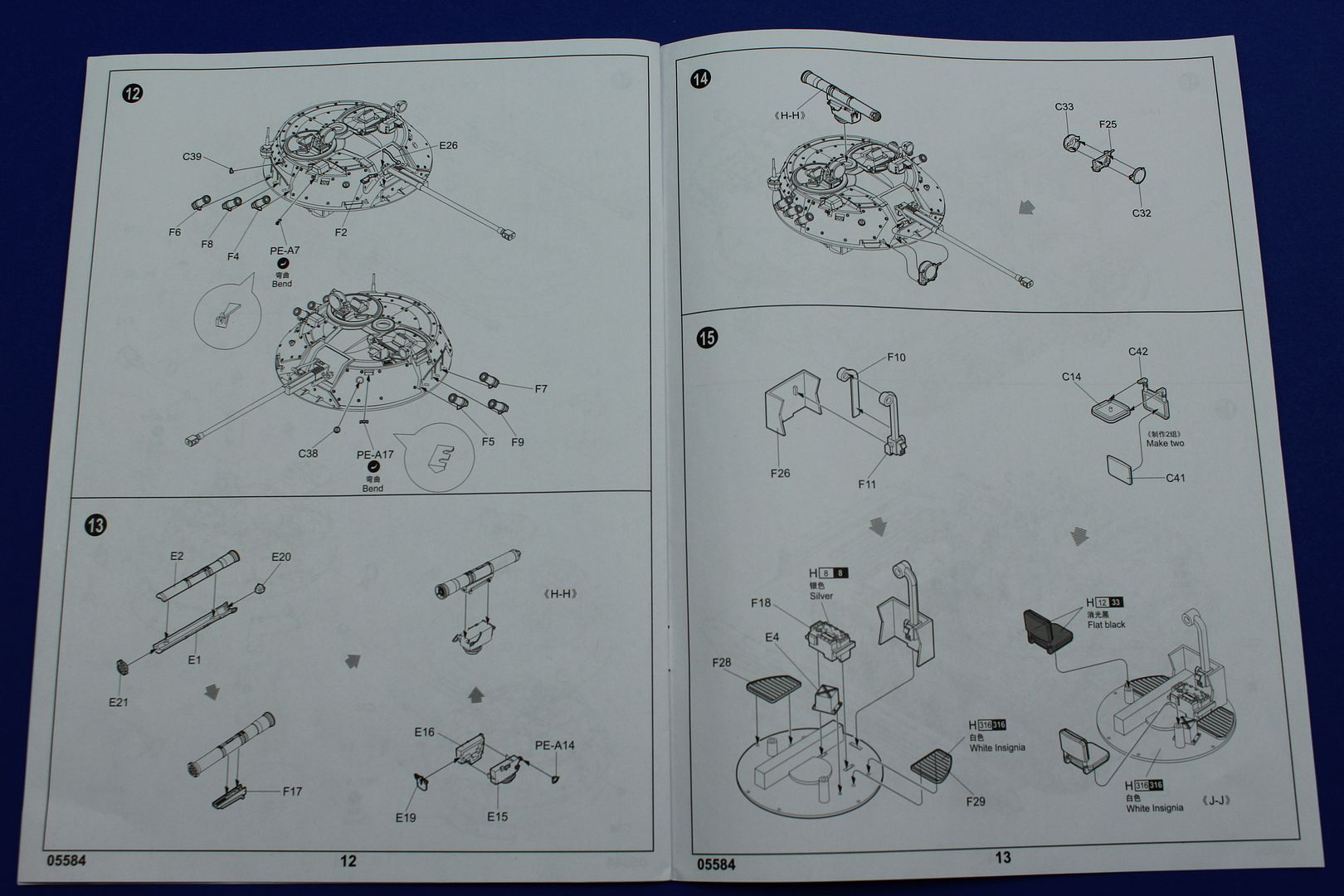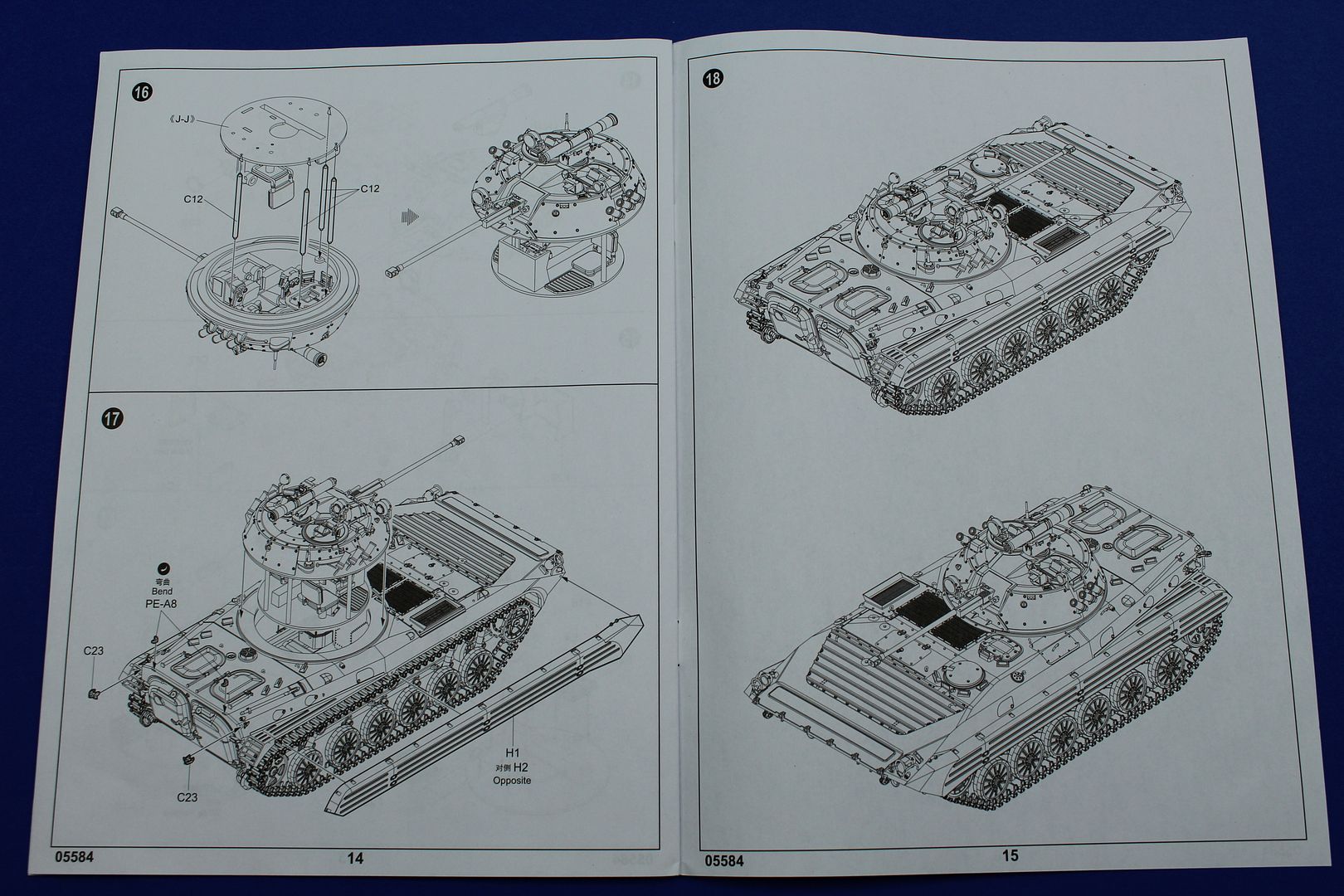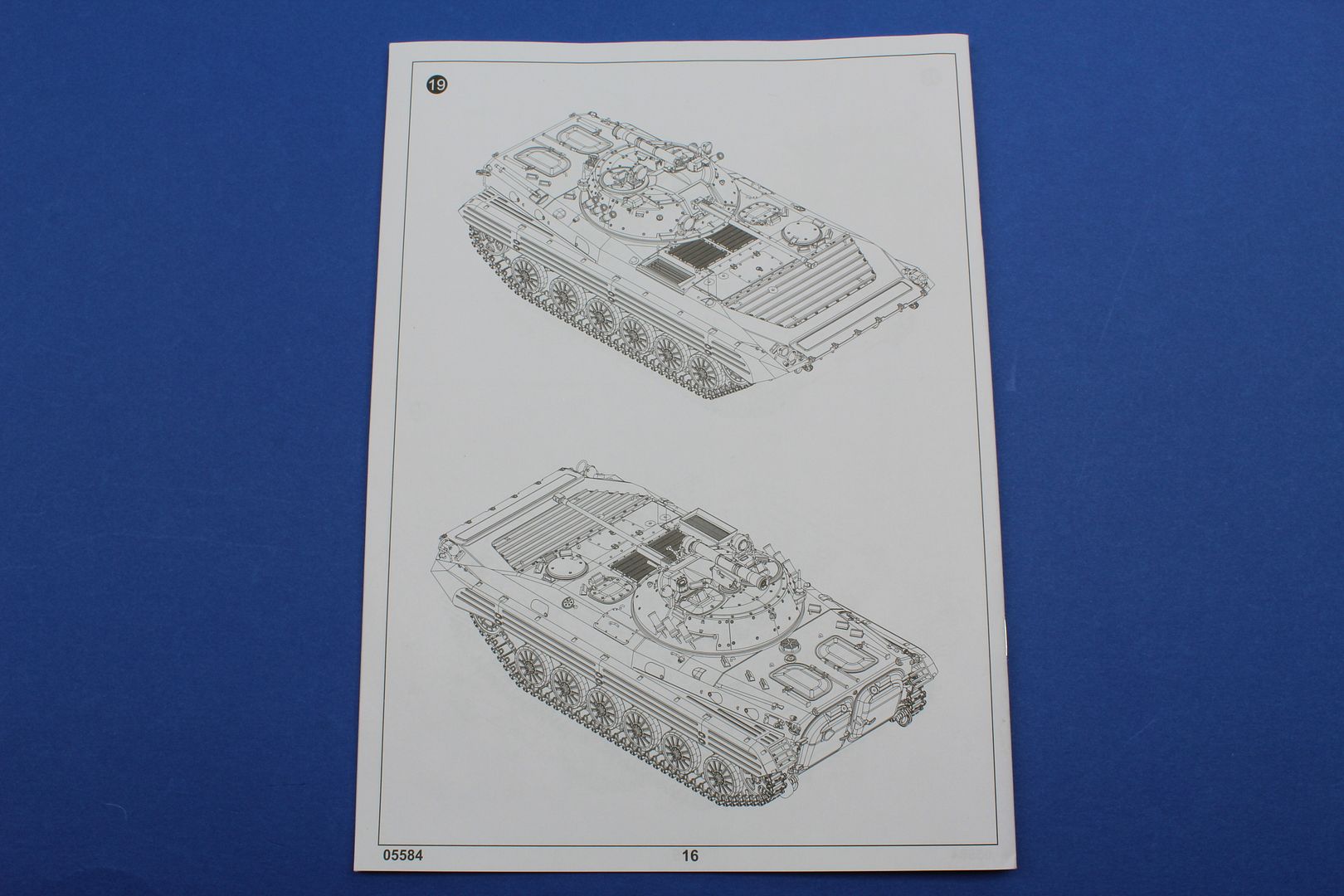 As mentioned in my last Trumpeter In Box Review of the Tos-1a (found here:In Box Review Tos 1a), they have recently started working with MIG Ammo to provide full color call outs for all new releases. In the Tos 1a Box we could get a glimpse of things to come and all I can say is wow! they have outdone themselves this time with beautiful renderings of a plethora of schemes to choose from.

There is plenty of scope to make most of us happy chappy's !

I am super impressed with the fact that there are now 3 views / wrap-around left right and top views for the more complex schemes.
Now you no longer have to make an educated guess to match up when you start your paint work.

Two thumbs up, and can only hope this trend continues for all new releases they do!

Paint options cross references table depict: Mr. Hobby Color, Mig Ammo, Model Master, Tamiya and Humbrol. For the depicted schemes only Mig Ammo and Mr. Hobby color have all colors as a stock range availability though.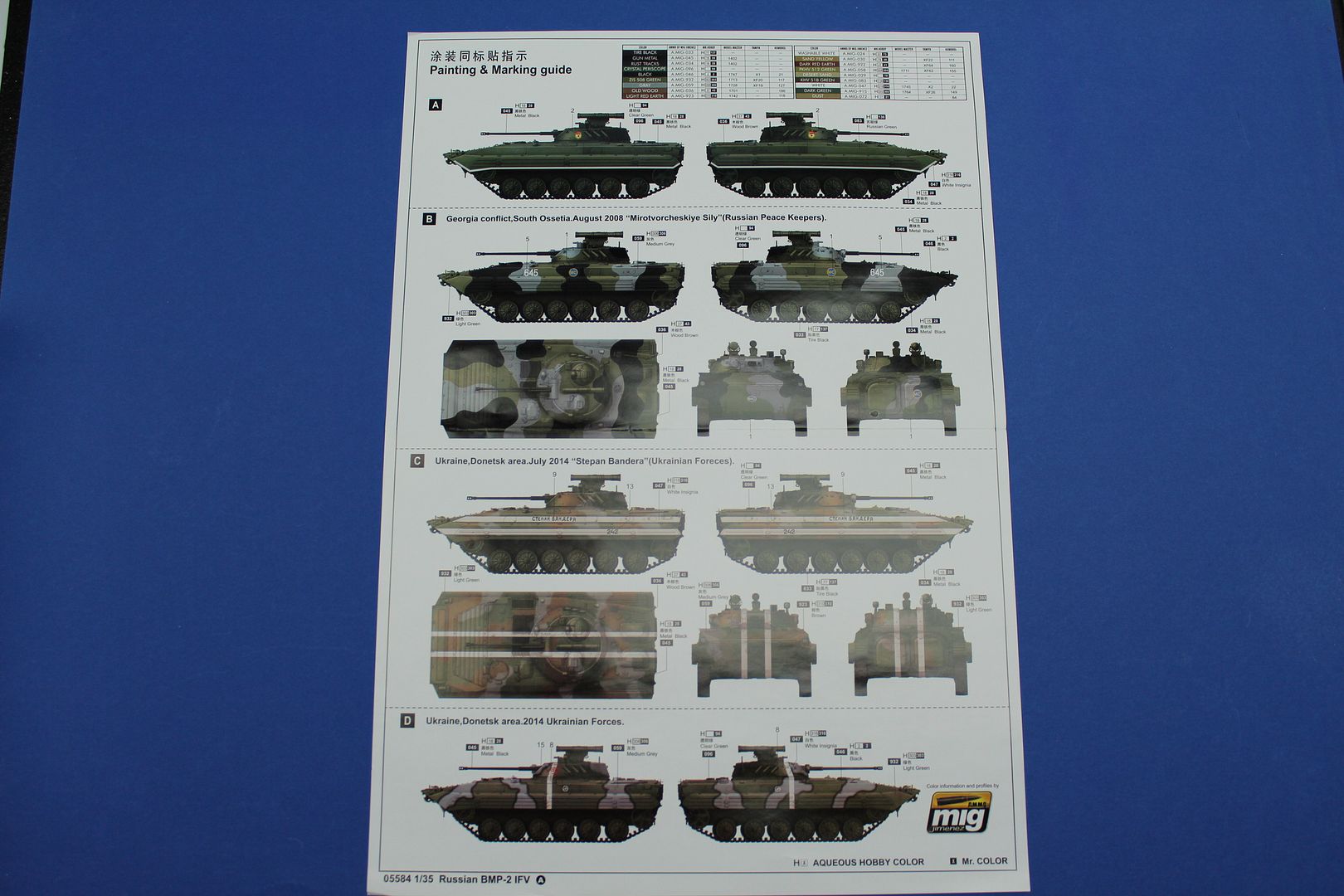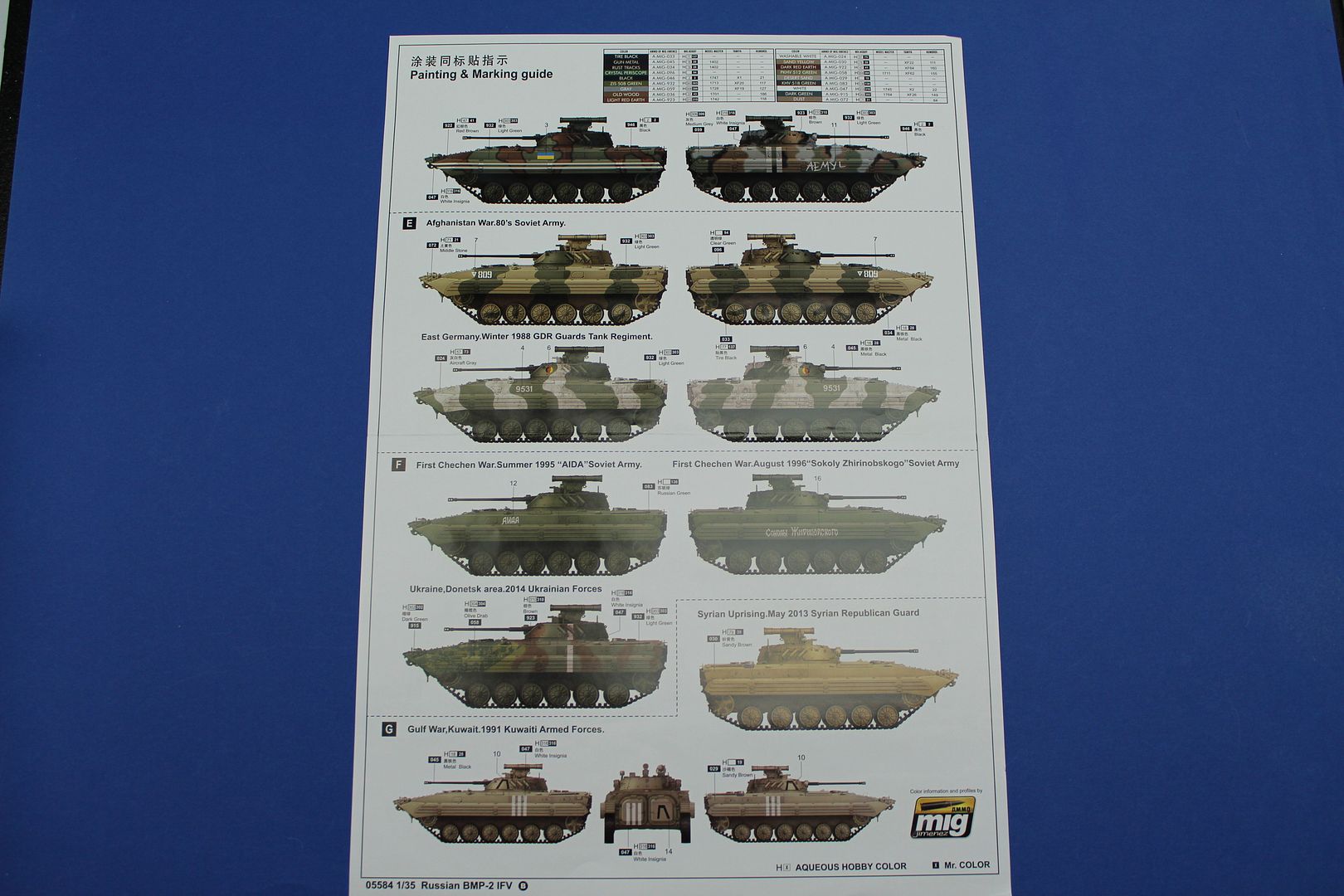 The kit:
The kit has over 470 parts plus another 30 or so PE parts located on 1 separate brass colored fret within this box. 2 vinyl/rubber tracks, which we will discuss later in the article.

No tow cables or chains are provided in the box, checking around the net, I do see quite a few deployed on the front glaces and/or rear as perhaps field modifications.
Gone is the ditching log from the BMP-1 boxing and do not see them deployed on BMP-2's reference images.
The kit is molded in light gray, standard Trumpeter styrene, which we have all become accustomed to finding in the box. The styrene Trumpeter utilizes is softer than Tamiya and definitely much softer than the super hard plastic found in Meng and Takom kits. I continue to have a love/hate relationship with this plastic as you can cut small parts off the sprue without too much fear off pinging it to the carpet monster or worse yet, crack a delicate part.

Any scribing and sanding however takes a much more of a delicate touch than say Tamiya/Meng and Takom. Sprue gates continue to be a bit thick and sometimes placed awkwardly close to parts detail that could inadvertently be damaged.

Some ejector pin marks are still found in potentially visible area's so some pre-planning on which ones to eradicate with a sanding stick or putty will be in order especially if you plan to show off the wonderful included interior detail with open hatches. I'll indicate some of my picky points when we walk through the individual sprues.

Gluing Trumpeter parts with Tamiya Thin (Green bottle) or any other so called hot glues work well, just be cautious around smaller parts and thin parts as the plastic is easily deformed due to it's general overall softness.
Going through the box contents, I found it to be well packaged and ALL sprues were individually bagged in heavy plastic see through styles. Something other manufacturers still seem to skimp on and take the odd chance the various sprues rub some inadvertent deep scratches onto each other.

A nice strengthened side pocket within the box stiffened up the overall already sturdy box (something Kitty-hawk especially could can learn a new thing or two, but the flimsy boxing's from Revel always seem to come to my mind as well). Doing so prevented any of the sprues from sliding and moving around and kept the more delicate PE fret/decals and clear parts nicely segregated. The pocket also nicely makes the upper and lower halves of the main body nicely tucked away.
The top lid fits very snugly and appears that Trumpeter is tightening tolerances to have overall protection and better resistance to crushing during shipping. My apologies to waffle on these types of things but this is where your hard dollars earned are being protected and wanted to ensure to send some recognition to manufacturers that do their best to improve over others in the hobby (Kitty Hawk comes rapidly to mind, with their super thin single bagged cheapo versioned baggie on some kits and the decals thrown in on the bottom with out any protection whatsoever).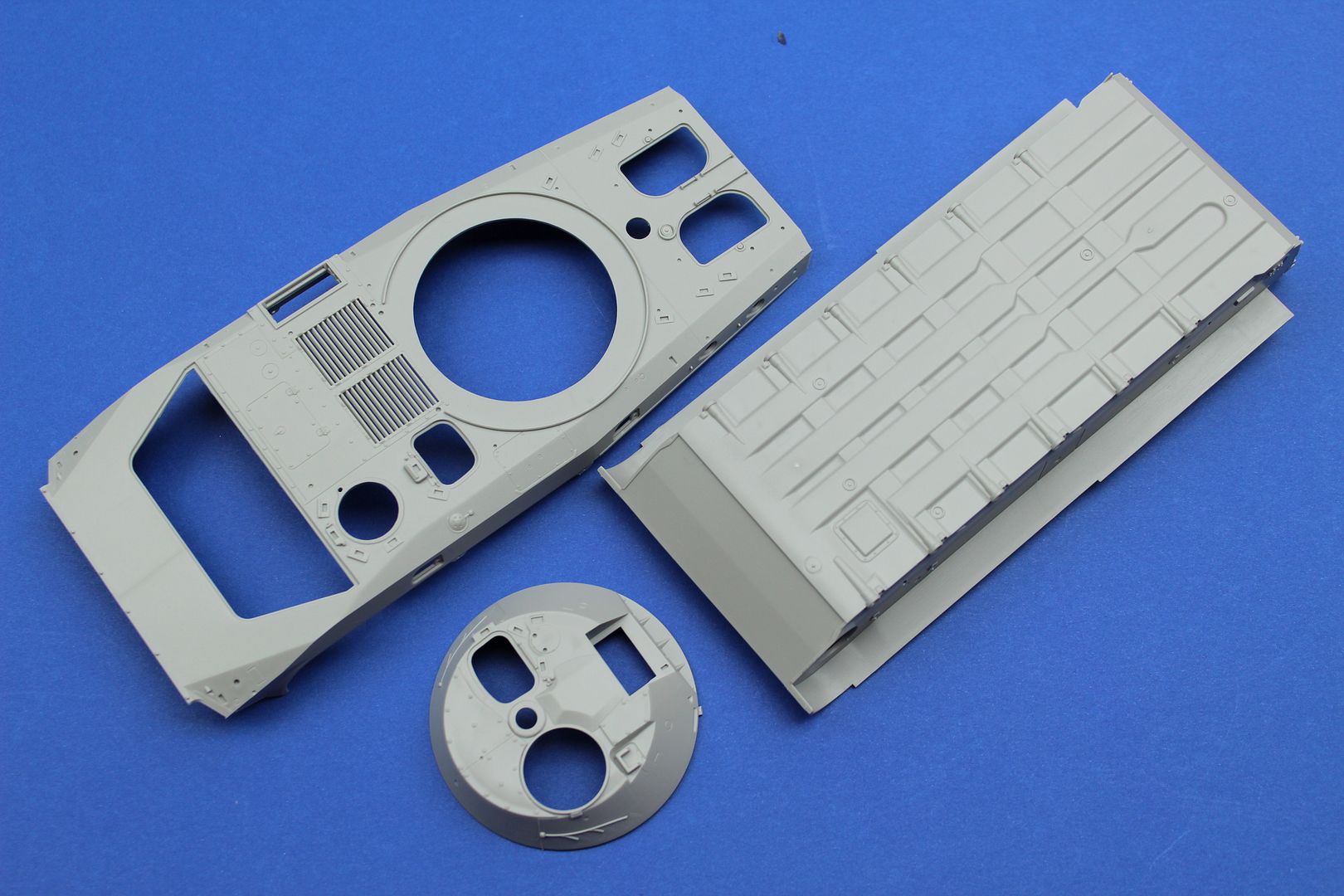 The three main large plastic parts of the kit. frustratingly enough, Trumpeter decided to imprint their manufacturers logo onto the inside (underside of the top hull)

Also on the bottom part of the hull. Not sure what good this does, but reminds me of 1980's Revel type stamps. Hope they stop that practice in the future.
Various pin marks will need to be filled depending on how much interior you plan to show off.
Using filler or small disks of styrene will be your best approach as they are deep and doing a sanding session will erase too much surrounding detail.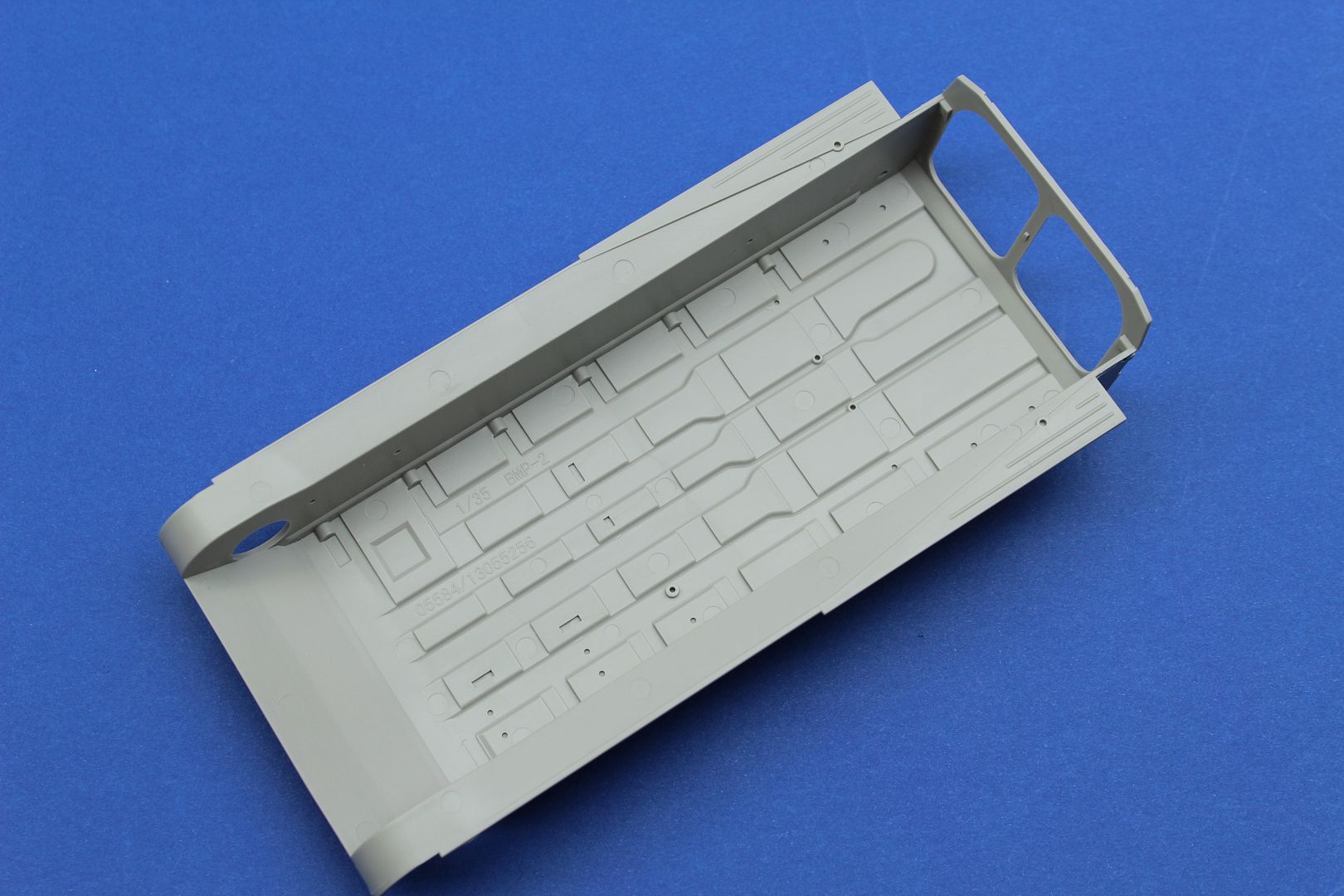 The beautifully renditioned fenders, lovely fine panel depressions nice and sharp detail throughout.
Doing a quick dry fit after this picture was taken, shows almost "clickable" superior fit throughout.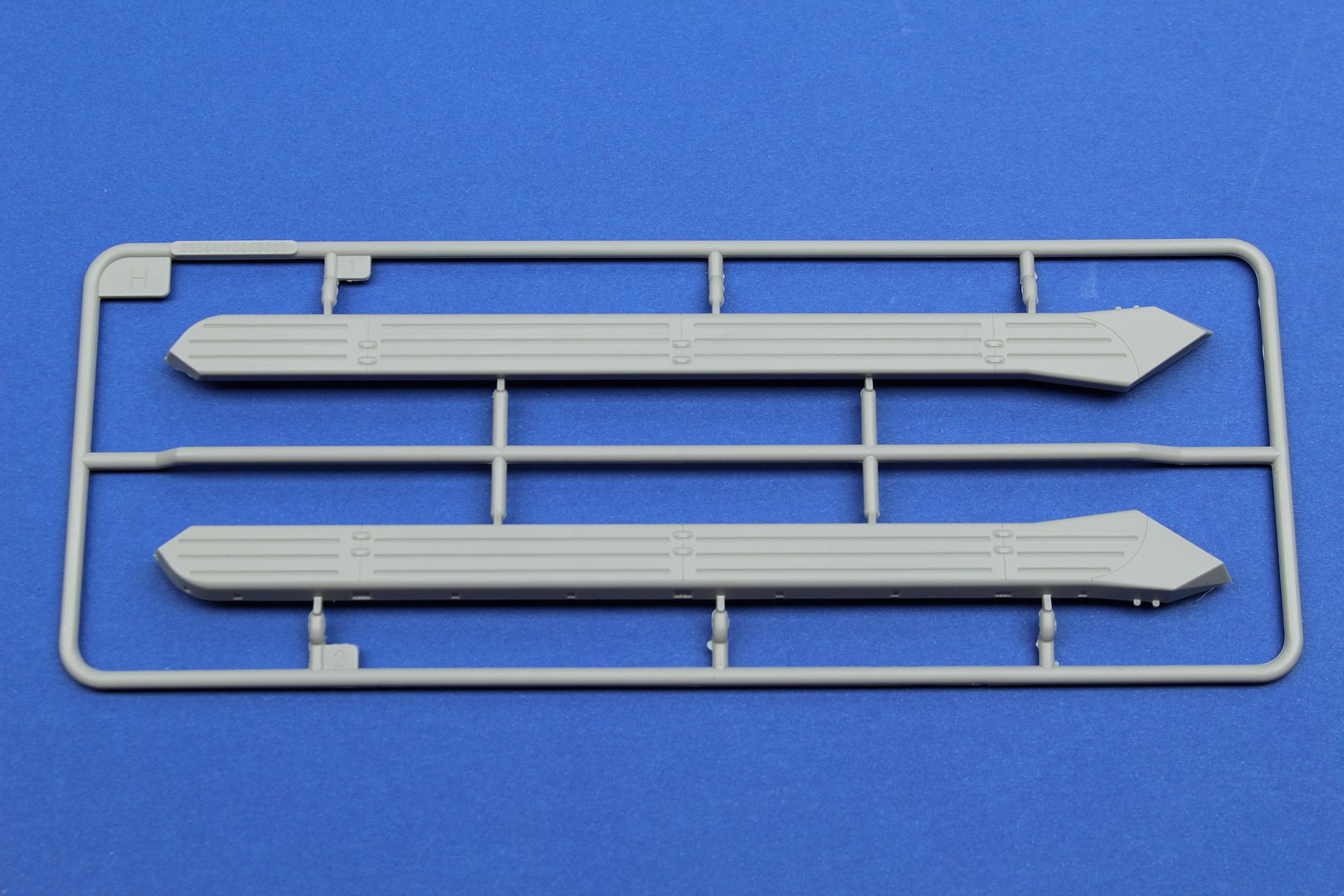 The inside however do show quite a few ejection pin marks, luckily they are shallow and should be able to be sanded flush without too much trouble or use some filler depending which technique you like best.

As the tracks do not cover the under/inside of the fenders thoroughly some careful planning might be in order.




No major flash is found throughout this sprue, nice sharp detail throughout.




The rear exit doors are superbly and have the accurately bulged look to them. They are made up of two sandwiched parts thus eradicating needing to deal with pin marks on one side or the other. Well Done !

The rear fender grated surfaces are very fine and in scale to the real vehicle.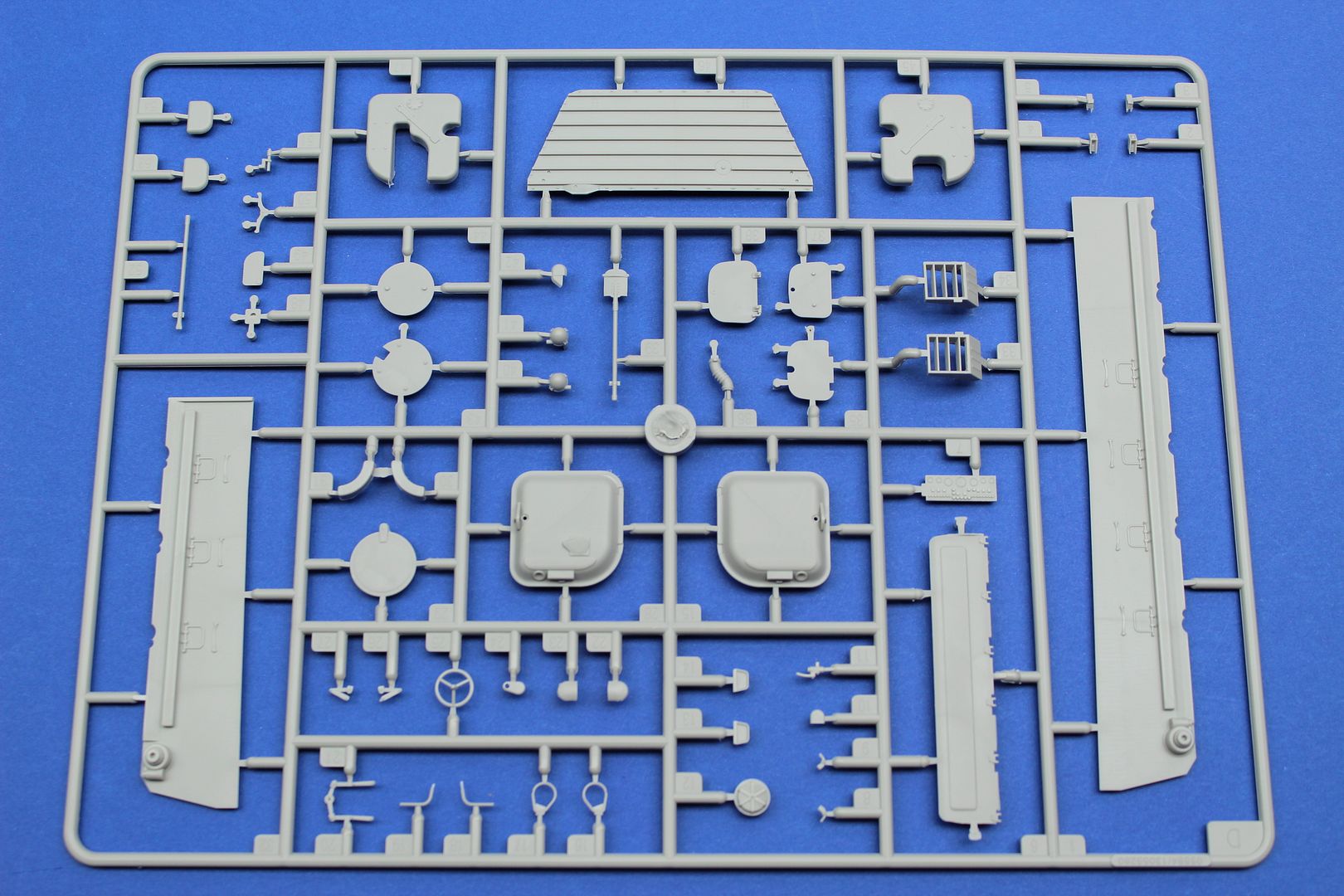 The smaller parts are all well rendered, sprue gates could have been a bit smaller, but all appear to be flash free.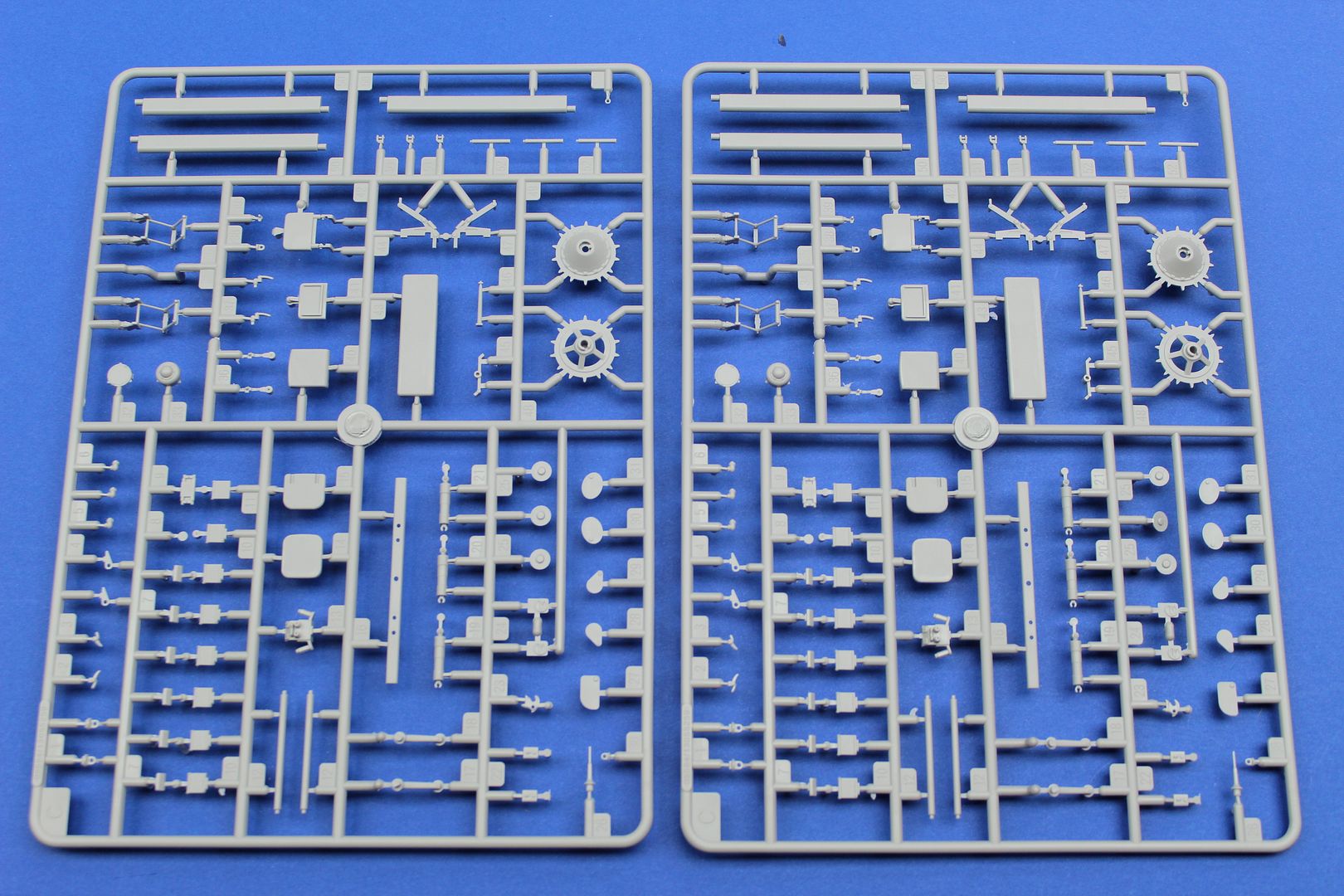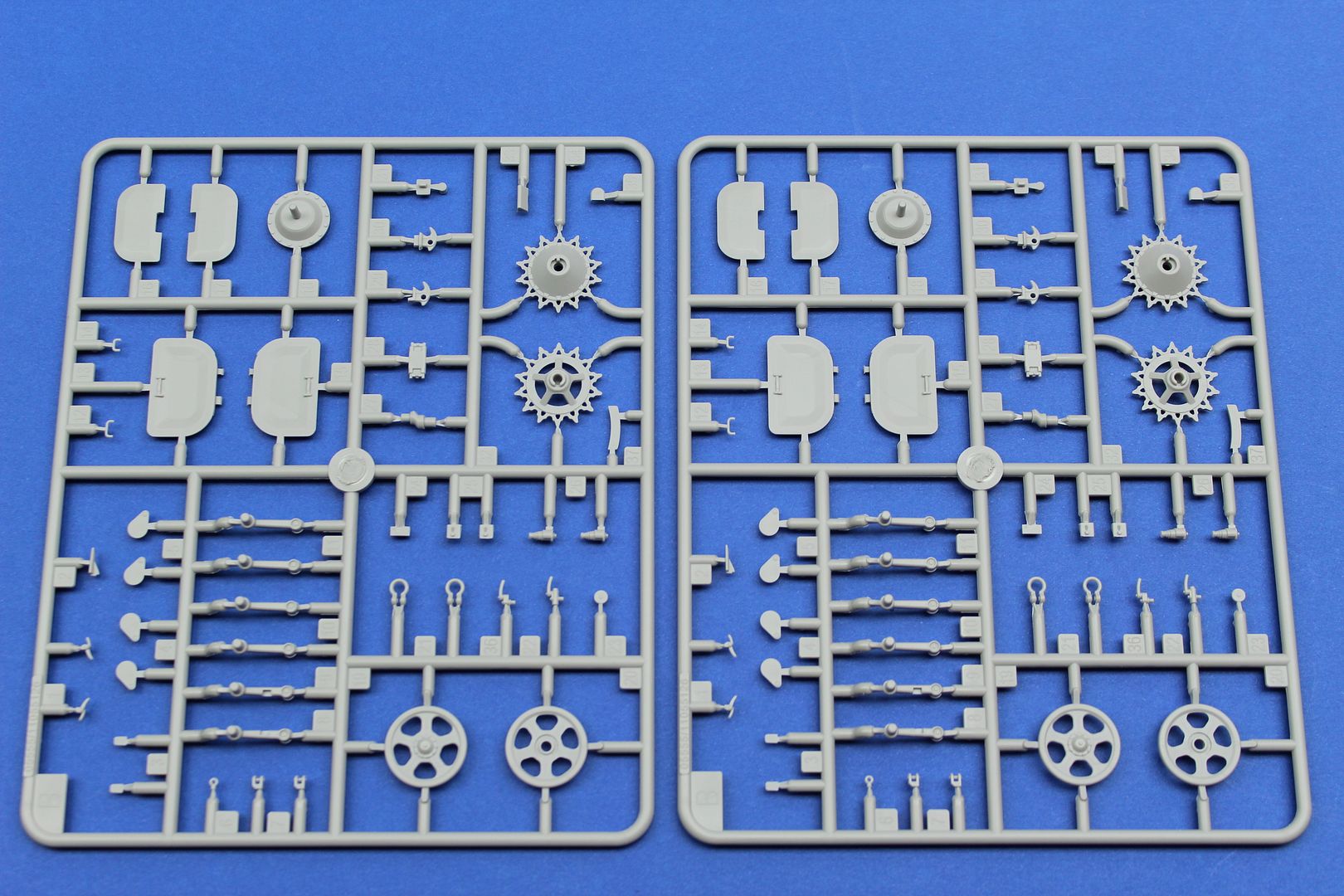 The drive sprocket teeth are sharply rendered and correctly 5 spoked. Some have stated that they are a bit too shallow dished.
If you are picky enough you could remedy with the sprockets provided should you purchase the Master club track system.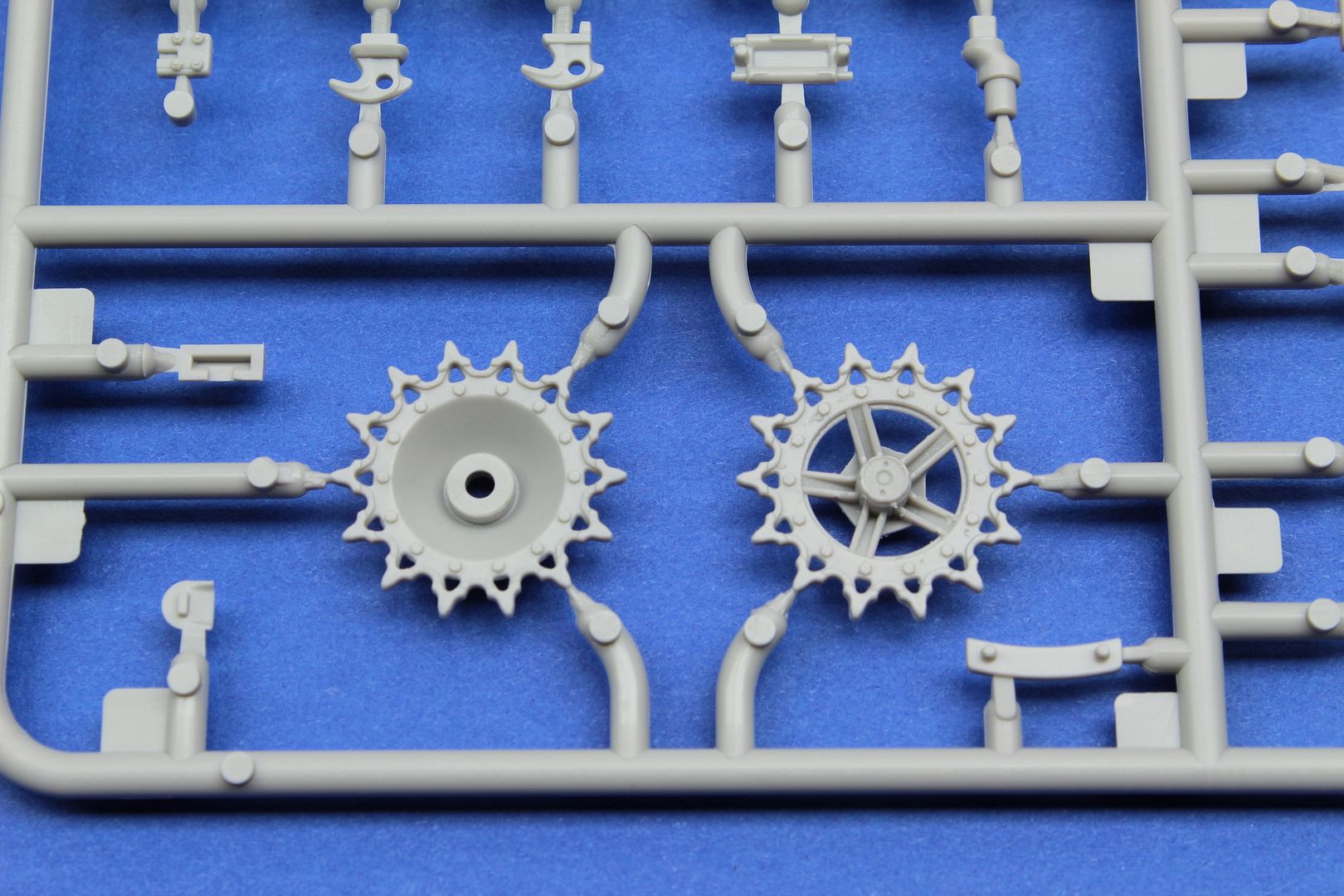 Close up detail shot reveals the nicely molded tow hooks which are flash free and the idler wheels look wonderful.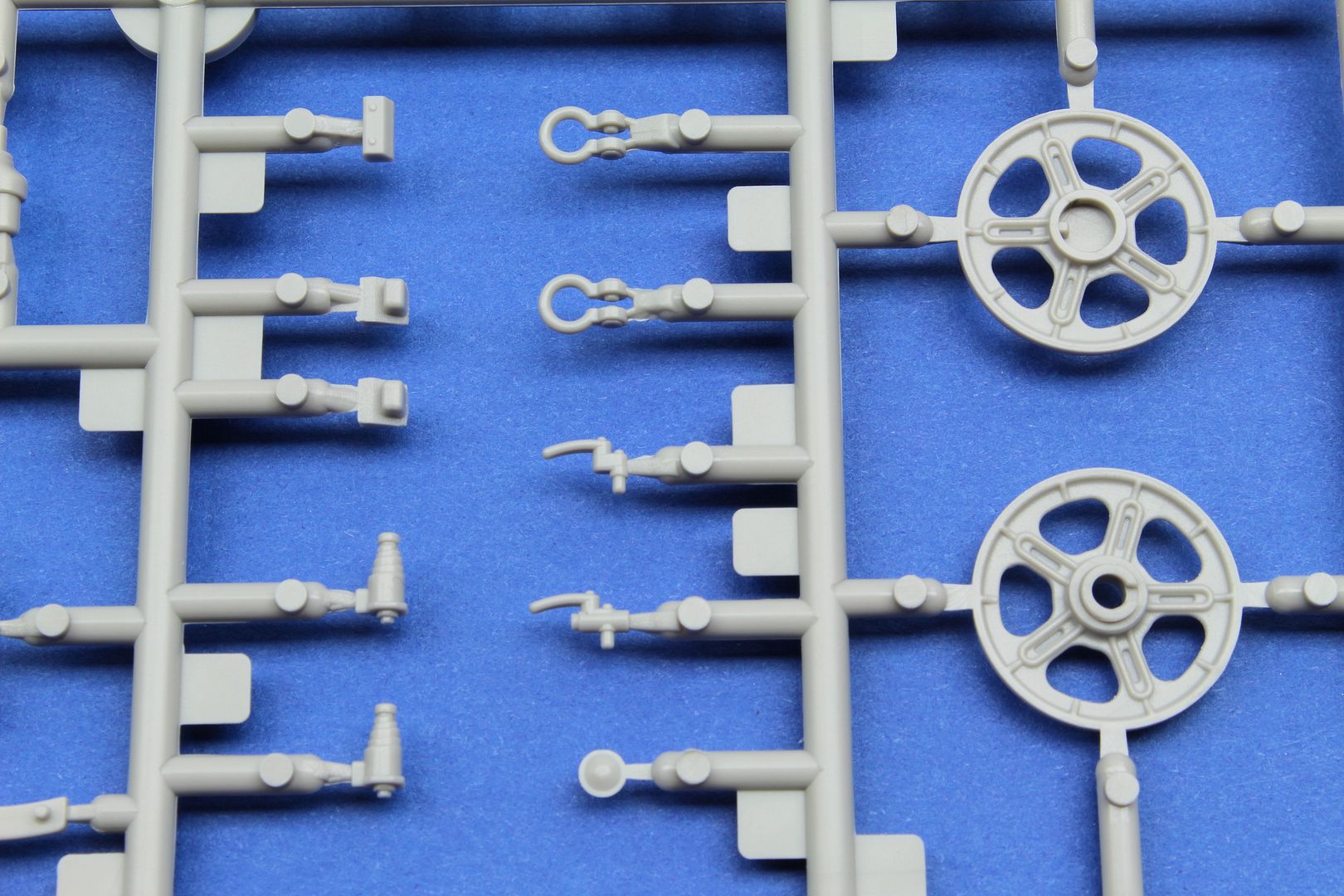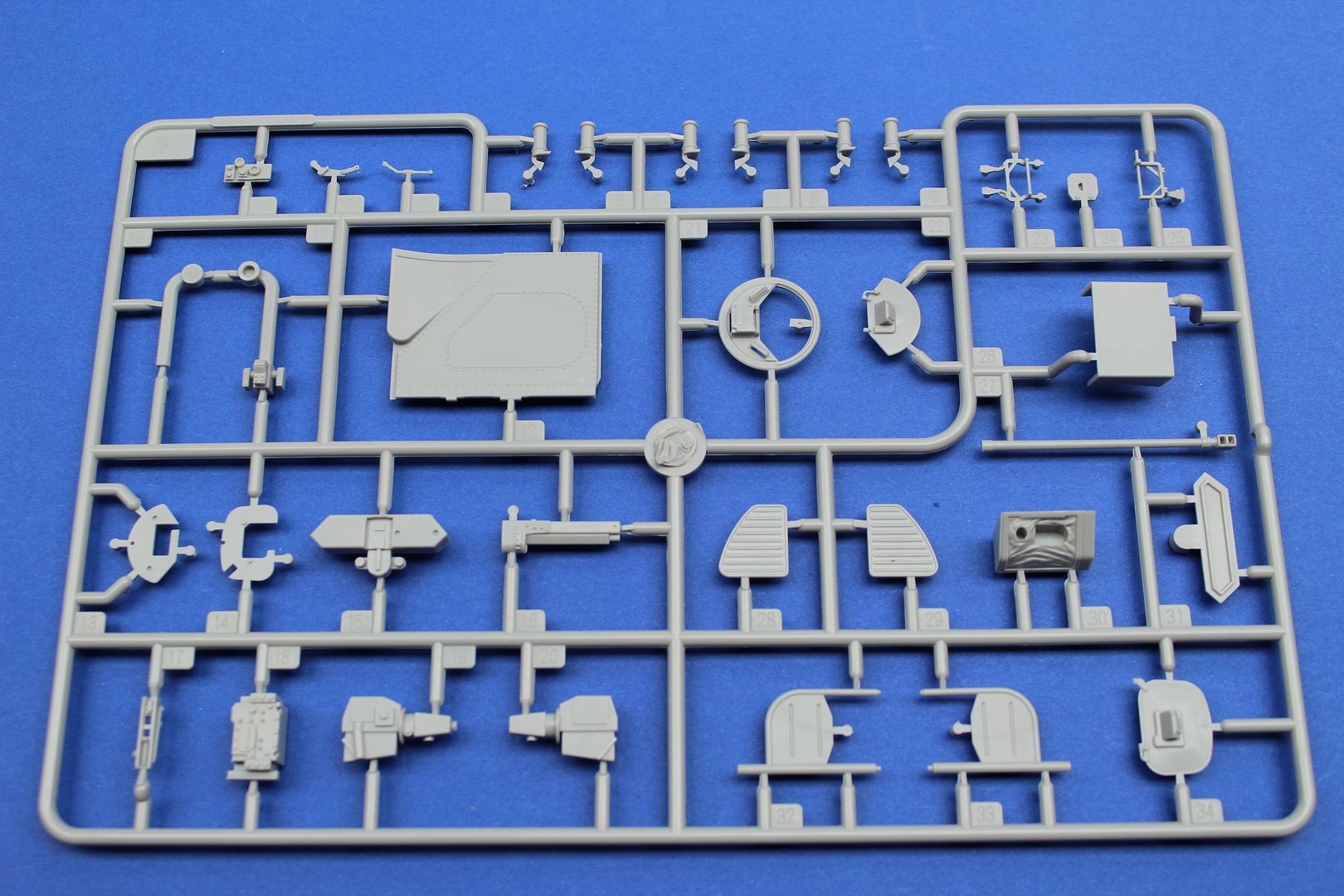 Nicely done exposed riveting, not overdone.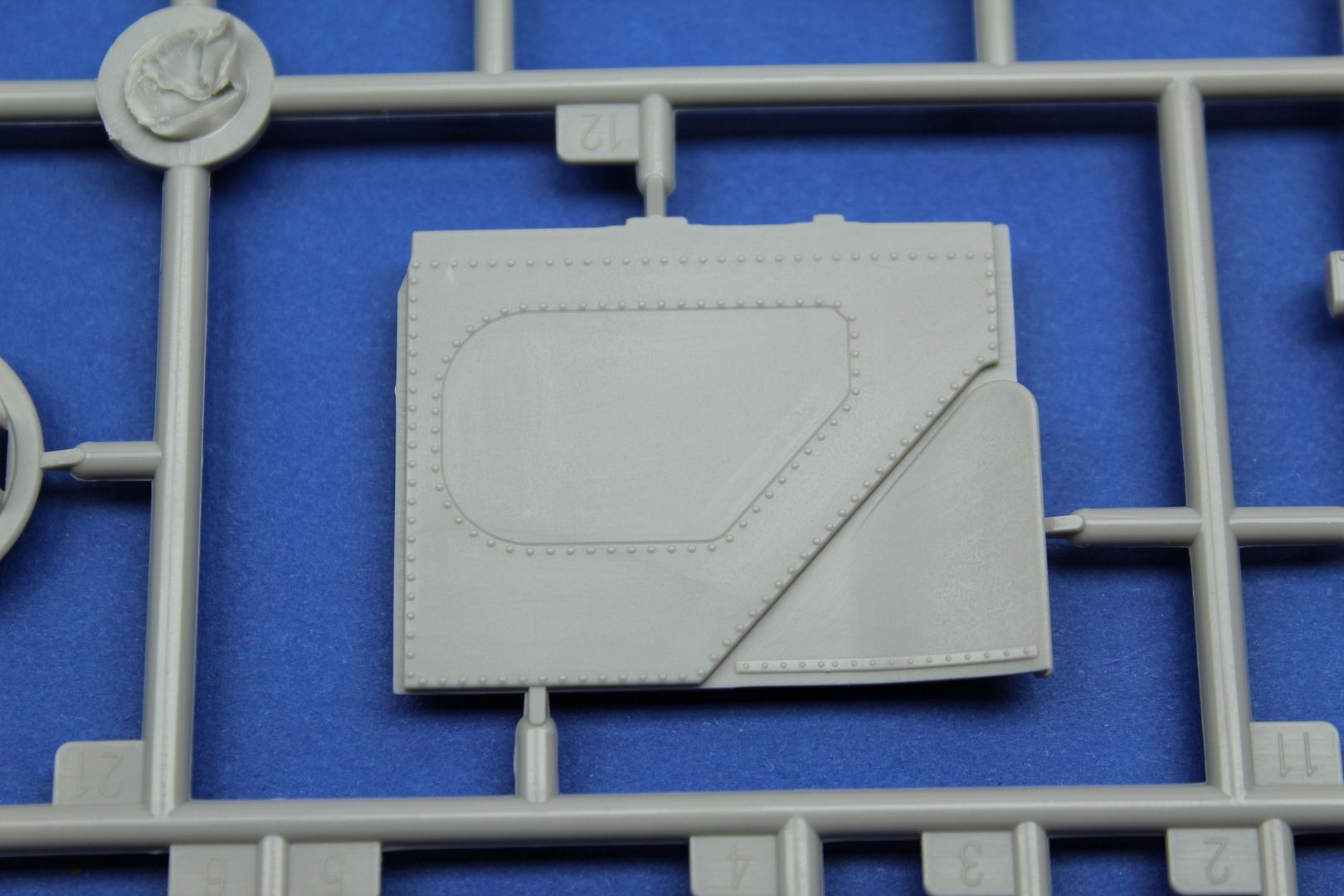 The wheels are made up of two halves, solving any ejector pin marks on the back. From my quick check to reference photo's they do look quite well done.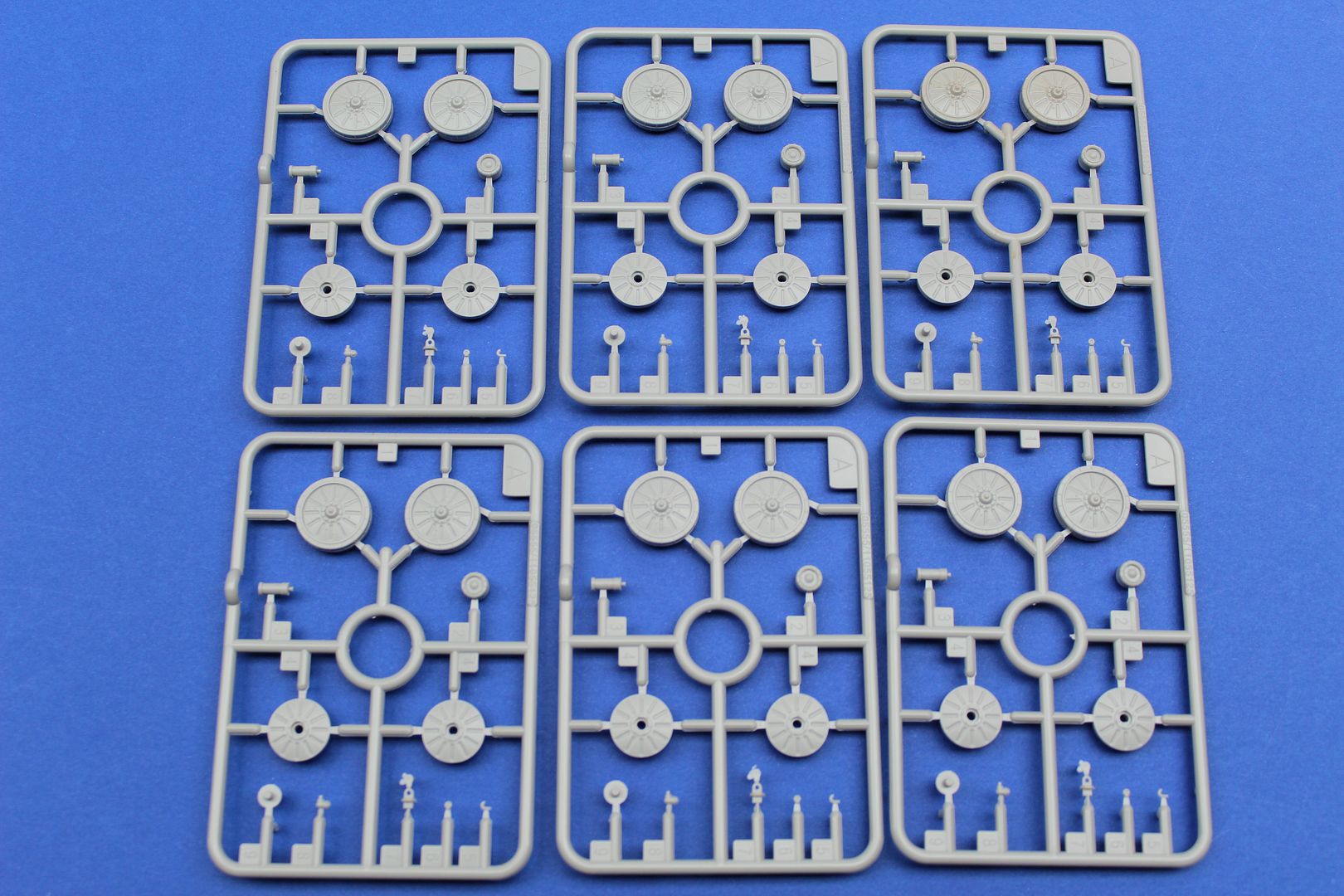 The turret add on extra Armour plates, reveal a small bit of flash, but nothing too major of a headache.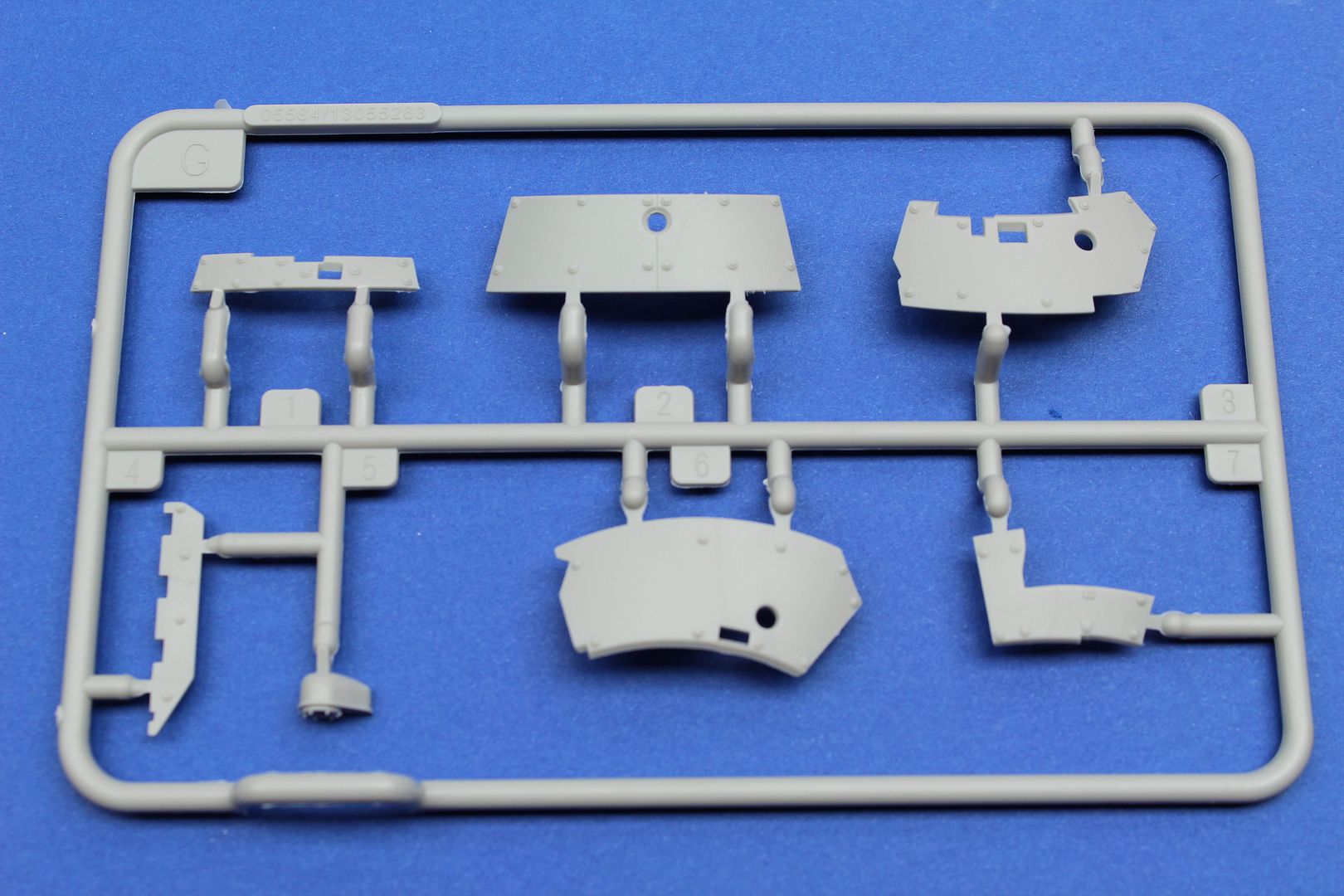 Even the small top return rollers look very nice.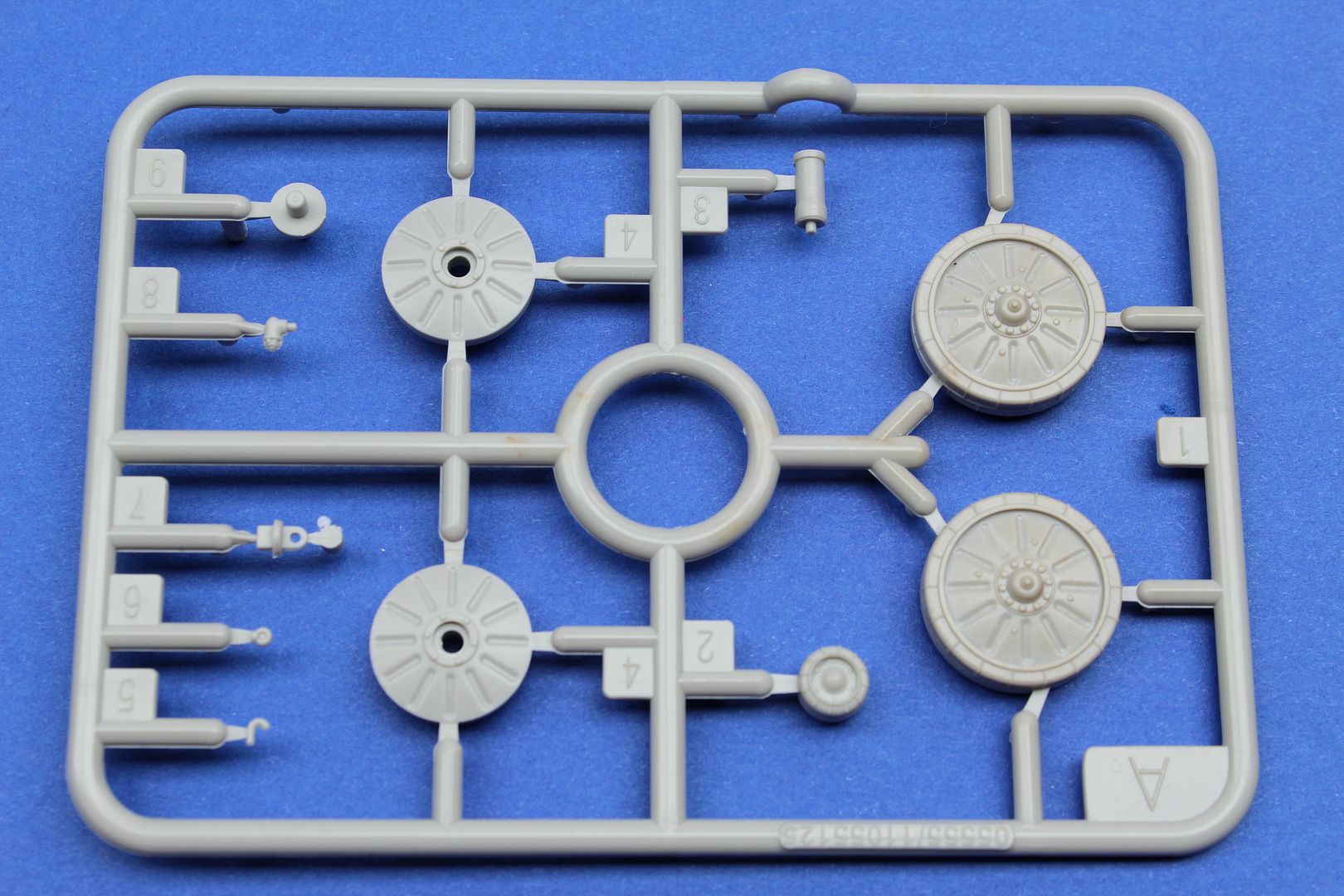 The small clear part sprue is very clear and I do not see any warping in the vision "Blocks" when moving the sprue around.
Since they are so tiny one would be hard pressed to see any fault here, but it is nice to see the same care taken as with say a large canopy.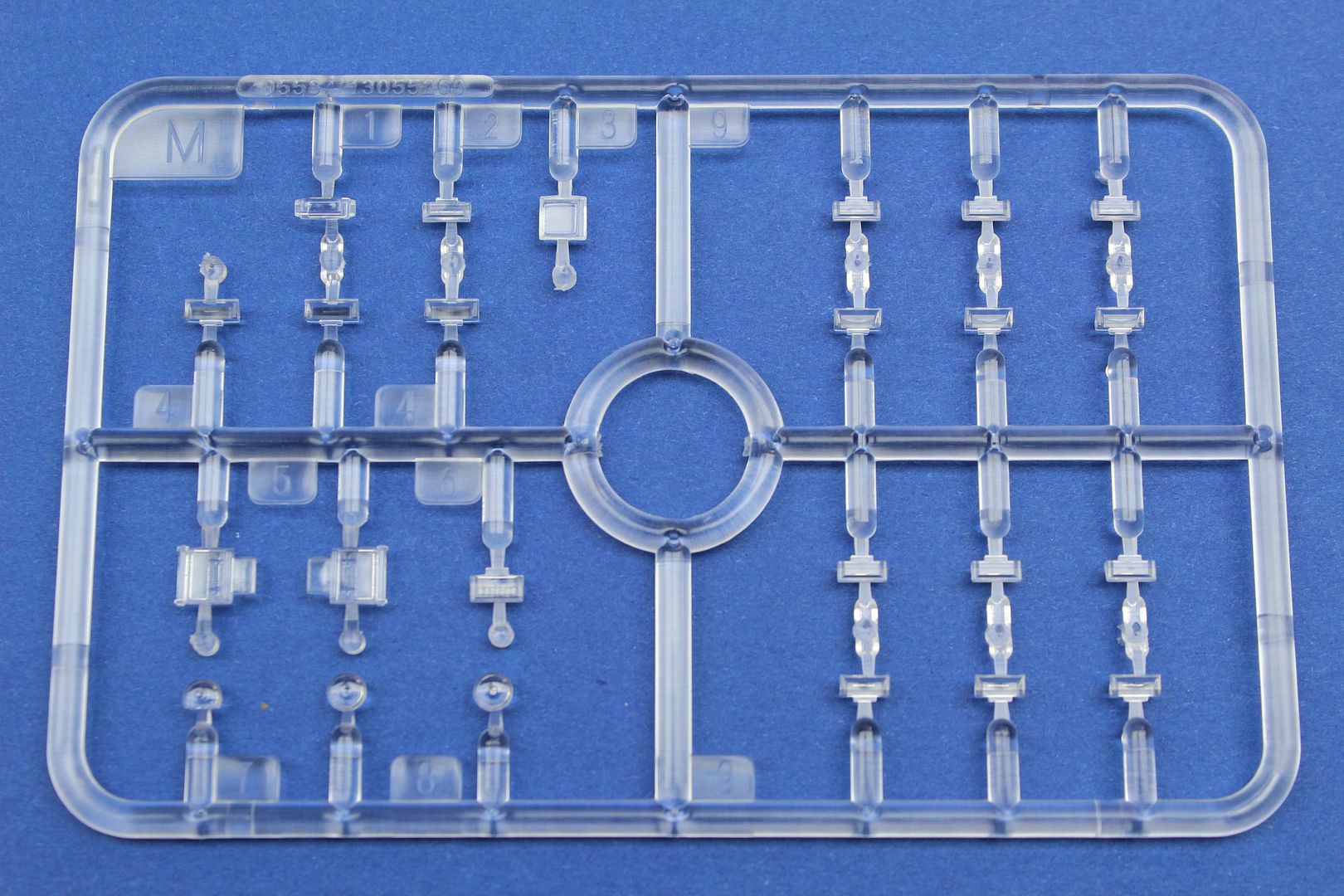 Now comes the ugly part… I had heard that there was some plan to have Trumpeter do the same packaging as the BMP-1 offering and have clickable track sets.
Unfortunately here is where Trumpeter dropped the ball big time.

I have never been a fan of rubber bandies and these must be the worst ones I have seen in my limited AFV exposure.
As one can quickly see there are some mold/injector gates that are quite prominent and do not think you can get these nicely cleaned up.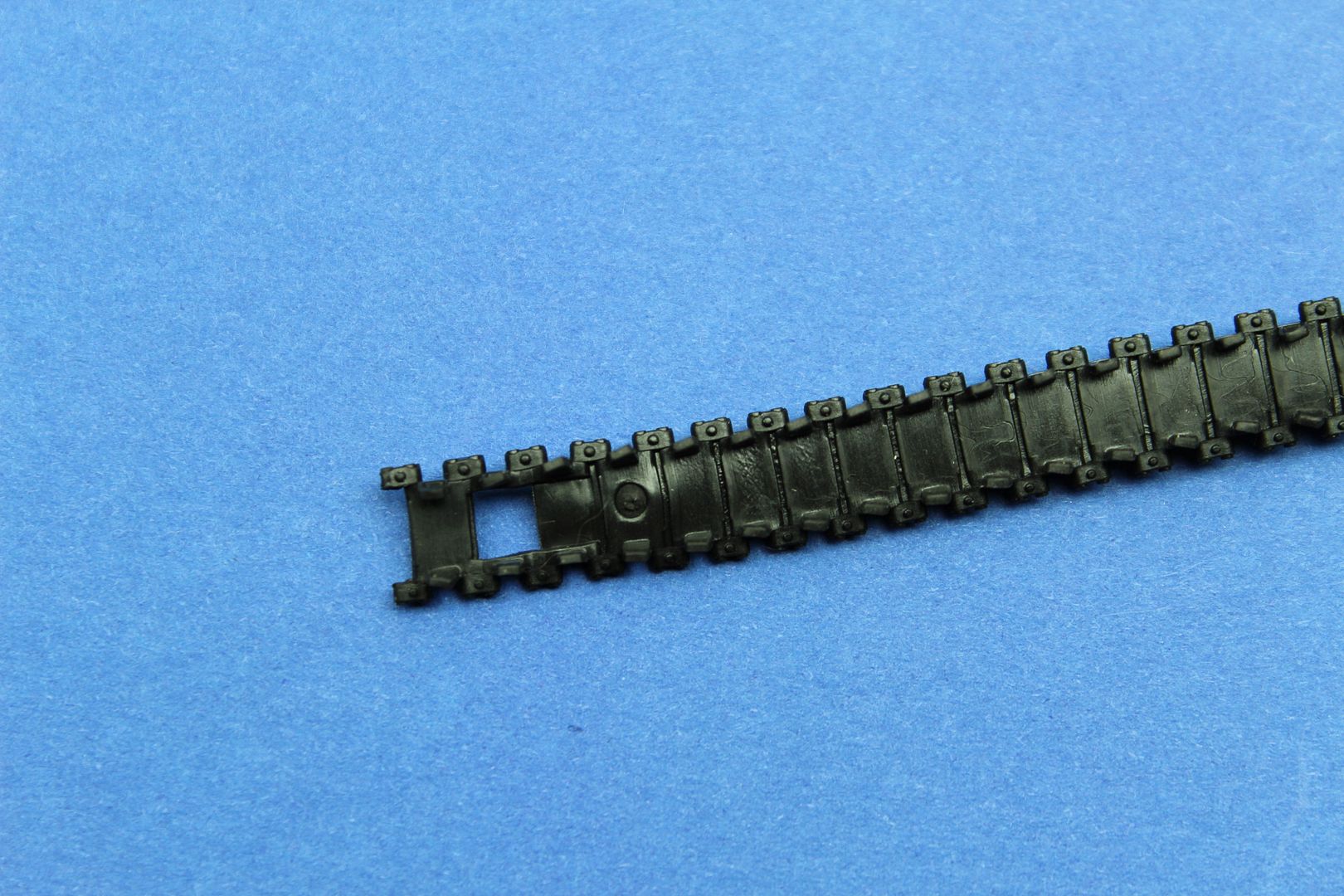 There are several throughout the length of the track, not a good thing.




Worse yet they "poke out" on the other side ! The track / road surface is also quite soft and not nearly as close to the real thing as it should.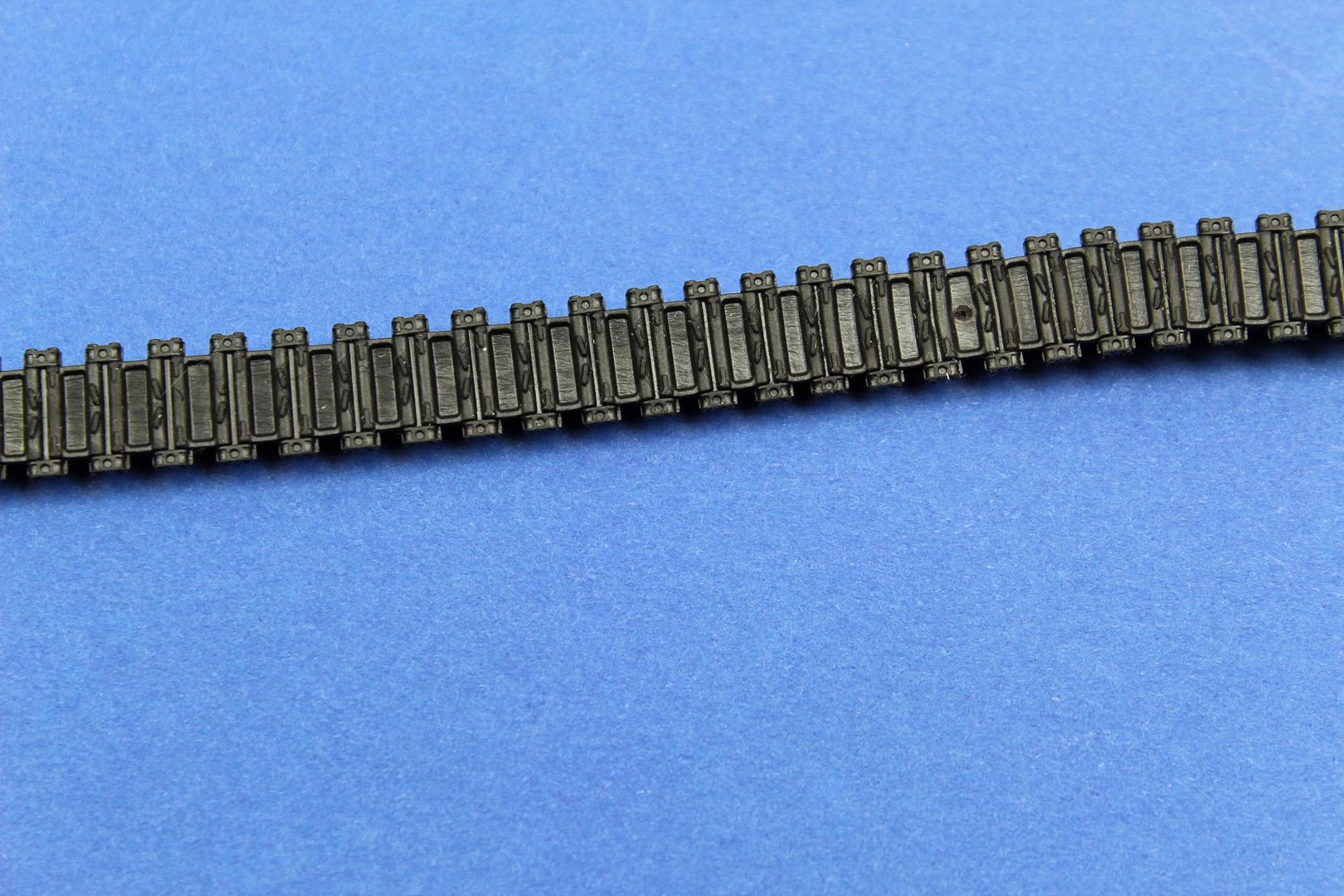 The guide horns are missing some interior detail, plus the guide horns are mostly deformed throughout the length of the track.
I tried to gently heat them up in a bowl of hot water, but they always seemed to reshape / go back to what they looked like OOB.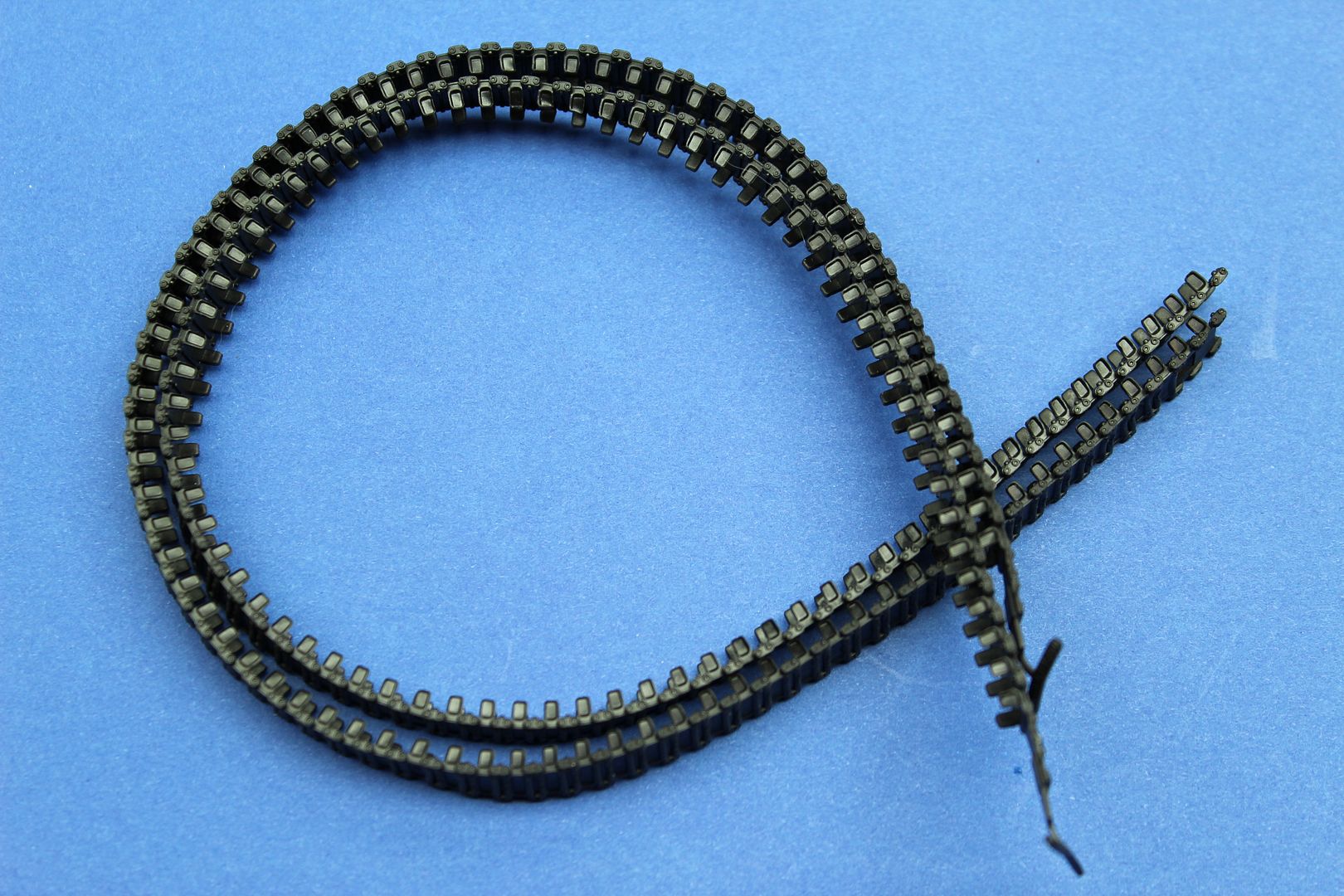 Fear not as there is a solution (albeit at an additional cost), which I'll address later in the review.

The single PE fret is typical Trumpeter and a bit heavier then say Eduard, as there is no planned complex origami sessions required, the thickness should not pose any problems.

The engine screens are very fine and look the part. Care should be taken though that when using these screens allow you to "peek through" and as there is no detail, this would be a deal breaker during a contest…So some card stock underneath to blank-off that potential contest no-no is a must.

I would suggest to sand the glue side of the PE to remove the Brass coating so there is better adhesion to the plastic.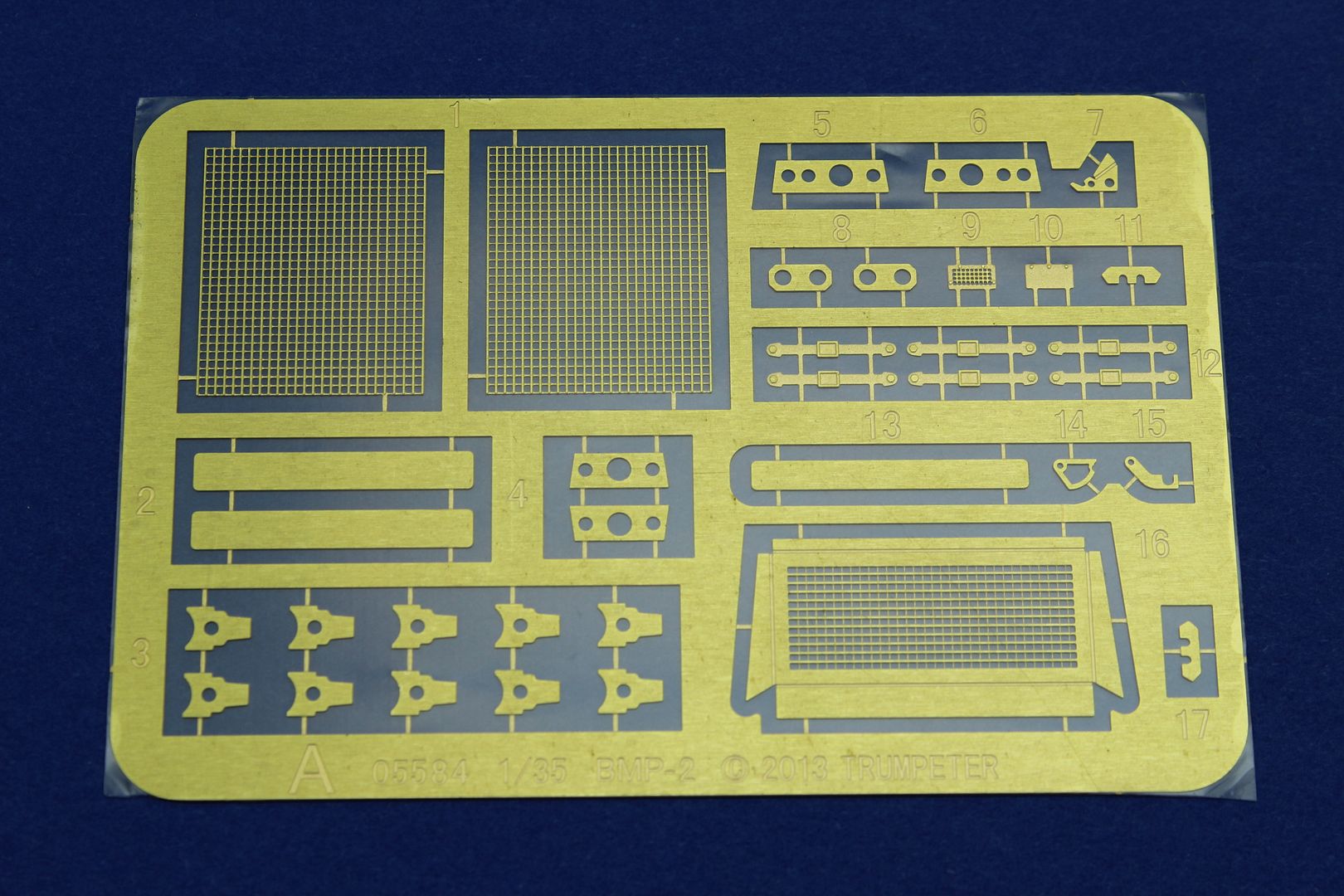 The decal sheet was carefully protected in its own plastic sealed bag and overlaid with a protective (wax) sheet with one side taped.
A nice touch to see Trumpeter no longer using staples which can easily do damage during shipping.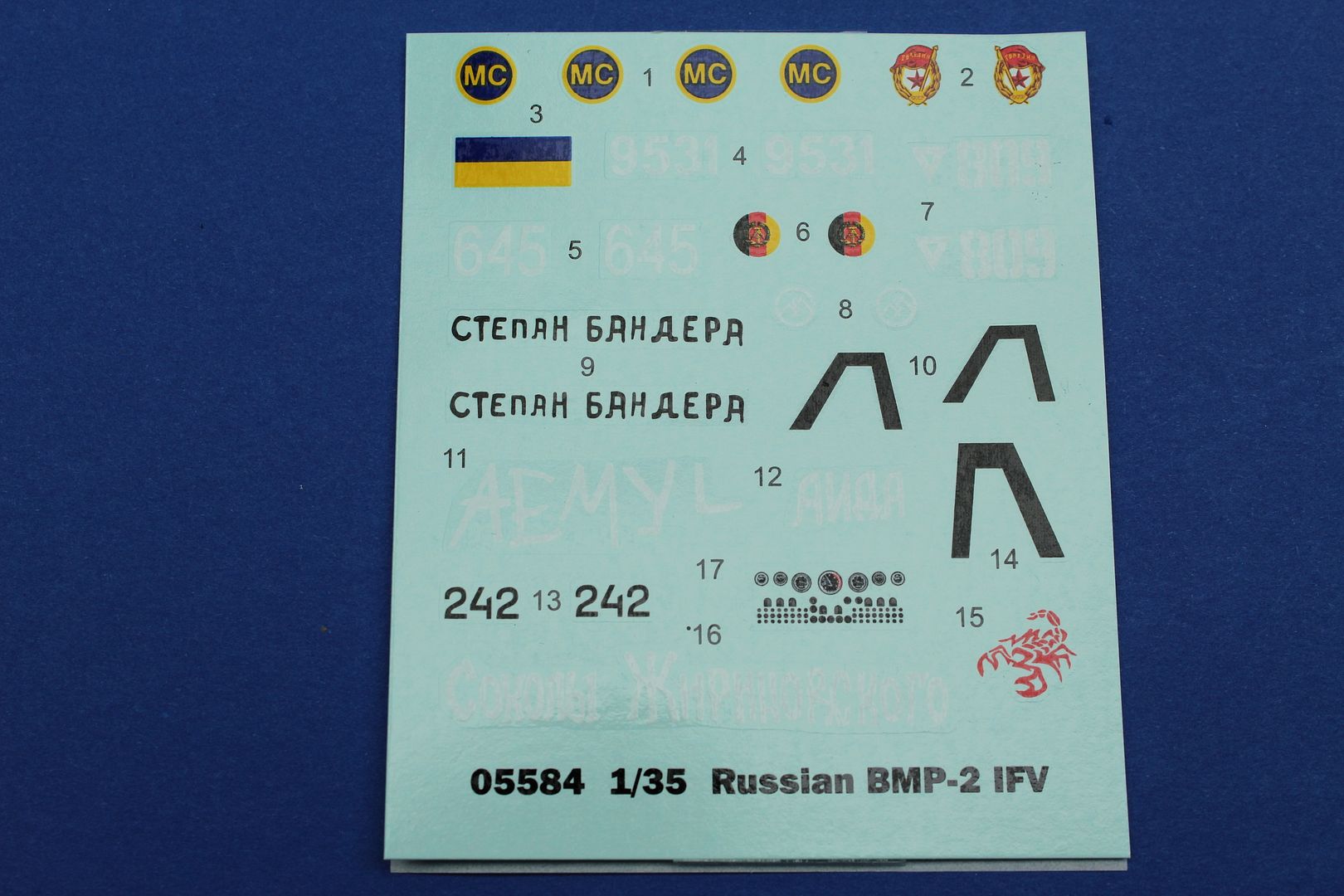 The decals are within register and the white lettering/numbering is very dense. The guards insignia matches up closely to reference photographs and coloring is "good".
The Ukrainian colors are particularly nicely rendered in the correct Blue and Yellow which are usually too lightly rendered by other manufacturers or older boxing's.

The East German crests are accurately depicted and in acceptable Dark Red/Yellow renderings.
I still do not care too much for the dashboard being rendered with a large decal set. they always become trouble some.

Wish they would either make them as separate dials or do something with the dash panel being drilled out and one could then place the decal behind it, showing through the hole.

The scorpion (mascot) or infantry badge? looks quite detailed under magnification. Very little carrier film throughout the whole sheet.
The decals are somewhat glossy, but quite thin throughout which should help them settle down over any surface detail.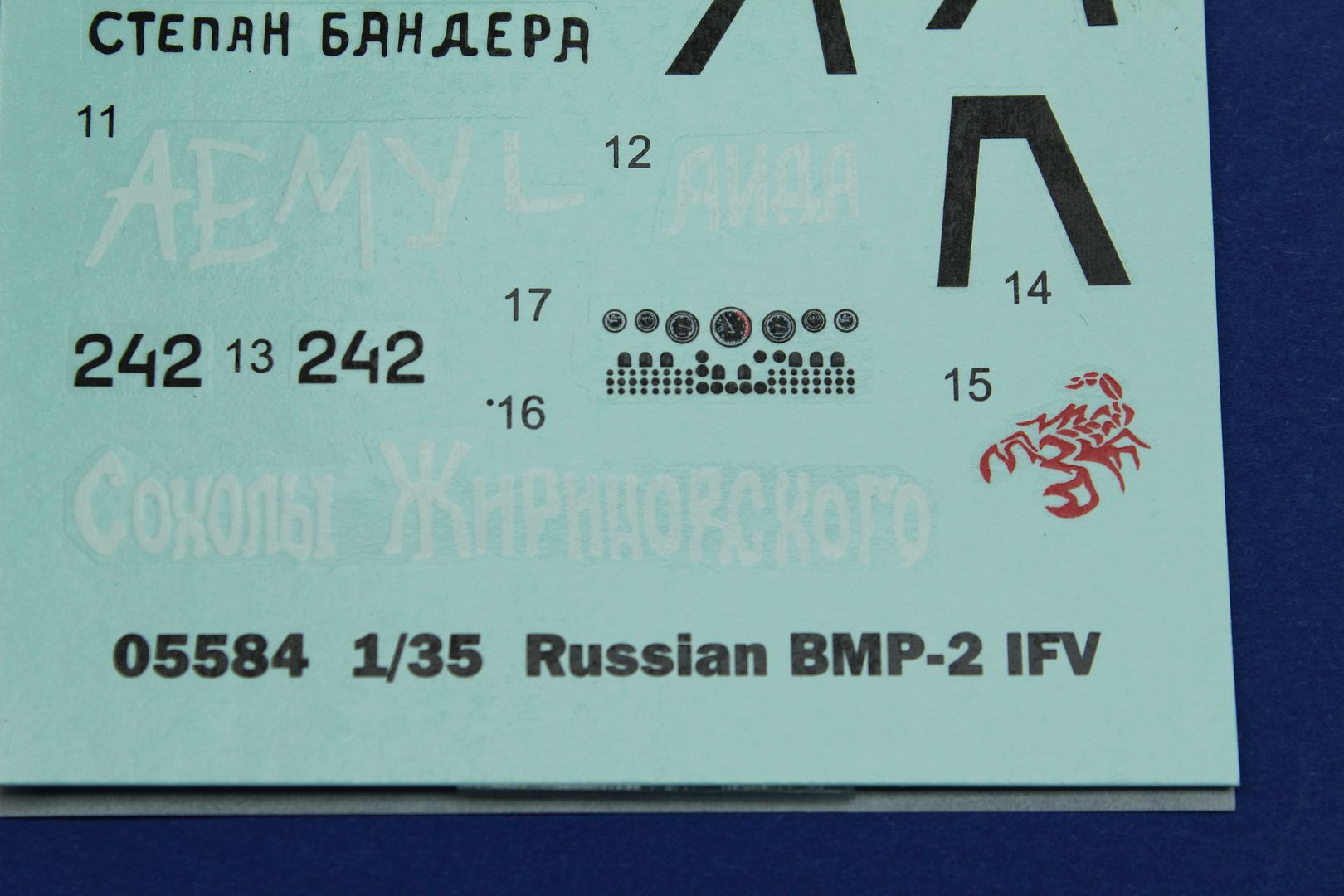 There are several Russian Slogans for a couple schemes and if my memory serves me these appear to be spelled correctly .
In my experience, these decals will behave very well when using a bit of set and sol.
I would be cautious using any hotter Decal softeners available out there.

Aftermarket Tracks:

Master club MC135042CL Resin Tracks - MSRP $34.95 - is one option which resolves the pesky (RBS) Rubber Band Syndrome: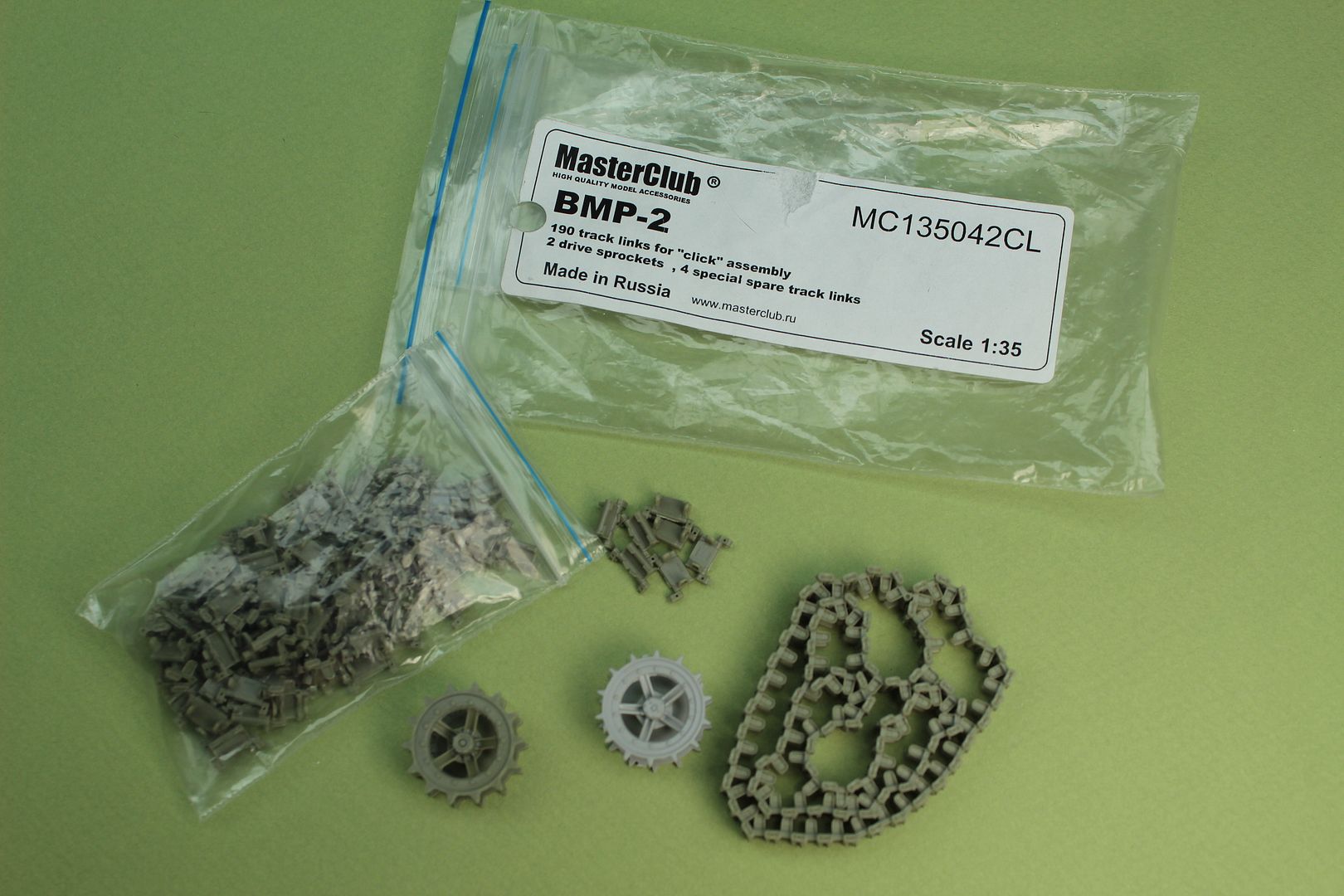 Some extra detail molded into each individual track pad of the serial number .. Just Like the Real thing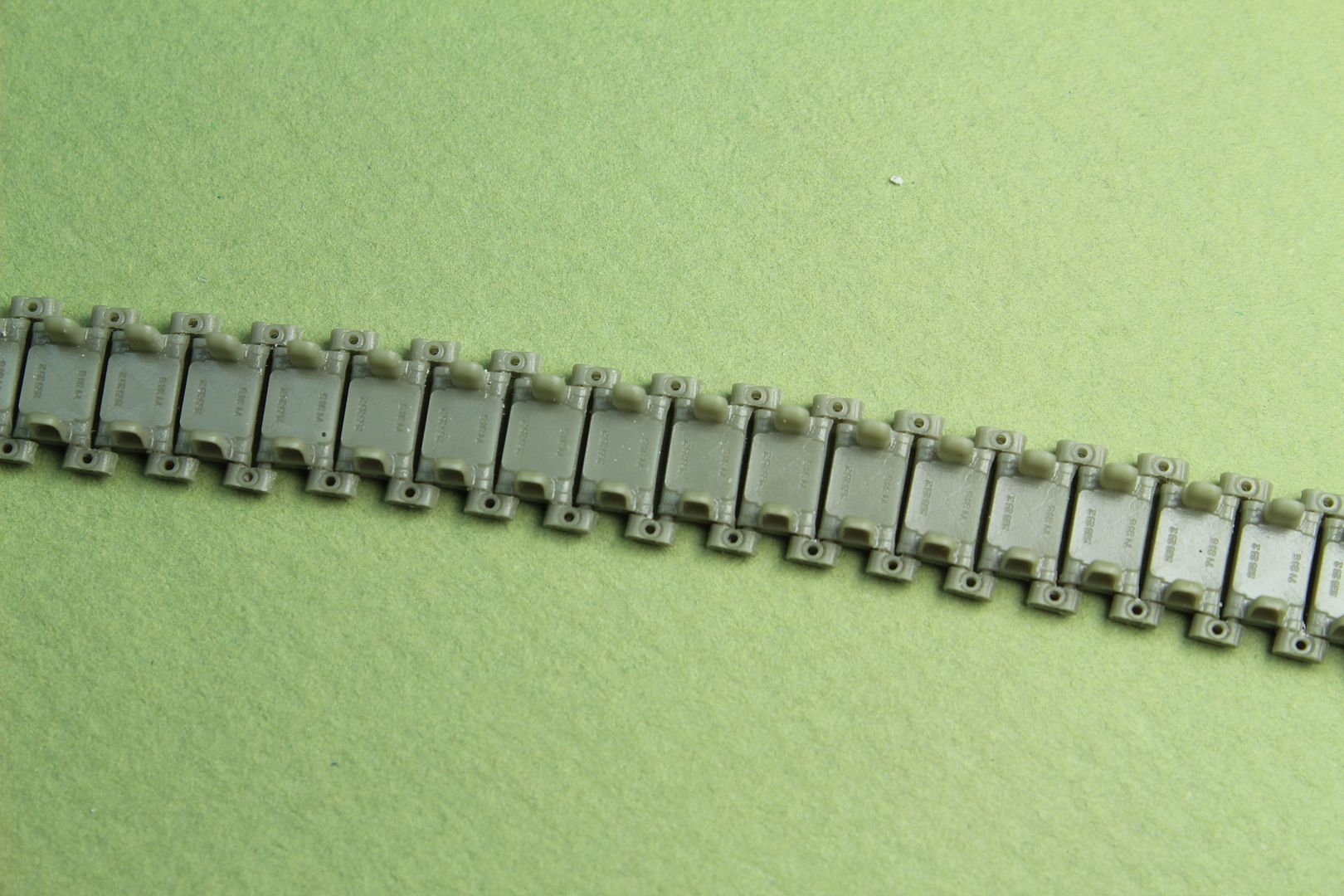 Some superb sharp / deep track detail throughout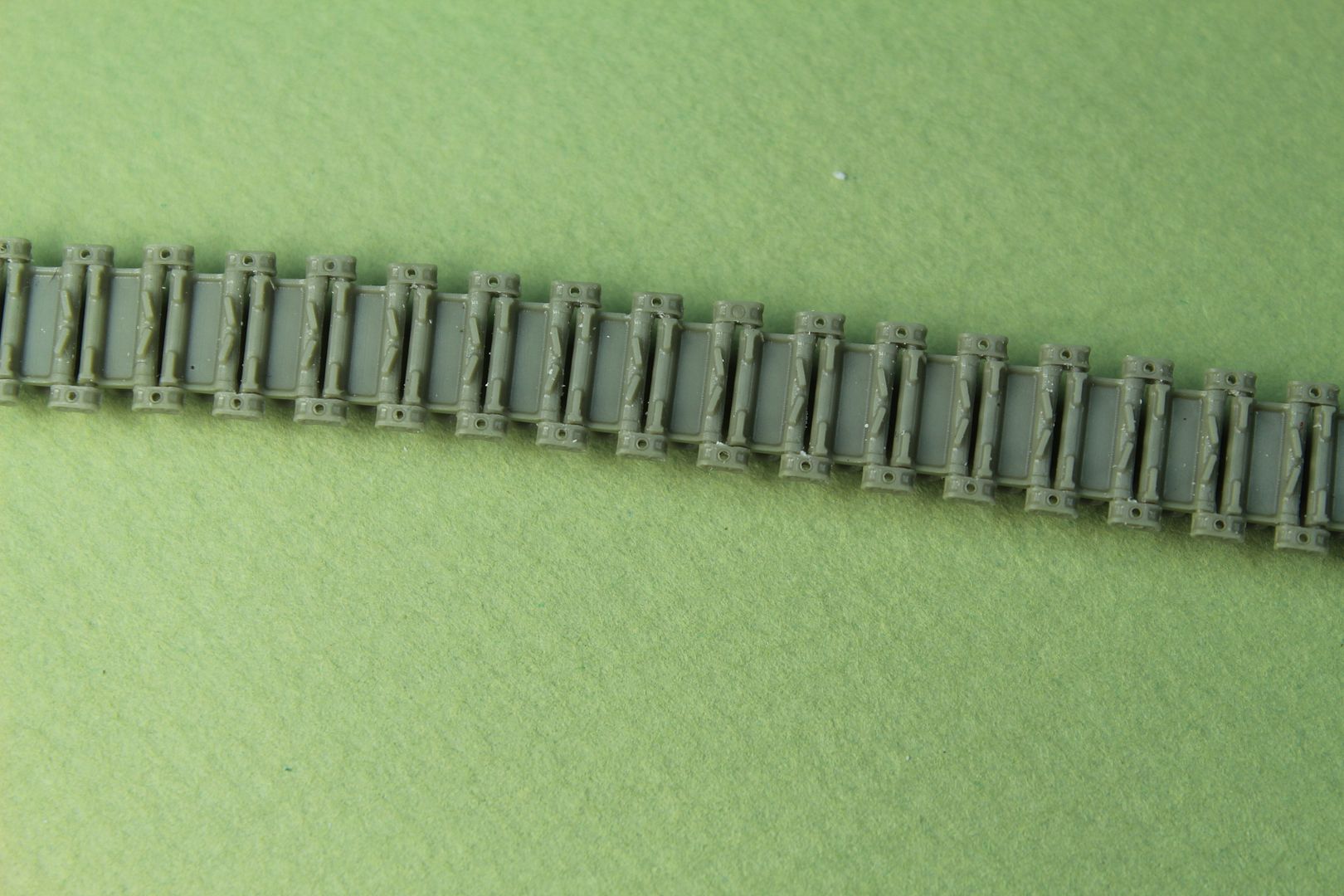 The track easily wraps around with excellent fit to the sprocket. Also you can see some of the gorgeous detail of the track end connectors.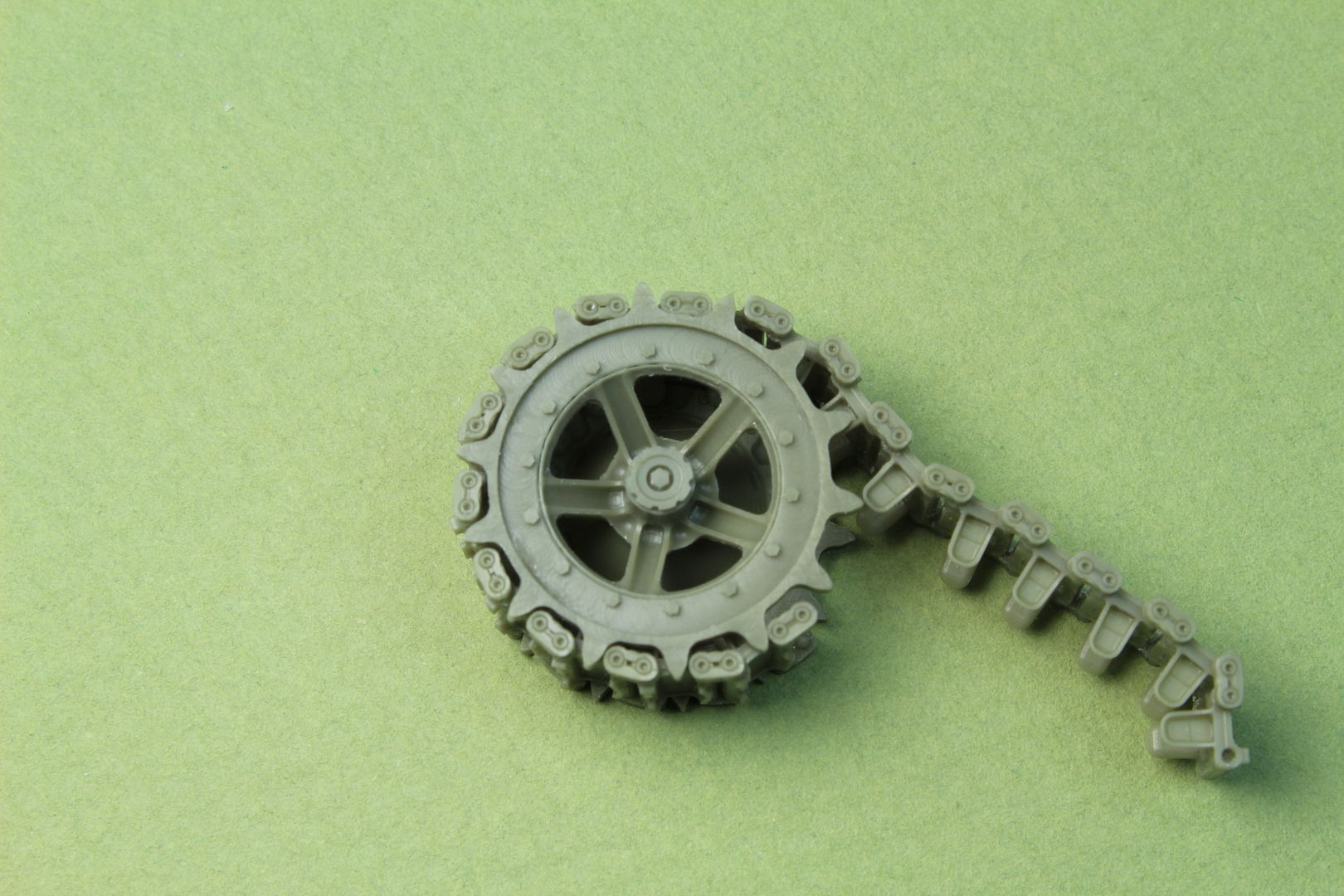 You will need to clean off some resin spillover from the injection point for each "pad" and could test your patience a bit.

If you do not like the Resin Clickable style tracks, Spade Ace Models make a metal version and I have seen references that Master Club is releasing a metal version of the above shown.

I can not confirm if the Spade Ace tracks will fit as I do not have them on hand to verify exact measurements.

I would not be surprised if Friul out of Hungary will shortly bring to market a specified set for the BMP-2, currently only the BMP-1 set is available in their catalog.
Do not make the mistake of trying to use a BMP-1 track for a BMP-2 as they are not interchangeable as the pin design and track pads are quite different as well as the drive sprocket.


Aftermarket Barrels:

I decided to include this section as the original BMP-1 release had an OOB brass barrel, for whatever reason Trumpeter decided to take a short cut and leave it out for the BMP-2 version.

Three aftermarket barrels are available that I know off, should you feel the need to replace the plastic barrel from the kit:

Model Point part number 3528 2A42 30mm brass barrel for BMP-2 / BMD-2: Suggested Retail Price is around $16.95

The barrel is made from machined brass in a single part. All of the machining is crisp without any marring from the lathing process. There is a drilled hole to give the illusion of a properly hollow barrel.

The barrel is 48.6mm long from barrel end to "lock nut" connection and has some very nice machine work done to it, even the thin baffle on the barrel end has a delicate look to it and is properly squared both from the sides and the top with the baffle correctly hollowed in accordance with references.

Really impressive metal work in it own right. The barrel will require a .039 or #61 drill bit hole about 6.3mm deep to mount properly.

A small amount of "surgery" may be required depending on the kit you are adding it to because of the way the 2A42 is mounted to its receiver.




Magic Models Part Number: MM3504A with a suggested retail price of $9.95

Definitly a better price than Model Points offering but hard to get as this small company is located in Russia and just doesn't seem to have a large distributer network.
The Brass is polished as compared to the above show version, there also appears to be some slightly tapered thing going on right after the muzzle brake.



RB Model Part Number 35B87 MSRP $7.99
This is perhaps my favorite choice, it is made up of two parts, Brass muzzle brake and the aluminum barrel. To my untrained eye these look in profile the closest thing to reference photo's available.
Also widely distributed and fairly easy to locate within the USA




Trumpeter pre-release assembled parts:




Hope you enjoyed this review, I can't wait to get started, just waiting for a barrel to arrive and some TANK.RU figures.

Give me a like if you feel I am providing the correct amount of insight to what can be accomplished with what is inside the box vs. AM parts needed.

If you feel I made an oversight or incorrect observation, please let me know and I can always amend the review.

Enjoy and see you soon on the next In Box Review.

Until then Happy Modeling !