Hobby Boss 1/48 F8F-1 Bearcat
By John Bowdern
Many years ago, my brother presented me with a beautifully modelled F8F Bearcat for a birthday present. I still have that model today and every time I have looked at it over the years I promised myself that I would build one when the right kit came along. Well, it looks like the "right" kit has just arrived! Enthusiasts of the F8F Bearcat will be pleased to know that Hobby Boss has produced what appears to be a very nice sample of this tough little warbird.
Upon opening the box, I was immediately impressed with the care and attention given to the packaging of this kit. Front and rear sections of the canopy have been carefully wrapped in foam and sealed in separate bags, hence, no scratches from rubbing on each other. The cowl has also been sealed separately and each of these three items mentioned have been separated from the rest of the kit by a cardboard divider.
The external surfaces of the Bearcat have crisp recessed panel lines and equally impressive engraved rivet detail. The subject of engraved rivets has long been discussed and generally bemoaned amongst modellers, however, in my opinion, Hobby Boss has done a good job with these rivets. The mouldings are completely free from flash and appear to have no sink marks or ejector pin damage that requires "fixing" before assembly. The parts have all been moulded in light grey styrene and are laid out in a clear and logical manner.
An initial glance of the instructions indicates that putting this plane together should be quite straight forward. Construction begins with the cockpit which seems to have detail enough to please most modellers although one could add a few "extra bits" if one so desires. The instrument panel consists of a styrene sandwich with decals used to represent the instruments.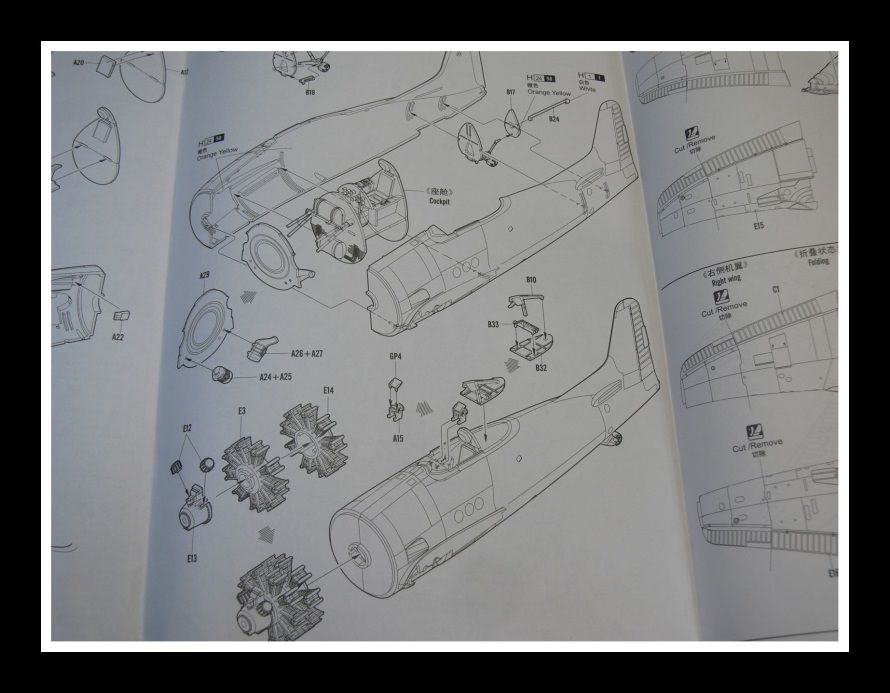 A couple of points worth noting at this stage include the detail that is provided on the engine side of the firewall and the fitting of rear fuselage bulkheads that support the tail wheel. Although the engine itself seems fairly basic in detail (which will not be a problem as it is largely hidden) one can assume that the rear section of the engine bay is visible through the wheel wells when this kit is complete. This engine bay detail along with the bulkheads and tail wheel need to be fitted prior to buttoning up the fuselage.
Hobby Boss has provided us with a folding wing option which simply requires running a blade along the engraved line in the wing to separate the inner and outer sections. I am unsure at this stage if I will go down that road with mine, however I will consider my options when the time arrives. If you intend to build the Bearcat without the "under wing bits" (rockets and tank) then you will need to take care of the pre-drilled holes in the bottom section of the wings prior to painting.
After adding the wings, one needs to fix the landing gear, cowl and canopy, rockets and a centreline tank plus a few small parts and it's off to the spray booth!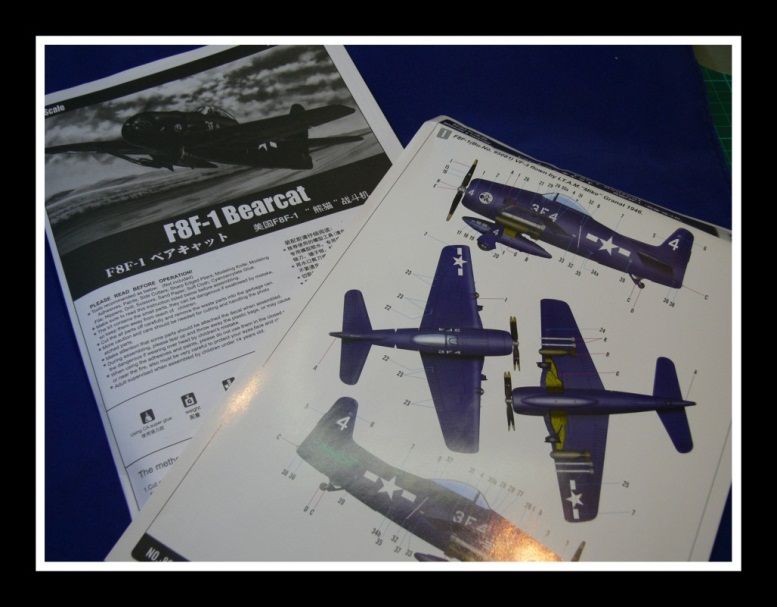 The kit decals provide two options. You can choose from either the VF-3 flown by LT.A.M. "Mike" Granat, from 1946, or the 1949 "Beetle Bomb" as used by the Blue Angels. The decals appear to be very well done so I am hoping that I will not need to seek aftermarket replacements. Hobby Boss has catered for a large cross section of modellers by providing paint callouts in a variety of brands. These include Vallejo, Gunze, Model Master, Tamiya and Humbrol. This is a nice touch and should be the standard for all kit companies in my opinion as not all brands are available at your local Hobby Store.
So there it is. Sure, it may not be 100% accurate but to most people, it will look like a Bearcat. The wait has been long for a good 1/48 Bearcat and first impressions indicate that the wait has been worthwhile. Of course, the real test will be in the building of this kit but the affordable price and good detail of the moulded parts, augers well for a nice aeroplane to arise from the plastic. Hopefully I will have my bench clear soon as I am very keen to begin work on this one. In my opinion it would seem that we have a really good F8F Bearcat to add to our collections and I for one can't wait to start. I might even add a few extras to this one to spice it up a little. Once construction starts I hope to be able to post a build report for those interested and let you know how it comes together. But in the meantime, I say, well done Hobby Boss!