In-box review of the Airfix 1:24 De Havilland Mosquito NFII / FBIV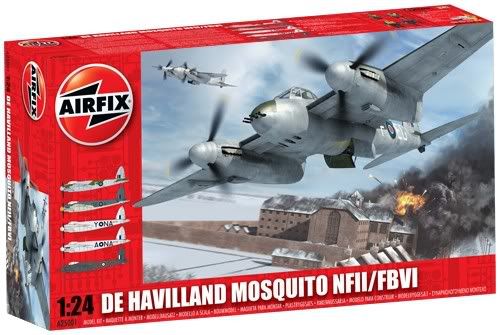 De Havilland Mosquito NFII / FBIV

Scale: 1:24
Manufacturer: Airfix
Type: Injection moulded plastic, vinyl tyres
Price: £110 - £130

Let me start by saying that I'm not the kind of guy who spends £100 on a kit, let alone more. To date, the most expensive kit I've bought is a 1:32 Trumpeter P-47 which cost me about £50. This kit was a Christmas gift from my wonderful wife, which was a massive surprise, as she's usually the first to tell me I've got enough kits already.

When I first heard about this kit and the proposed £100 price tag, I scoffed and like many modellers, thought that Airfix (or Hornby if you like) had gone mad and that producing this kit was complete folly. However, as soon as I saw the size of the box and then felt the weight (it's close to 4kg) I started to understand. It is massive. Absolutely massive. Everything about it is massive. From the size of the box to the parts count (617).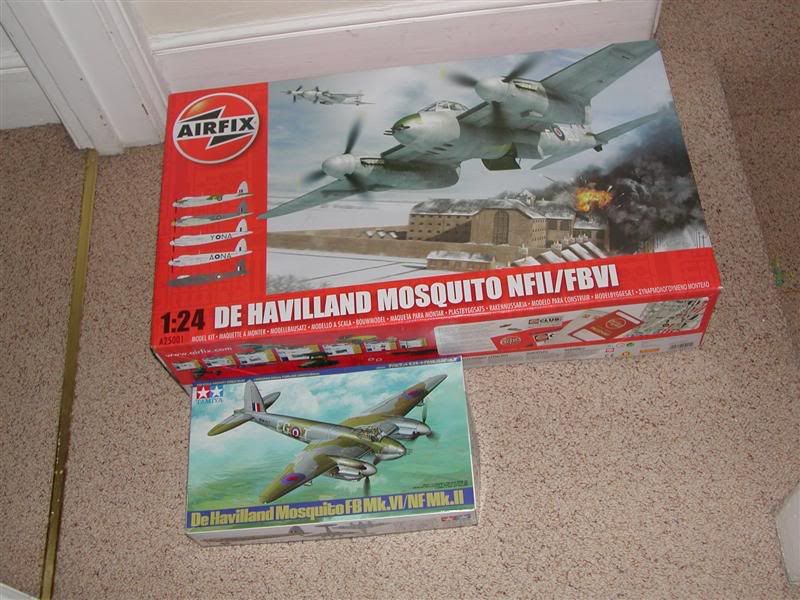 The box is four times the size of the 1:48th Tamiya Mosquito box, and twice as deep. The box art is superb, and in my opinion, a step in the right direction for the recent revamped Airfix boxes. Heroic planes, being flown by heroic types, blowing stuff up, probably shouting 'TALLY-HO', smoking a pipe and drinking tea while doing so. I've clearly read too many Commando comics (Can you blame me … http://www.commandomag.com/images/1103.jpg).

The box is crammed full of plastic ….




I had to use the landing to show just how much is in there …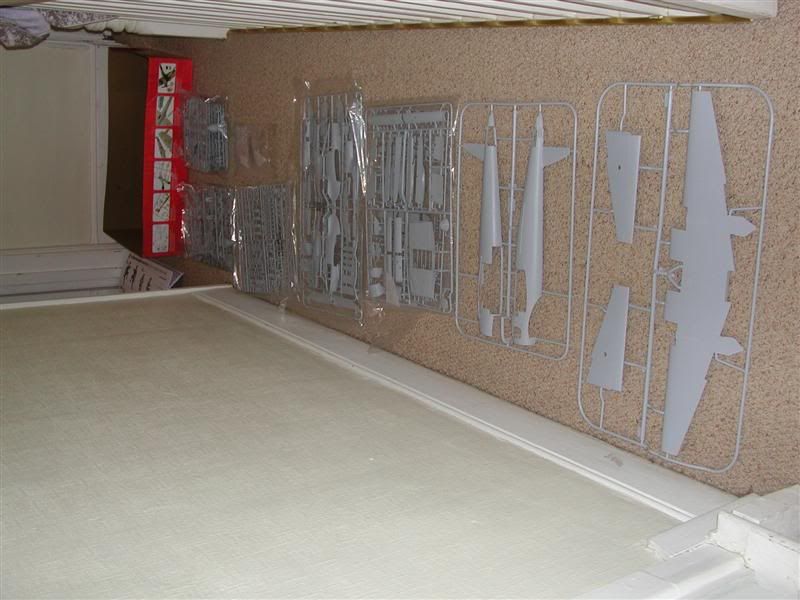 Even the instruction manual is massive, and has 253 stages of construction …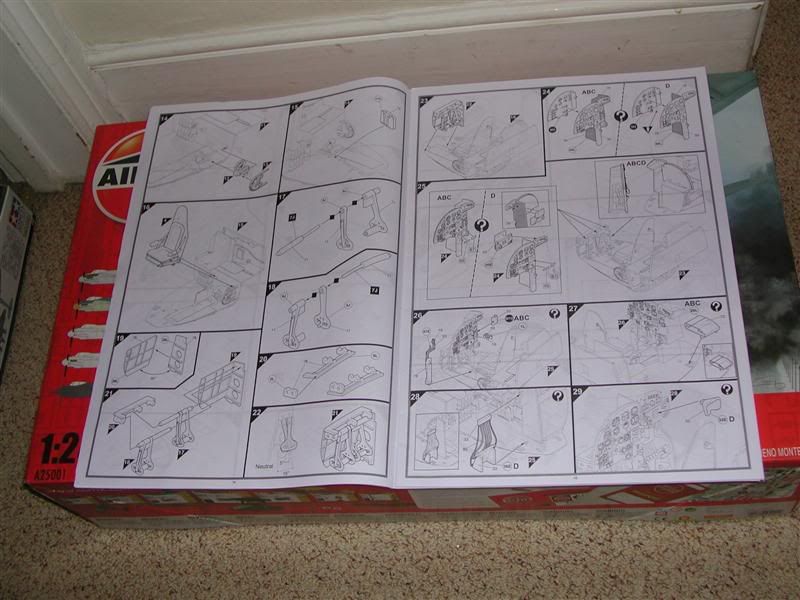 To further demonstrate the size of this monster, here is the Tamiya 1:48 Mosquito that I've been working on. An impressive model in it's own right ….




And here it is sat on the wings of the 1:24 Airfix goliath …




It's positively frightening!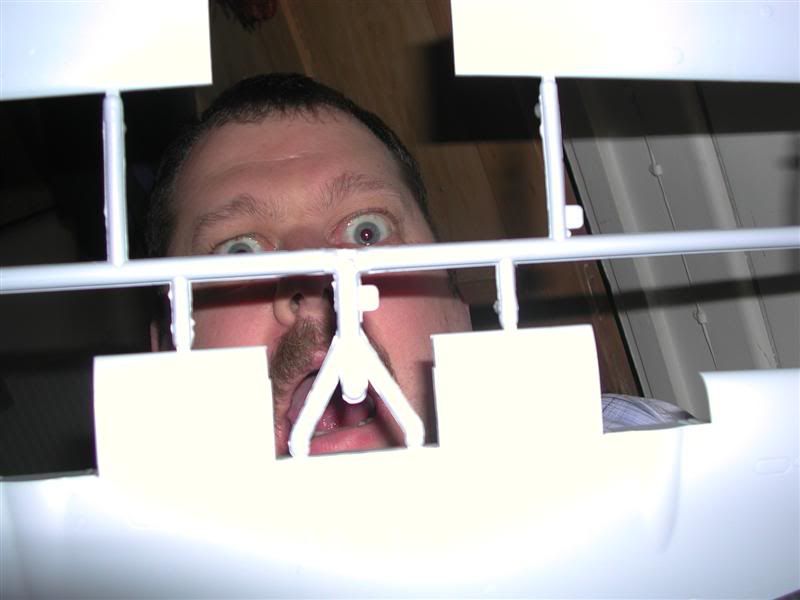 Rather than a sprue by sprue tour of the kit, here are some of the highs and lows …

The two instrument panels provided, very nice indeed …




Radio gear …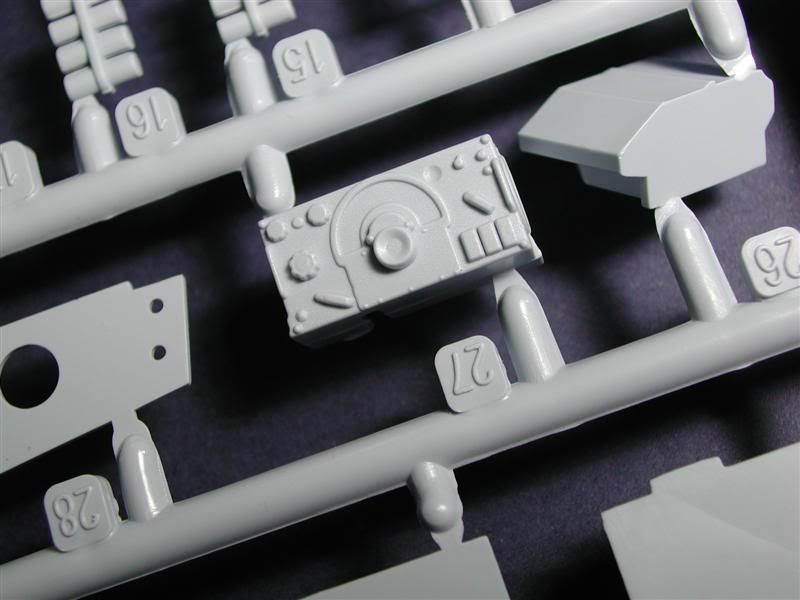 Various switch gear ...




Bomb bay. Check out the many ejector pin marks …




Cannon cowling…




Crew door. Again, lots of pin awkward pin marks …




More bomb bay, more pin marks …




Centre wing section with nice surface detailing and wiring which appears behind the pilot and navigator….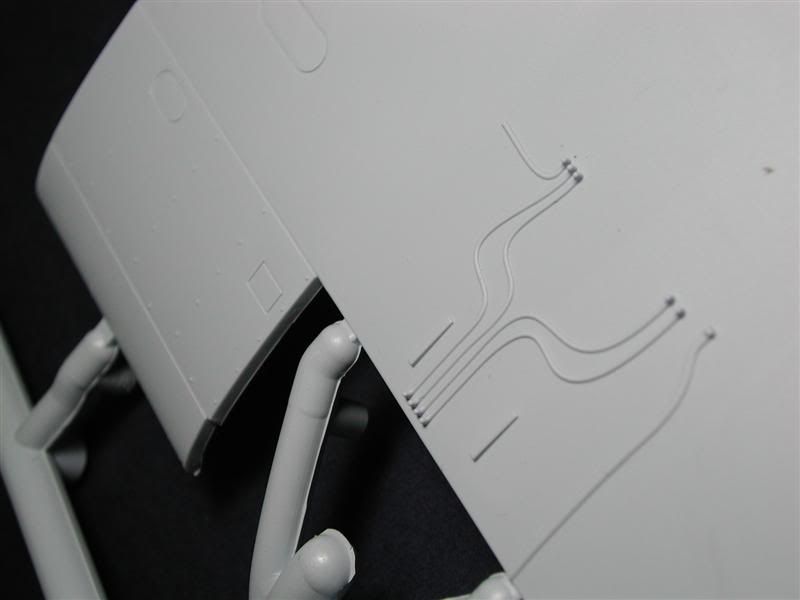 Top of fuselage behind cockpit. Nice and smooth as it should be, with a crisply engraved dingy panel, but a soft and squigy circle engraved next to it. Easy to fix though.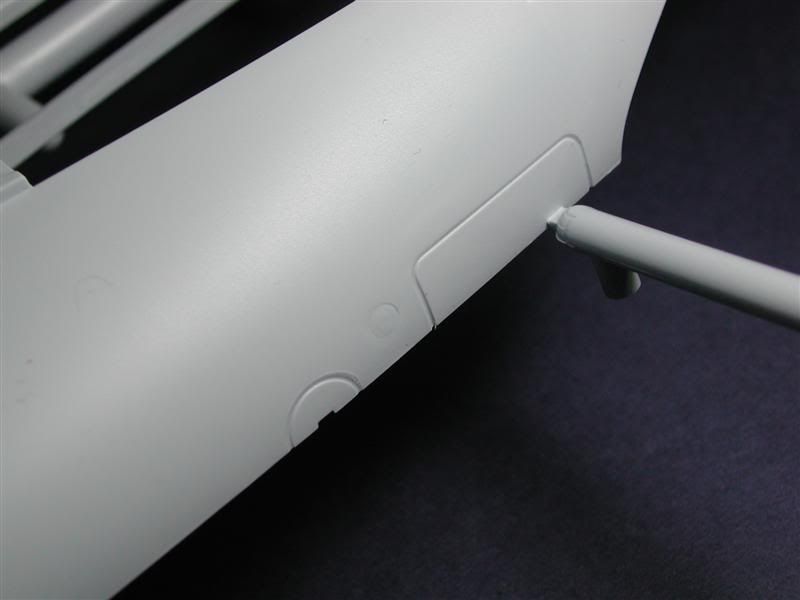 Inside right fuselage, by the crew door opening. Lots more pin marks.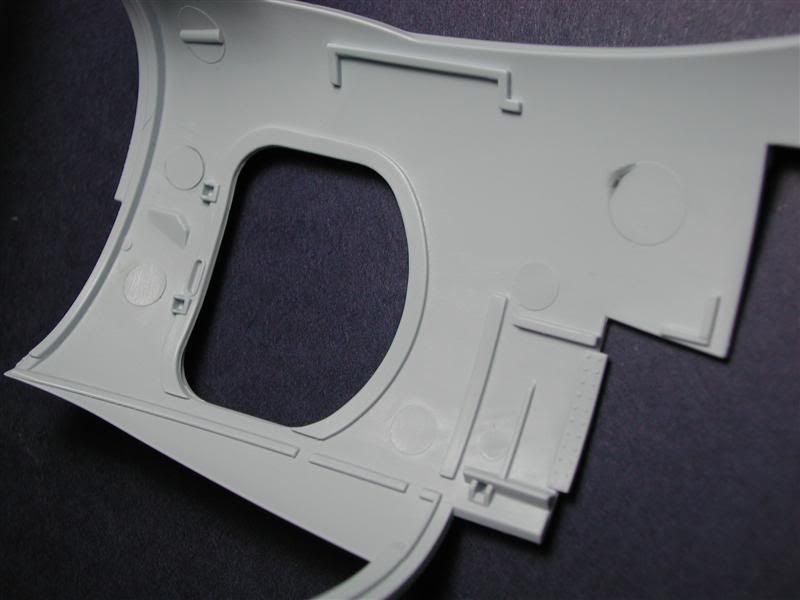 Now, as we all should know, the Mossie was mostly built of wood and had lots of round fixings on the inside ….




However, I don't think the ejector pin marks can be left to look like these are they are massive in comparison. Shame really, as if they were smaller you could have just left them. You could leave them anyway if they don't bother you!

Big & colourful painting guides …




Engine cowling with nice fixing detail…




Electrical gubbins for the rear of the cockpit. Not sure what all that surface scratching is all about…




Inside a half of a wheel-well / engine cowling. Again nice detail, but marred by lots of awkward to fix pin marks…




Rudder, with subtle fabric detail …




Clear parts. All thin, clear, and nicely formed.




A surprise in the box … 2 sets of pre-printed instruments. Far better than just including decals as these are all perfectly placed. This is the larger of the two for the main instrument panel...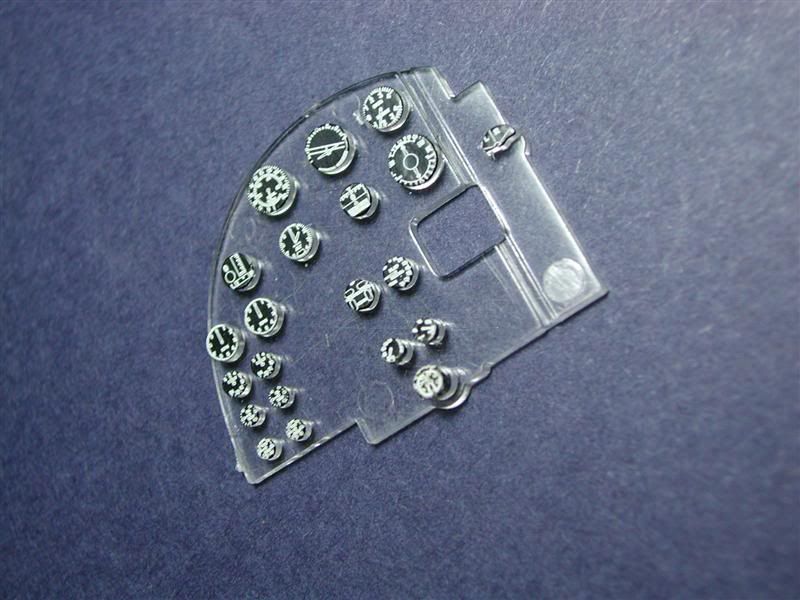 Which look gorgeous when placed behind the instrument panel. This will look so much nicer than any PE substitute….




The kit includes some nicely sculpted figures, two standing, two seated …




Check out that moustache. TALLY BALLY HO!! Slightly clunky detailing unfortunately, considering the scale.




A very nice feature of the kit – the interior frame for the canopy comes as a separate piece which means you can paint it easily and achieve better scale effect.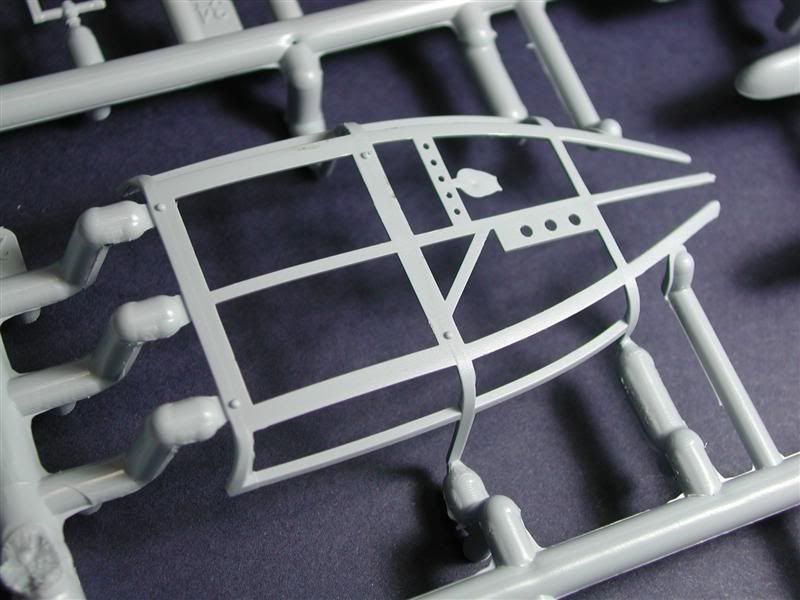 Two complete Merlin engines are supplied. Here are the cylinder blocks …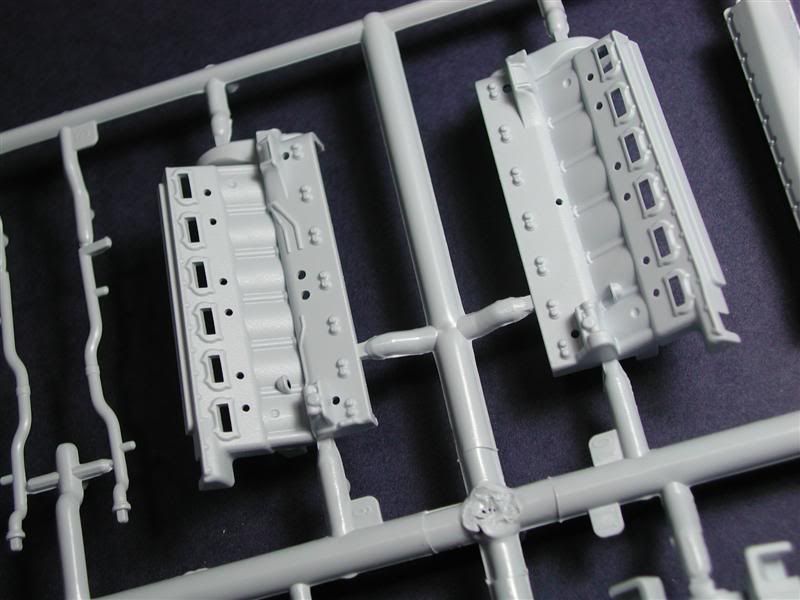 Heads …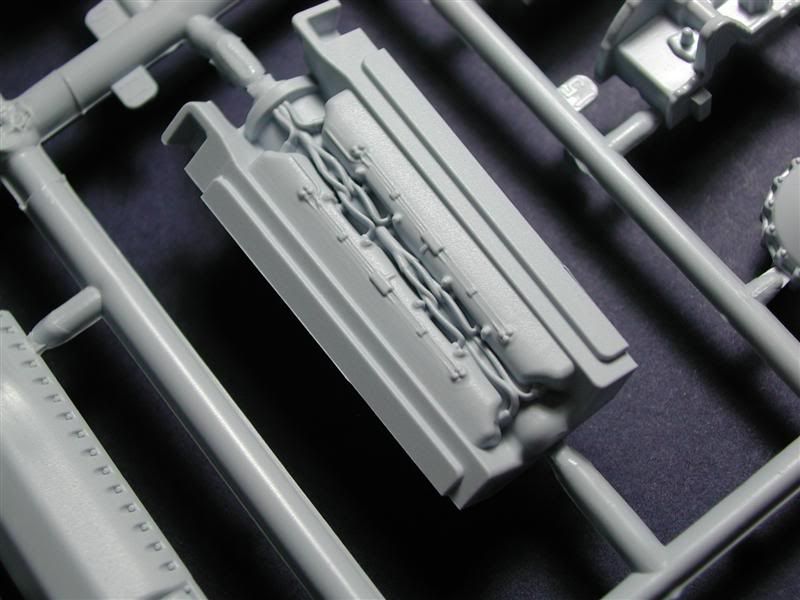 Rocker covers …




Nice and smooth propeller spinners. Look at the size of it!!




Different propellors provided. Check out the flash and rough molding of the lower bits in the pic.




Undercarriage bits …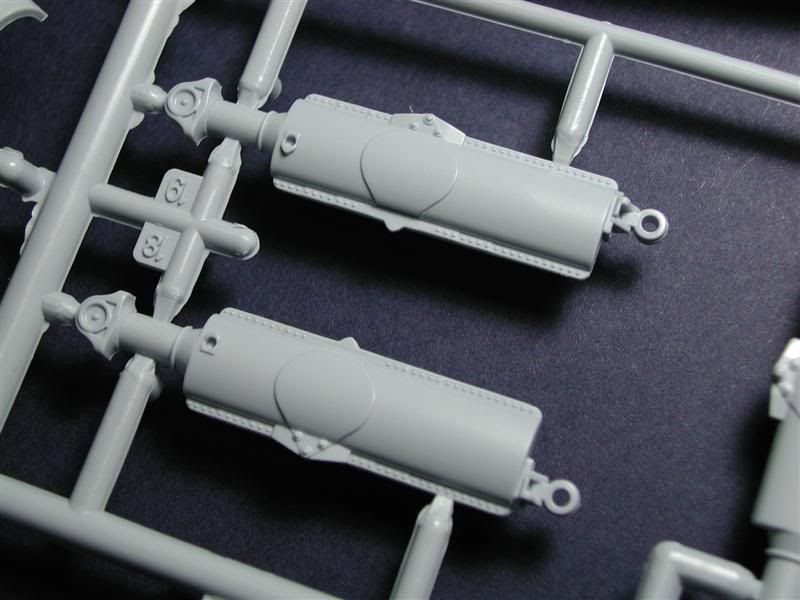 Rockets …




Bombs …




Cannons …




Some of the different exhausts provided …




A whole pile of plastic!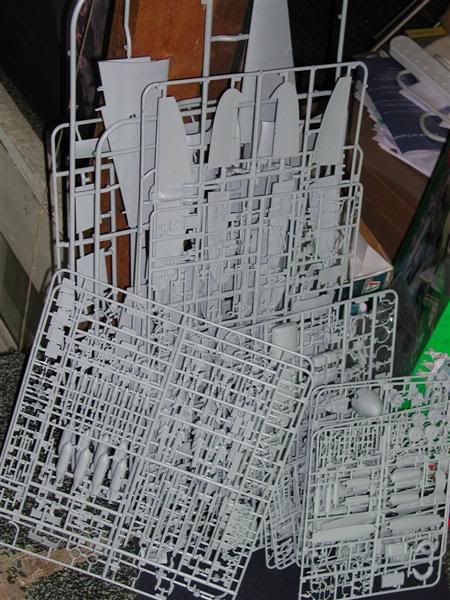 The massive decal sheet …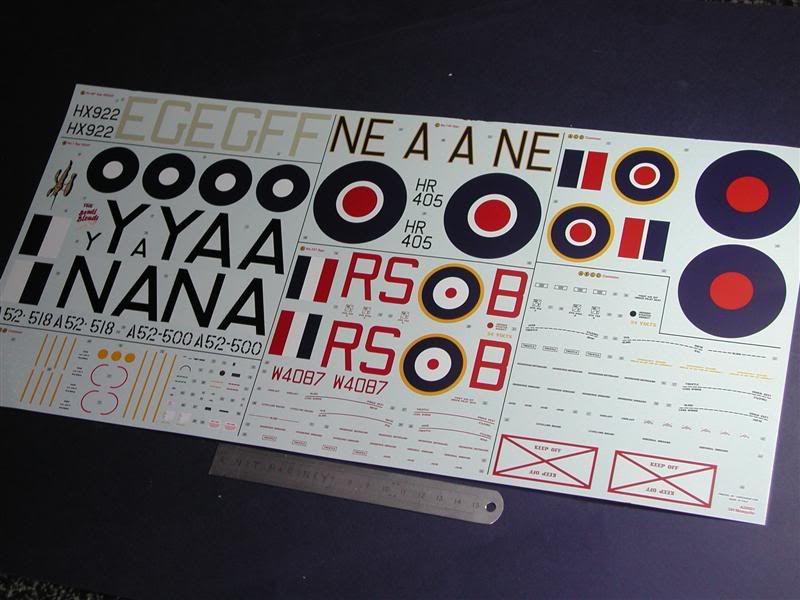 So, how to sum up a kit like this?

There's no doubt that it's an impressive kit. You get a lot of plastic, which can build up into a great looking Mosquito. Just take a look at Spencer Pollard's effort over on Britmodeller, or in his magazine for evidence of that.

I'm not a Mosquito expert, but I've done a reasonable amount of research for the ones I have built, and it looks pretty accurate to me, certainly in areas where it counts. The parts are a bit of a mix. Mostly pretty good; but never as crisp as Tamiya or Hasegawa produce. Unfortunately, some are a bit rough, with a reasonable amount of flash. Not a problem to sort out and clean up, but a bit surprising on a modern release such as this. There are a lot of ejector pin marks, which depending on your viewpoint, may need sorting out. Reading the few build reports currently available, the fit of the parts is supposed to be excellent, and I have no reason to doubt those reports.

Is it worth the money? As mentioned before, when I first heard about the kit and the price, I thought "no way.". However, it is really impressive, and within five minutes of opening the box and going through the bits, I found myself saying "OK, now I get it. This is clearly worth the asking price." Some people have been making noises about it being the best kit ever, but I'm afraid I don't quite agree. It's big, impressive and very cool, but not the best kit ever. If, for example, they had included seat belts and there were less pin marks, it would be another step closer to that title. All that aside though, I will say that it's the crowning glory of my model stash, and I'm super chuffed to own it. I look forward to one day clearing the bench and making a start on it.

P.s. For the observant amongst you, you may have noticed that the vinyl sprue containing the tyres is missing. It was missing from my kit and I'm currently waiting for Airfix to send me a replacement. Their customer support is possibly the best in the business, so I'm confident that it won't be long before it arrives.